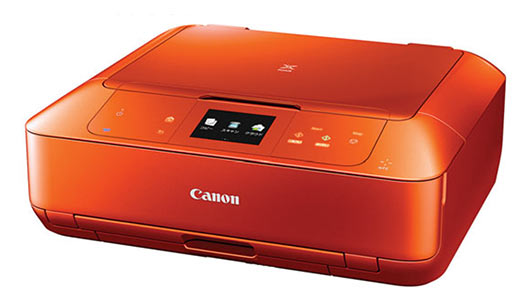 Canon Inc. announced new models of inkjet printers targeting consumers for the year end holiday season, aimed to prepare greeting cards. The company will also target Smartphone users by allowing printing via Wi-Fi connection.
Four models—PIXUS MG7530, MG6730 and MG 5630 and PIXUS iP110 in the PIXUS series were announced. The three models from the MG line have been available in Japan since September, and iP110 will debut in early November. These
models have the PIXUS Cloud Link, a cloud computing service feature.
The top-of-the-line MG7530 is compatible with NFC, so if the user has a Smartphone with NFC function, printing can be carried out by facing the Smartphone towards the printer. The main features of the MG7530/6730 include 6 colour inks in large tanks, wireless printing via Wi-Fi. The 7530 can produce an L-size print in 18 seconds. The MG5630 uses 5 colour inks and can produce an L-Size print in 37 seconds. The iP110 is a compact mobile printer with 5 colour inks and a printing time of 44 seconds per print.
Canon will also release PIXUS Atelier based on the MG7530 in beige colour. This is targeted mainly towards women customers and can print items such as a label, a kit for a gift box, seal prints etc. The company will offer only 30,000 units of this model.