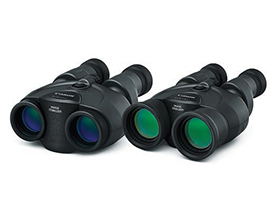 Canon U.S.A. Inc. added two image stabiliser binoculars with the 10×30 IS II and 12×36 IS III. Equipped with a microcomputer for better IS performance and stable highmagni fiication viewing, the improved IS technology ensures better viewing comfort. It further eliminates the need for a tripod.
"We invested in research and technology for the design and manufacturing of these binoculars in order to achieve high-level optical performance and viewing comfort," said Yuichi Ishizuka, President and COO, Canon U.S.A., Inc. "The improvements made to these models will enhance users' experiences while offering the familiarity and quality they trust in Canon binoculars."
The newly added electronic circuits help in reducing power consumption. At temperatures of 25 degrees Celsius/77 degrees Fahrenheit, both the binoculars provide up to nine hours of continuous stabilisation on a pair of AA-size alkaline batteries.
The 10×30 IS II's 10x highmagni fiication ratio is combined with a 30mm/1.18-inch effective diameter objective lens. This helps in light-gathering ability with high resolution and contrast. Birdwatchers,  specifiically, will benefiit from the new, less glossy front cover of this model, whose design was refiined to provide a better anti-refilective surface. Additionally, their compact size and light weight (127x150x 70mm, approx. 1.3 lb.) adds to their portability.
The 12×36 IS III model has a 12x high magnifiication ratio. Its 36mm/1.42-inch effective diameter objective lens helps provide clear, bright and high-resolution images. These new binoculars are compact and lightweight [5 x 6.8 x 2.7 inches (WHD), approx. 1.5 lb.]
Both models feature Porro II Prisms, which enhance image resolution and help in reducing light loss. Viewing comfort is ensured by the long eye  relief of 14.5mm, especially for people with glasses. The doublet fiield-filattener on both models produces sharp and virtually distortion-free images from edge-to-edge. The hardware includes a low-refilective exterior.
Canon's 10×30 IS II and 12×36 IS III binocular models will be made available in August 2015 for suggested list prices of $549.99 and $849.99 respectively.