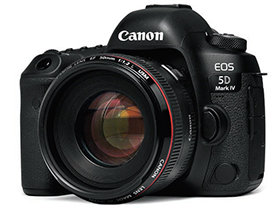 Ergonomics
The 5D Mark IV has a thick grip and a person with small hands will find it a little uncomfortable to operate. However, this is the case with most full frame D-SLRs. The grip has a textured rubber finish, which somehow eases the discomfort. The thumb rest offers some additional grip. The controls are all within easy grasp, except the power  switch on the left hand side below the mode dial. The viewfinder is bright and information display is legible. The focus point and displayed information illuminate momentarily in red on achieving focus and the selected points illuminate when you are in AF area selection mode. The AF area selection button is quite useful for easy toggling during a shoot.
Performance
We tested the 5D mark IV with the Canon EF 50mm f/1.2 lens. The combination produced excellent sharpness at the sweet spot. Autofocus was fast and precise with this lens.
Dual Pixel Raw allows some flexibility in terms of micro adjustment, sharpening and bokeh shift. But please note that this is quite different from the post-capture autofocus technology that allows you to focus any area after the image is captured. The micro adjustment only allows to shift the focus on a micro scale. Same is the case with bokeh shift. For doing this, you will have to use Digital
Photo Professional (DPP) software supplied with the camera. Peripheral illumination correction was kept On and so were chromatic aberration and diffraction control. The camera did not produce any darkening of corners even at f/1.2. We observed prominent flare and purple fringing in strong back-lit images at the widest aperture even with chromatic aberration correction feature switched On.
The camera produces images with native print size of 14.93 x 22.4 inches at 300 ppi. At 25 percent screen size, images were free of noise up to ISO 12,800. ISO 25,000 and 32,000 were noisy, yet perfectly usable. At 50 percent enlargement, noise started appearing from ISO 6400 onwards, but were quite usable up to ISO 12,800. Enlarged to 100 percent, the images appeared absolutely clean till ISO 800. A tinge of noise was observed at ISO 1600, and ISO 3200 could be used in an emergency.
The 5D Mark IV features two Auto White Balance settings—Ambience priority and White Priority. If you want to preserve the ambient light tones in the image (such as the warmth of oil lamps), Ambience Priority would be ideal for you. If on the other hand, you want white tones to appear white irrespective of the ambient light, choose White Priority. We used both the modes and they worked absolutely well. You can change these post-capture in DPP.
We used a Sandisk 64GB Extreme PRO SDXC UHS-1 (U3) (95MBPS read, 90MBPS write speed) memory card and the camera could shoot continuously at 7 frames per second (Raw) as claimed by Canon. We could capture 21 Raw images at full resolution in a burst at full speed and the camera took about 6 seconds to write to the SD card. But please note that this holds true only for UHS-I Class 3 (U3) SD cards.
Touch focussing during video recording was a pleasure to use since focussing is gradual and smooth as required for a video. 4K videos were reproduced well and High Frame Rate videos were rendered smooth and pleasant.
Value for Money
The 5D Mark IV retails at an MRP  of Rs.254,995. This price is quite competitive for this camera. |SP
FINAL SCORE                                                      87%
Design and Build Quality                          19/20
Key Features                                                     19/20
Ergonomics                                                       17/20
Performance
Autofocus                                                                  4/5
Metering                                                                    4/5
Noise Control                                                         4.5/5
Sharpness                                                                  4/5
LCD/EVF                                                                   4/5
Auto WB                                                                    4.5/5
Sub-Total                                                             25/30
Value for Money                                                  7/10
PLUS
• Robust build quality
• Dual Pixel Raw
• Smooth 4K videos
• Touch Focus in Live View Videos
• Fast burst shooting
• Wi-Fi and NFC
• Built-in GPS
• Micro Adjustments with DP Raw
MINUS
• Slightly bulky
• No built-in flash
VERDICT
The 5D Mark IV is made for those professionals who prefer a fast full frame D-SLR with excellent features both in stills and video. We can foresee much enthusiasm from wedding photographers and film makers as also from photojournalists. With Wi-Fi, built-in GPS, 4K Cinema with broadcast quality output and other advanced features, the camera is an enormous upgrade from the 5D Mark III.
Sujith Gopinath