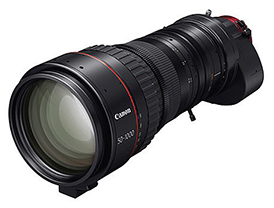 In early 2015, Canon will launch the new 50-1000mm CN20x 50 IAS H E1/P1 lens. The company claims this is the first-ever lens boasting of a combined 20x magnifi cation, integrated 1.5x extender, and a removable servo drive. The lens is specially designed for nature and sports television  productions.
The CN20x 50 IAS H E1/ P1 features an updated servo drive, making it more practical for broadcasting purposes than other cine lenses. It features a 12-pin serial communication, and is designed for use with Super35mm cameras. The lens weighs about 6 kg.
The focal range is 50- 1000mm, which can be taken up to 75-1500mm with the use of the built-in extender. Canon says that the CN20x 50 IAS H E1/ P1 has a 180-degree focus ring rotation and simple focusing operations to adapt to a changing environment. It will be available in both PL-mount and EF-mount variations.