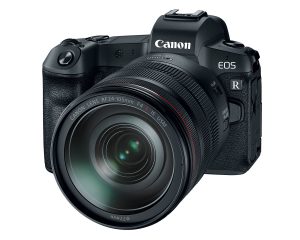 Close on the heels of Nikon's announcement of the Z-series full frame mirrorless cameras, Canon has joined the fray with its announcement of the EOS R system with a newly designed RF mount. The new system will support all current EF, EF-S, TS-E and MP-E lenses through suitable adapters and is claimed to provide room for optical advancements and engineering flexibility that may come in future.
The new RF mount features the same size diameter as the EF mount (54 mm) and shorter back focus distance. This allows for lenses to sit closer to the sensor. In addition, the Canon RF mount features a high-speed 12-pin communication system that provides faster and more in-depth communication between the camera and lens over existing Canon mount systems.
The new Canon EOS R full-frame mirrorless camera features a 30.3 megapixel CMOS sensor that is powered by the latest DIGIC 8 image processing engine. The new system enables shooting at up to 8.0 frames per second. The EOS R can capture 4K UHD videos up to 30 fps and record in 10-bit 4:2:2 (with an external recorder). The EOS R also comes with the ability to shoot Canon Log, providing 12 stops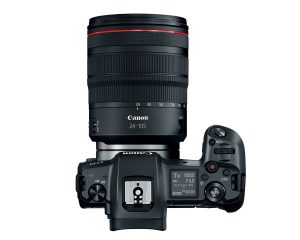 of dynamic range, minimal loss of detail in shadows and highlighted areas and an increased range of choices when colour grading.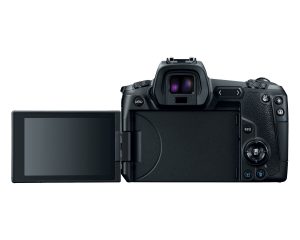 The EOS R features Dual Pixel CMOS Auto Focus with 5,655 manually selectable AF points, supporting AF at up to f/11 with a 384 zone (24 x 16) real-time metering system. When using the RF 24-105 mm f/4 L IS USM lens, the camera can focus in as little as 0.05 seconds with Dual Pixel CMOS AF. The EOS R also features a silent shutter setting when shooting in single-shot mode. An upcoming free firmware update will enable silent shutter in continuous shooting mode as well.
Canon has introduced a new Multi-Function Bar placed to the right of the EVF, that will allow users to easily access their customisable settings such as AF, ISO and White Balance. Users will have the option to either slide or tap the bar to gain access to the settings and adjust on-the-go as they deem necessary depending on each particular shooting situation.
Canon is also announcing a new application, Digital Photo Professional Express (DPP Express). In combination with an updated Canon Camera Connect App, DPP Express enables users to send, view, edit and process CR3 Raw files on their iPads. A free download of the app will be available October 2018.
The camera uses a 3.69 Million Dots, vari-angle Touchscreen LCD. It has an ISO range of 100-40,000, expandable to 102,400. The camera supports USB 3.1 in-camera charging. The EOS R has a single UHS-II SD card slot. The body is dust and weather resistant.
The Canon EOS R is scheduled to be available in October 2018 for an estimated retail price of $2299 for the body only. It will also be sold as a body-and-lens kit with the new RF 24-105 mm f/4 L IS USM lens for $3399.