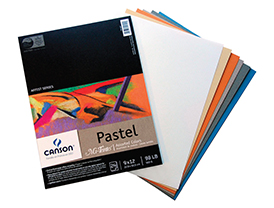 TTechNova has recently expanded its portfolio of inkjet digital media products by partnering with Canson, one of the world's most reputed manufacturers of Inkjet Fine Art and Photographic Papers. As per this tie-up, TechNova will offer a select range of media from Canson's Infinity Paper series to Indian fine art printers.
Canson Infinity Papers are manufactured by the Canson and Arches fine art paper mills, located in France. Products from these two leading mills have been embraced by leading artists over the years, including  Picasso, Chagall, Warhol, Ingress, Miro and Alechinsky.
This paper range offers Optical Brightness Additives (OBAs), so that the paper does not turn yellow over time. Cotton fibres give the paper and canvas a soft texture that resists ageing. The paper is acid-free. The Wilhelm Imaging Research organization has certified that the Canson Media passes all industry standard permanence tests regarding life expectancy of inkjet prints. It is regarded as museum-grade archival papers, and is trusted by museums, artists, photographers, restorers and many others for their proven ability to preserve prints for very long durations.
Vimal Parmar, DGM, Marketing – Digital Print Media, TechNova, states, "The Canson Infinity range offers wide colour gamut, deep blacks and excellent image sharpness.  This makes it the perfect choice for digital printmakers, artists and photographers, as it allows them to express their creativity and ideas in the best way possible." He adds that Canson Infinity product applications include Fine Art and Photographic Reproductions, Photo Restorations, Art and Photo Portfolio, and many other creative applications.
TechNova is currently marketing a select range of premium papers from the Canson Infinity Range. These include:
BFK Rives—This is a mould-made traditional printing paper, with a pure white tone obtained without the use of OBAs. It is ideal for fine art prints and photographs.
Rag Photographique— A100% cotton museum-grade white fine art and photo paper, specifically suited to address the needs of the digital fine art industry.
Plantine Fibre Rag—This digital darkroom paper has the feel of the original Baryta fibre paper.
Baryta Photographique—This is museumgrade Baryta paper developed for inkjet technology, with better black density and image sharpness, making it ideal for black and white photography.
Arches Aquarelle Rag—A Genuine 100% rag, this is mould-made water colour paper which is strong and has a unique texture and a warm white tone, like traditional fine art paper. This paper complies with the highest archival standard and is age-resistant.