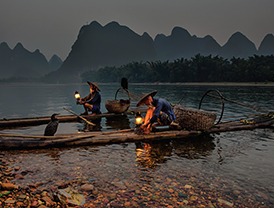 Cormorant Fishing
Lopamudra Talukdar took up photography in 2010 and started looking at the world differently. She is particularly fascinated by travel and culture photography. More than 150 of her photographs have been accepted and exhibited by 68 International Salons spread across 28 countries
As told to Tanika Godbole
Bonda Tribal Lady                                                   DaZhai Village, China
I had always been interested in painting and photography. My father, who worked in the Advertising industry, was a keen photographer. As a child I had access to many books on photography, but I was more inclined towards painting. My husband is interested in photography too, and we often combined the activities of travelling and photography But I myself was never a photographer. In 2010, my husband started finding it very hard to make time for his hobby. Since his cameras were gathering dust, he gifted me his Canon set comprising of a Canon 5D Mark II, a 7D and accompanying lenses. It was a life changing experience. All my photographs that you can see have been taken in the last four years. I have had no formal training at all but picked up tips along the way. The internet was a great help as well.
Getting ready for the show, Siligur                           Khiva, Uzbekistan
Since my family travels a lot, it has never been a problem to balance photography and family life. My husband and son are both enthusiastic photographers have encouraged and supported my passion.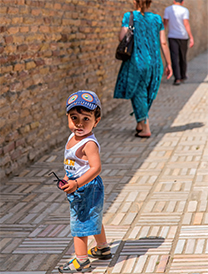 Bukhara, Uzbekistan
Photography is the means through which I can traverse the boundary of my city, state or country and reach out to the world. I express my thoughts, my feelings, and our rich Indian culture through my images. To budding photographers, I would say—if you have a dream, strive to achieve it. Share the photographs you take and seek advice. With so many photography and social networking sites, its easier to seek expert advise and hone your skills. At the end of the day, stay true to your heart. Observe as many photographs as possible but believe in originality instead of imitating someone else's style of photography.