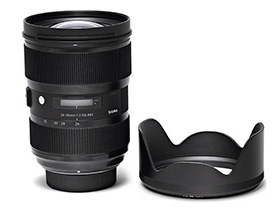 Sigma's Art lenses have created a reputation amongst premium lenses for the brilliant optics and sturdy build quality. These new breed of lenses are compatible with Sigma's USB dock, which allows you to upgrade the lens firmware and also to make fine adjustments such as focus fine-tuning. The 24-35mm f/2 DG HSM | A joins the bandwagon with the same brilliance.
Design and Build Quality
The Sigma 24-35mm f/2 lens has a very sturdy construction with an optimum use of metal and engineering plastic. The lens shows its class with smooth, yet well-damped focus and zoom rings. There is only one switch that lets you select between AF and MF. A focus distance scale is incorporated, which has markings in both metres and feet.
The lens has a metal mount, but the filter thread is plastic. It has dimensions of 87.6 mm x122.7 mm and weighs 940g.
Key Features
The Sigma 24-35mm f/2 DG HSM lens sports the A (Art) designation, which is tagged with premium models featuring superior optics and professional construction. The lens is compatible with both Full Frame and APS-C type D-SLRs. In fact, Sigma claims that the lens is the world's first f/2 Full Frame zoom lens. The lens is constructed with 18 elements in 13 groups including an FLD (premium glass that provides equivalent performance to fluorite) and an SLD (Special Low-Dispersion) glass element. The 24-35mm has a 9-bladed diaphragm, which provides a circular aperture. The lens has a minimum aperture of f/16 and ilter size of 82mm. It focusses as close as 28cm and provides a maximum magnification of 1:4.4.
The lens is compatible with Sigma USB Dock, through which, you can finetune the focus and update firmware. Sigma claims that an updated AF algorithm in the lens makes autofocus more accurate and fast. The lens has a multi-layer coating to control flare and ghosting.
Sigma provides a flower shaped lens hood along with the lens.
Ergonomics
The Sigma 24-35mm f/2 DG HSM | A lens is not quite light at 940g. But the smooth focus and zoom rings make it comfortable to use. Both the rings have textured rubber finishing, which make them all the more comfortable to use. The focus ring rotates a little more than 90 degrees, which makes manual focussing effortless, but finetuning difficult. The lens employs internal focussing, which prevents the front element from rotating. This makes it ideal for use with graduated and polarising filters. The lens has focal lengths marked at 24, 28, 30, and 35mm. The distance marking in feet is printed in grey, and this makes it difficult to read.