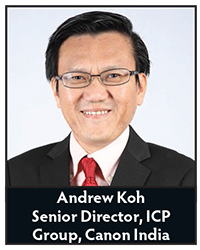 Considering the current slowdown in the Indian Market, how has Canon fared in 2013?
The year 2013 has been lot of challenges throughout the imaging industry, as well as economically for India. A number of changes affected the Indian market, including the proliferation of Smartphones; economic downturn etc. and we too had a stiff challenge during H1. However, during H2 2013, we have done significantly better. This is mainly because of the increasing demand of D-SLRs and exponential growth there in H2 2013.
What prospects does the Indian market hold for Canon in 2014?
India holds great potential for Canon in the year 2014. Photography industry in India has evolved in the past couple of decades. With advanced technology tools at their disposal, photographers today are pushing the boundaries of creativity, and giving birth to new forms of art which were unthinkable just a decade ago.
Digital SLR is the new found anchor for photography industry in India. With millions of potential photo enthusiasts wanting to create moments, not merely capture them, we see a big momentum in Digital SLR category. Keeping this in mind, Canon is focusing its marketing efforts to see the current D-SLR market of 2.5 lakh units double in three years' time which will further help in growing Canon's D-SLR business contribution to 80% of the total camera business by 2015 in India.
What are the new products Canon is likely to introduce in 2014?
We would be launching several key products in 2014. Besides some models of compact cameras, we would also be launching a few D-SLR models, catering towards both the entry- level segment as well as the pro and semi-professional segments. Additionally, some key and quite unique lenses would be brought to market, further expanding the range of EF, EF-S, and EF-M lenses
As always our customers can look forward to new technologies and innovative products in the year 2014 that will enhance their photography experience.
How has proliferation of Smartphones affected Canon's sales of compact digital cameras?
Smartphones have affected all manufacturers of digital compact cameras and Canon is no exception to this fact. We have noticed a 'de-growth' of 30% to this segment but we do see an increasing demand of our compact cameras with high zoom which can easily capture the moments differently.
What is Canon's share in a) compacts b) D-SLR c) Prosumer/bridge cameras?
Canon's market share in compact cameras is 23%, Prosumer cameras is around 20% and for D-SLR it is, 48%.
Next year, Canon expects D-SLR's share to be 50 percent when the market touches 3 lakh units
To further solidify the D-SLR category, Canon has devised extensive growth plans and strategy of realigning the brand imagery and moving it from a niche to a mass market category to achieve stronger sustained annual growth to double the size of this market in next 3 years.
Canon's D-SLR cameras are available at a price of around Rs.29,000 to Rs 4.55 lakh in India. Average sale price of D-SLR stands at Rs.40,000.
Rohinton Mehta