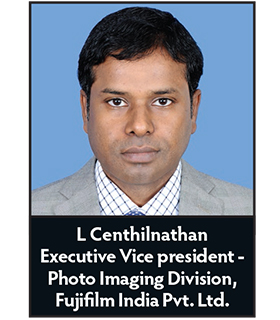 What are the innovative products that Fujifilm will be unveiling both in the thermal/inkjet toner Sublimation and Dry Mini Labs segment for the coming year?
We at Fujifilm believe in expanding and innovating printing solutions hence this year would be introducing the FRONTIER-S Dry minilab and instax Share – smart phone printer.
Please tell us about your main digital printing solutions
As consumers seek diverse applications for their ever-widening client base, we offer different products catering to different segments. In Thermal, we have the ASK300, in Inkjet, we offer the FRONTIER-S and in Toner, we provide the Phaser 6270 Onsite Photo Publishing System (OPPS) that cater to their growing demands. Hence we have solution designed for every segment apart from a unique in-camera onsite print solution through instax, especially for event and wedding photographers to realize onsite execution.
Photo Books are one of the most popular solutions for the photography industry, thanks to the influx of Smartphone sans social media in India. With Photo Books likely to see sales in excess of 1.5 million units in India, how does Fujifilm hope to target the potential market?
As you would be aware, Fujifilm has cutting edge technology and knowhow to develop and customise solutions to cater to the recent developments in the market due to the exponential growth in imaging segment via Smartphone sales. The Photo Book market is looking up hence we plan to address the market through Phaser 6270 Onsite Photo Publishing System (OPPS) and Photo Book builder.
Industry insiders have been upbeat about printing on different media like books, mugs, and t-shirts for a long time. In your opinion, what could be done to re-invigorate the market apart from this?
The industry shares consumer voice and hence it only stands to show that printing on different media continues to excite people. As technology innovations offering more solutions tend to fall into a common line, services like these would be the key differentiators for business enterprises, and the offerings from Fujifilm would be Acuity LED printers which provides wide printing options on glass, wood, tiles etc.
"Even today, 95-96 percent of printing still gets done at the photo studios. The remaining 4-5 percent is divided between printing through online services and printing at home. Are you convinced that its offline retail focus is a good bet for the Indian consumer?
The scenario at hand right now seems to be more conventional as far as printing is concerned. Many developed markets took time for this transition. As we are a more conscious market, technology availability and connectivity is the key. The growing online industry is proof enough to understand this trend. Once online becomes more available with ease of operation then we can see a clear change in this ratio stated above.
The global recession has most likely affected Fujifilm business in India. What steps are Fujifilm taking to counter this problem?
The global slowdown has been affecting all markets let alone India. We are diversifying solutions to suit wider customer base. Within this industry potential we are in fact maintaining and growing our market share globally which is attributed mainly to emerging market.
Rohinton Mehta