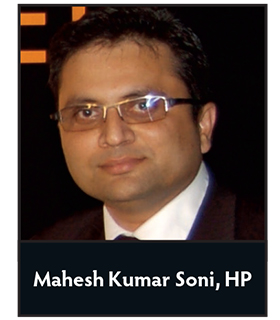 Mahesh Kumar Soni, Country Business Manager, Large Format Designjet Printers, HP India in conversation with Natasha Desai speaks about the innovation and growth that HP has to offer for the evolving printing needs
With structured service centers in over 200 cities in India and a commitment to provide responses to any grievances in 24 hours, HP strives to provide the best service possible. With the demand for diverse printing options coming up globally and in India, we are excited to take steps to meet the needs from the various industries.
Innovative & Intuitive Products
The HP Designjet Z5400 is our newest product which has seen a lot of success over the last couple of months. It is a revolutionary product in terms of bringing a number of firsts to the market. It is the first device to use pigment solution while printing and the first to use an intuitive touch panel on the device. It has an integrated hardware postscript as well as a USB drive. Also, the HP Designjet Z2100 is another one of our success stories, which was used to print French photojournalist, Franck Vogel's book and exhibition material.
Showcase at the Imaging India Expo 2013
This year we will have a series of live demonstrations to show all the visitors how effective our products are. Apart from these displays and demonstrations, we will be putting up a space displaying photographs that were printed using our products. This will go beyond just talking and demonstrating as viewers will be able to see the full capability of our technology.
Benefit to the Photography Community
Since it is our aim to provide the best solutions for printing needs, we have come out with new software called the Instant Printing Pro, which is installed in all our devices. The software allows you to print independent of your editing software. Simply put, no matter which format your images are in, the device will be able to print without any hassle. We are also meeting the other need to reproduce the best possible colour in print with our hardware postscript.
This allows the bestpossible CMYK conversion and the Z5400 provides the best possible combination to give high quality printing. Another benefit of the HP Designjet Z5400 is the USB drive on the device, thus not requiring the printer to be connected to a laptop or computer.
Trends, Challenges and the Way Forward
Globally and even in India, the need of the hour is fast printing and the versatility of the media that it is printed on. With our efforts concentrated on meeting the art, photography
Rohinton Mehta