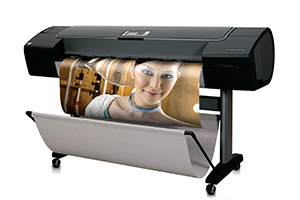 Bringing compelling stories to light is one very important function of photography. French photojournalist Franck Vogel has done just that with his body of work on the Bishnois of Rajasthan. The Bishnois are the original nature conservationists and Vogel was able to gain their trust and thus allowed to document their way of life. With the support of HP, Franck's photographs have made its way to India in the form of an exhibition at the Mehrangarh Fort in Jodhpur. Maharaja Gaj Singh II inaugurated the event; Nupur Tron, the goodwill ambassador of Art and Culture for France and India, curated the exhibition.
For exhibition, all the images were printed using the HP Designjet photo printers. Both colour as well as the black and white images were printed with beautiful results.
• HP Designjet Z3200 photo printer is a 12 colour ink printer, can produce color gamut of 95 percent PANTONE coverage which is ideal for professional photographers and delivers long lasting gallery-quality prints.
• HP Designjet Z6200 photo printer is a fast heavy duty printer with 8 colour ink system and print jobs offering remarkable black-and- white high quality photo images. This printer takes on tough photo printing challenges with the colour gamut enabled by Chromatic RED ink and uniform gloss.
To attain the best effect possible, the photographs were printed on HP's Instant Dry Satin Photo Paper.