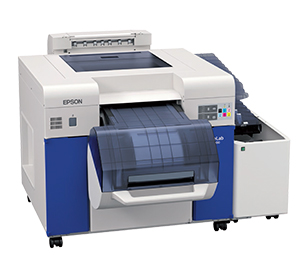 Epson SureLab SL- D3000, the company's first inkjet-based dry photo lab, promises a host of advantages for photo print service providers including superior quality, low cost per print, improved flexibility, and simpler maintenance. The printer is the most advanced professional quality album printer and is touted as an ideal choice for those looking to set up or expand their professional album printing business. The printer's amazing speed allows users to procure 650 prints in an hour. Also, consumers can choose print sizes ranging from 4 to 12 inches.
Equipped with Epson's Micro Piezo print head, the printer is capable of delivering images with 1440 x 1440 dpi resolution. Using the SL-D3000, consumers can create high quality prints on glossy, matte, and luster media up to 12 inches wide for printing professional photographs, greetings cards, invitations, flyers, panoramic landscapes and promotional leaflets.
The UltraChrome D6 six-colour ink set used by the system features high capacity 700ml cartridges, capable of achieving a wide colour gamut that exceeds that of traditional silver halide, thereby yielding prints that are vivid and lifelike with excellent black density. Enhanced tone gradation is achieved through advanced image processing; blue skies are brilliant while skin tones are subtle, and grey backgrounds are soft. The printer is exceptionally easy to operate with virtually no maintenance required except consumables replacement.
Elaborating on the printer's myriad advantages, S M Ram Prasad, DGM, Consumer Products at Epson India said, "For those looking to either expand or set up their business in the professional photo album space this is the ideal printer. The Sl-D3000 offers stunning details with vibrant colour effect produced at an exceptional speed. Sensing a need for a professional photo printer in the dry lab segment, we came out with Epson SureLab SL-D3000. The printer is a perfect solution for professional photo labs looking for high quality print outs with a focus on album printing."
Epson SureLab comes bundled with system software that allows users to perform a hassle-free maintenance at their own will and time. The printer is equipped with a dual-roll model that automatically selects the front or rear roll according to the print size and paper type. The high capacity and automated paper loading saves ones time, money, and reduces wastage as well.
The SL-D3000 retails at an MRP of Rs. 20 Lakh.