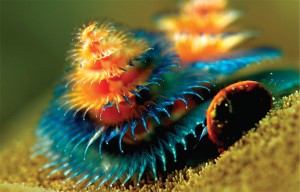 Sumer started as a SCUBA diving instructor on the exotic islets of Kadmat and Bangaram, in Lakshadweep, India. His passion for pho-Crystalline tography and intrigue for underwater life and keen desire to share this rare and exquisite beauty of the ocean drove him to become an underwater photographer 15 years ago. Soon he was not only introducing people to the ocean's colourful fish life by teaching them diving, but also visually through his wildlife photography and video documentary.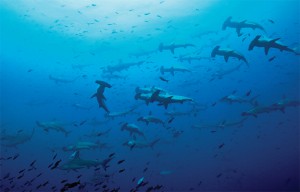 Great hammerhead sharks
Sumer discovered that as space in the ocean is infi nite, so are its possibilities. His work expanded into fashion and fine art. He began experimenting with the eff ects of light moving from the medium of air into water, its refl ective qualities and its playful bubbles and ability to bring out colours in fabrics, the sparkle in jewellery and the grace in the contours of the human body. For him wildlife photography is therapeutic and soulful. Capturing a sea creature in all its beauty in its habitat is breathtaking. Underwater photography is defi nitely a lot more diffi cult and complex than land photography. Water acts as a diff using element, everything is moving—the photographer, the camera, the fish which is what makes it difficult to capture an image underwater. It is quite important for an underwater photographer to be a good diver in order to improve his skill. Sumer made an expedition in June this year to the Galapagos Islands, 600km off the west coast of Ecuador in South America. One hears folk tales of these places and it is also the place Charles Darwin visited for his research on the Theory of Evolution. To actually travel there, dive amongst thousands of hammer heads and silky sharks, and take pictures was an incredible experience for Sumer.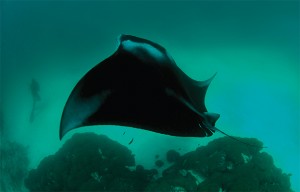 Primordial
Sumer has shot editorials for Vogue and Condé Nast Traveller, advertisements for Channel V and done wildlife videography for Dusty Foot Productions, amongst many other clients. His work is available as prints and stock images, and he specializes in editorials, advertisements and film shoots.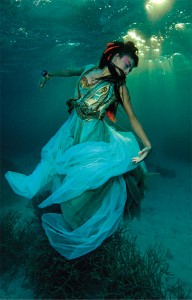 Sunset Diva
Sumer has been consulting with and training for advertisements, feature films in Bollywood and the South Indian film industry for shots about drowning, swimming, dancing or diving underwater. Sumer help the directors visualise the concept and train the actors for their sequences. He is currently working on an underwater sequence in Homi Adajania's Finding Fanny.
As told to Tanika Godbole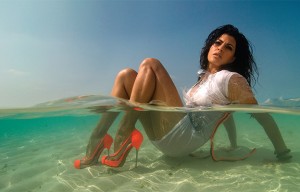 Jacqueline Fernandes, Vogue magazine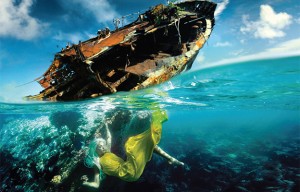 Shipwrecked