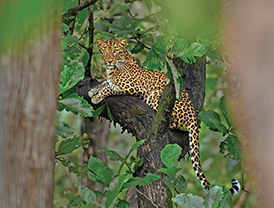 Tell us about yourself – your profession, passion for photography, your beginnings…
I was born in Coorg but grew up in Bangalore. My interest in birds started at a very young age. My parents were very fond of pets and had a whole lot of birds at home. There were also a lot of injured birds that were found on the streets such as black kites, owlets, crow etc. We cared for them at home. By the age of 8, I was racing pigeons with grown-ups in my locality and used to breed my own racers. This was a problem at home as I did not concentrate on my studies, because of which I found myself being sent to a hostel about 80 kilometres from Bangalore. This actually worked in my favour as the place was full of wild birds, giving me the opportunity to see different species of birds. This motivated me to read and learn a lot about them. I started a nature club at school where we also tended to many injured birds and animals in our campus. Life took over after completing my education. For about ten years, I got too involved with my career and lost touch with my passion for birds, until one morning when I found an injured pigeon outside my home and I took him in. I realised that working with birds has always been my first love, and it reignited the fire in me. As bird photography slowly gained importance, photographing Raptors captured my interest. Now I am completely lost in them. Bird photography is pure passion as well as a hobby for me, words cannot explain why, but I just want to do it, and that's it! For a living I work as a director of the land banking department at M/s. Cornerstone Properties in Bangalore, and it does provide for all the expenses involved for my photography.
Leopard                                                                            Snake Eagle with Prey
How did you get into photography?
Although, I was always fascinated with photography since my childhood, I always photographed using a borrowed camera. In 2006 I had an opportunity to attend a nature camp, for which I excitedly picked up a point and shoot with 12 X zoom and thought I had one of the best cameras for bird photography, but at camp it was a different story. There I was introduced to a DSLR for the first time and also saw some big lenses with the other attendees. I had to hide my point and shoot camera out of embarrassment. On returning from the camp, I headed straight to a place called Burma bazaar and asked for a DSLR .He handed me a Canon 400D and thus began my affair with photography. With my love for birds, I had no doubt about choosing a subject to photograph. Along the way, I got a lot of tips and learnt a lot tricks about photography from great photography forums on the internet and magazines like Smart Photography.


Kestrel in Flight                                            Jackal
Your pictures are amazingly sharp and beautiful. Being a nature and wildlife photographer myself, I know just how difficult it is to get sharp images of birds in flight in spite of all the sophistication of modern cameras. What's your secret? Please share it with us.
Thank you, it's an honour to hear such appreciation from a senior photographer like you. There is no secret as such. I feel that better understanding of the subject gives you a window to capture that moment you want to freeze. As I observe birds going about their routine, there are some simple moments such as hunting, feeding, play time etc., that I want capture to show the world. I start imagining such moments and continuously keep thinking of how to capture them. Sooner or later those moments are played in reality, giving me the opportunity to capture the frame better than the previous time. Another important key is perseverance, i.e., you have to keep going back till you get what you want.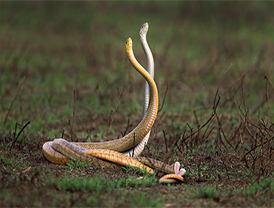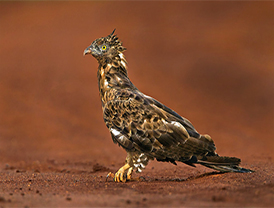 Male Rat Snakes Sparring                                            Honey Buzzard
What focal length lenses would you recommend to budding nature and wildlife photographers?
For starters you need to understand the whole set-up of the camera and lens. Personally I would recommend a super zoom camera that gives the pleasure of ha…….. a single set-up for
both wide angle and close up shots, This really helps the beginners to focus more on the subject and framing, rather than trying to shoot with multiple equipment. When you graduate to an SLR for wildlife, a telephoto zoom lens such as 70-300mm, 80-400mm or 100-400 mm would really be useful mainly because of the focal length range, that they offer. A wide angle zoom lens is also a must, because as a nature and wildlife photographer you come across great locations, sights and moments that only a wide angle would do justice to. I suggest expensive big focal length prime lenses only if you are fully convinced that you will do wildlife photography for the rest of your life.
Northern Shoveler Male                                                 Blue Tailed Bee Eater
How important are 'fast' lenses in your line of work?
I realised the importance of a fast lens when I started using the 500mm F4 lens. It really changed the way I wanted to frame the birds. I love to capture that storytelling moment, and a fast lens really helps. Freezing action shots is quite difficult without them.
Almost every wildlife photographer has a special story about his/her favourite image or a situation that could have jeopardised his safety during the shoot. What's yours?
I have had a few moments, but nothing really life threatening. Once a little cobra entered my hide. Also I have had a checkered keelback snake use my leg to coil around as a support to hunt fish while I was trying to shoot bar-headed geese sitting in the water. A scarier incident was when I came face to face with a young tusker while birding in Coorg. Though I froze in fear, it looked like I scared him a lot more than he scared me, as he just trumpeted and ran for his life.
Opinions seem to be divided on the use of electronic flash for photographing birds and animals. Some well-known nature photographers say that it does not harm the birds/animals, while some say the opposite. What is your opinion?
Personally I feel you cannot do wildlife photography without disturbing the wildlife. The disturbance may be very little or more, it's because you are going into their habitat and they do not want you there. Disturbing them is a form of harm too, so flash photography does harm/ disturb the wildlife subject. So, mainly the responsibility is up to the photographer, as to how to minimise this harm. I don't own a flash as I feel natural light sets up the beauty of the frame, but at the same time I am not against it either.
To what extent do you edit your digital images?
I love sketching and painting, so I approach my frame as an artist. I edit my images till they look good to me. The tools I use in excess are Shadow/ Highlight, Levels, Brightness/ Contrast, Burning/Dodging, Noise Removal and Sharpness. I do not hesitate to clone out a few nits and distractions in the frame as long as it does not alter the story or situation. I am not a fan of adding external elements into the frame.
Do you have a method of judging the required shutter speed to arrest wing movement but at the same time, allowing for a slight blur of the wing tips?
Due to the uncontrolled environment in wildlife photography, I really do not have a thumb rule to judge the shutter speed to get wing tip blurs. Most of the time I set it up between 1/1000 – 1/1500 and pray that it freezes with that little blur. Maintaining proper focus on the subject is the key here. However I have found it difficult to produce this effect with very good light, as even at 1/800 or 1/1000 you can freeze pretty well and trying to push the shutter speed even lower can mess up the shot. I attempt this with very co-operative subjects and it usually works quite well in overcast conditions.
Any tips that you would like to share with aspiring wildlife photographers?
If you want to be a wildlife photographer you need to first have a subject that you're really passionate about, it could be anything from ants to elephants. It's only true passion that will keep you going for long and will help you forget all the pains, disappointments that you may go through and make you go back and try harder. You need to have a lot of respect for your subjects too because it is this respect that is critical for the well-being of both the photographer and subject. I would also advice one to have an idol, whose work you look up to as a benchmark and try to reach that goal yourself. It is also very advisable to join an online nature photography forum where you meet a lot of seasoned photographers from whom you could learn a lot. And surely one quality that every wildlife should work on is patience. It really pays.
As told to Rohinton Mehta
©