Digitek has announced the launch of AFI Phoenix D3 Gimbal in India, which supports professional D-SLR cameras. The device supports real time camera focussing with cutting edge features and functions. The Gimbal uses an efficient brush-less motor technology for swift, precise and enduring performance. The device has been creatively engineered for easy manoeuvrability.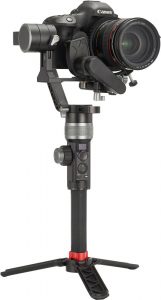 The AFI Phoenix D3 gimbal enables steady, coordinated and sensitive video shoots, stabilised along three axes—pitch, yaw and roll. The device can operate in four modes—full-following, pan-following, full-locking and roll-following. The users can shoot 360-degree time lapse and scene tracking and object rotating type of videos besides the many others. With uninterrupted switching among these modes the users can customise the Gimbal's effect. The roll-following mode allows users to shoot dynamic shots making the image more vivid and powerful.
The extended zoom system supports features like innovative zoom design and focus and zoom by handle knob. The Gimbal can be controlled with the mobile app using Wi-Fi. The gimbal is made from high quality aluminium alloy and has a maximum weight capacity of 3.2 kg with a built in foldable mini tripod design that makes it extremely portable. The device can be mounted on the Dual-Grip handle supporting system, tripod, monopod, or used with a cushion shoulder strap or any other extension fittings as per the user's comfort. The device can be used for up to 12 hrs on a full charge.
The AFI Phoenix D3 gimbal is priced at an MRP of INR 44,995 including Follow Focus Kit. It is available at all Leading Photographic Outlets across the country along with Amazon.com.