Smart Photography is pleased to bring to you the EISA Awards for 2018-2019.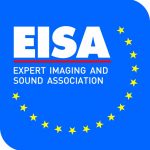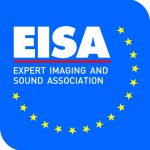 EISA is the world's largest independent awards panel and one that reflects the collective opinion of the 50+ most respected specialist magazines and their websites from in and around the European community, Australia, the USA and Asia. Member magazines pool their experience to inform the Association's consensus of the very best in all home and mobile sound and vision products. With every magazine having reviewed a broad swathe of specialist products, these comprehensive Awards are typically agreed upon with amicable efficiency.
The experts representing various magazine titles and websites met twice during the year to review, discuss and deliberate the various contenders for the Awards.
EISA CAMERA OF THE YEAR 2018-2019
Sony α7 III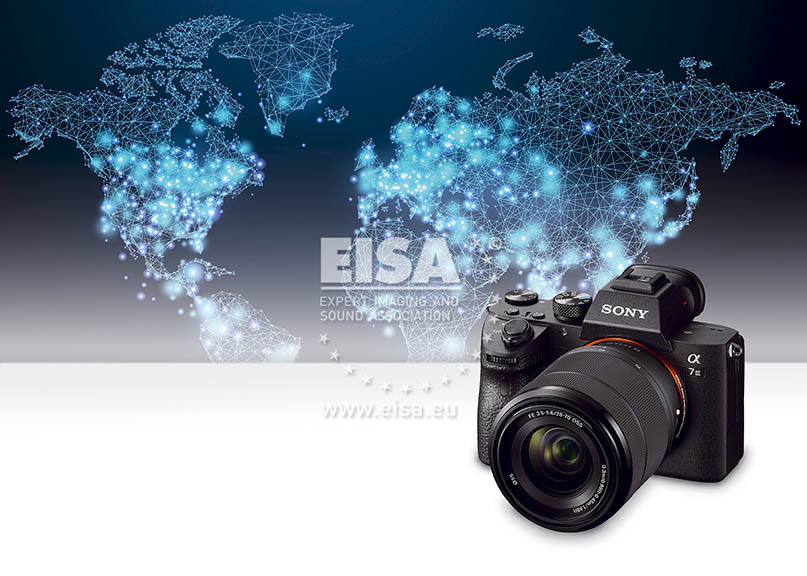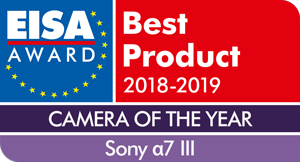 With the α7 III, Sony has set the standard for an all-round full-frame mirrorless camera capable of tackling many forms of photography. The new 24.2-megapixel back-illuminated Exmor R CMOS image sensor provides outstanding image quality in a wide range of lighting conditions. The autofocus system covers almost the entire frame, making it easy to focus on and track moving subjects that are not in the centre of the frame. With a burst speed of 10 frames per second and a 4K video mode, the α7 III is ready to capture fast action.
EISA PROFESSIONAL DSLR CAMERA 2018-2019
Nikon D850
The Nikon D850 is an outstanding and powerful full-frame D-SLR that can handle anything the user throws at it. Its 45.7-megapixel BSI CMOS sensor allows photographers to capture both high-resolution still images and full-frame 4K UHD video. The D850 can shoot seven frames per second at full resolution (nine with the optional battery grip) and has the same 153-point autofocus system as the Nikon D5, which allows it to track moving subjects reliably. The large and bright optical viewfinder makes it easy to frame your subjects.
EISA DSLR CAMERA 2018-2019
Canon EOS 6D Mark II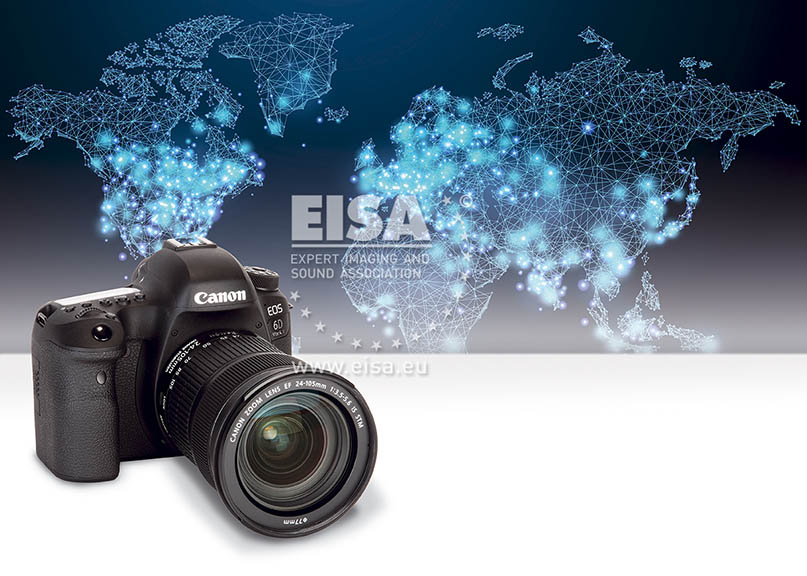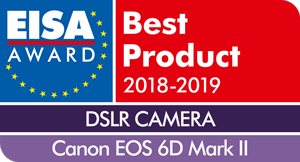 The Canon EOS 6D Mark II is a compact but powerful D-SLR for the enthusiast photographer. The 26.2-megapixel full-frame CMOS sensor and DIGIC 7 image processor work together to provide excellent image quality, even in low-light situations. The camera combines a fast and reliable 45-point autofocus system with Canon's impressive Dual Pixel CMOS autofocus system that is used for live view and video shooting. The vari-angle touchscreen – a first for Canon's full-frame cameras – makes it easy to frame the subject and to operate the camera menu.
EISA BEST BUY CAMERA 2018-2019
Canon EOS M50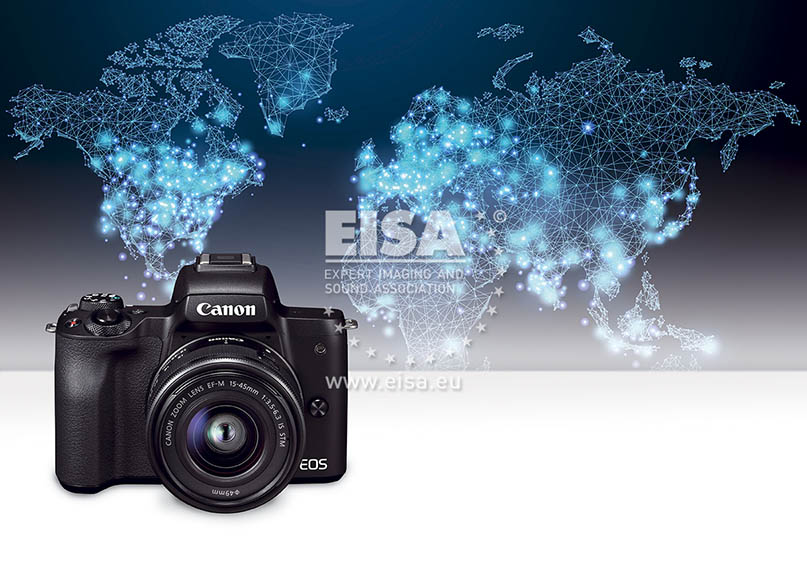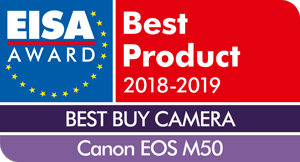 This small, light and affordable mirrorless camera delivers the same image quality as its larger siblings. Thanks to the 24.1-megapixel APS-C sensor and DIGIC 8 image processor it can capture both high-quality still images and 4K video. The Vari-Angle touchscreen makes it easy to frame your subject from any angle – high, low, and selfies and vlogs, with a simple tap-to-focus. The improved Dual Pixel CMOS AF allows for fast, accurate, and precise focusing across up to 88% of the imaging area in both photos and Full HD movies. With the built in Wi-Fi and Bluetooth you can easily transfer images to a mobile device and share them on social media.
EISA MIRRORLESS CAMERA 2018-2019
Fujifilm X-H1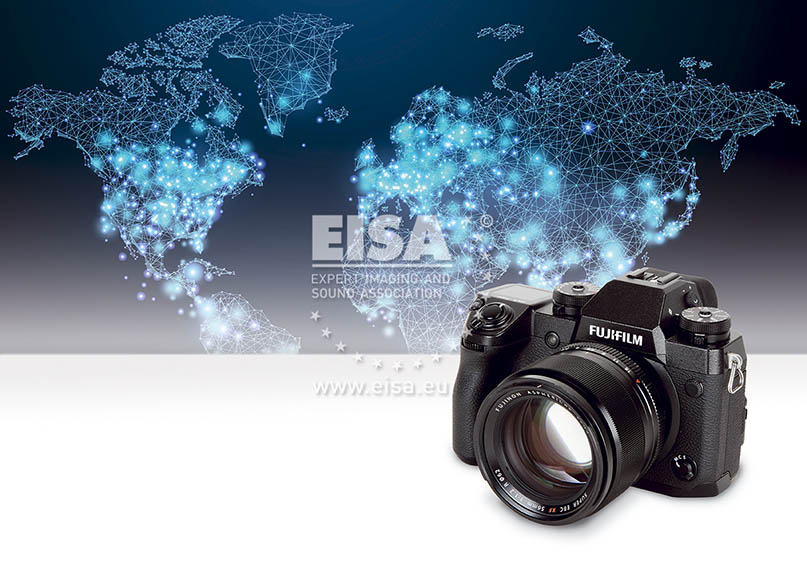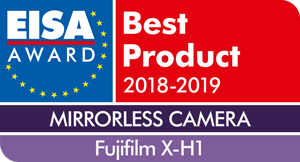 The Fujifilm X-H1 is the new professional flagship in the X system. For the first time it incorporates in-body image stabilisation, which is very effective. The ergonomics have been greatly improved over previous models with bigger buttons, a larger grip and a top LCD display. The fast hybrid autofocus is complemented by silent shooting up to 14 frames per second, while the new high-resolution viewfinder is one of the best on the market. Movie recording is enhanced with Cinema-4K resolution, F-Log gamma and a new Eterna film simulation. The X-H1 incorporates the excellent 24.3-megapixel X-Trans CMOS III sensor giving high resolution with low noise.
EISA PROFESSIONAL MIRRORLESS CAMERA 2018-2019
Sony α7R III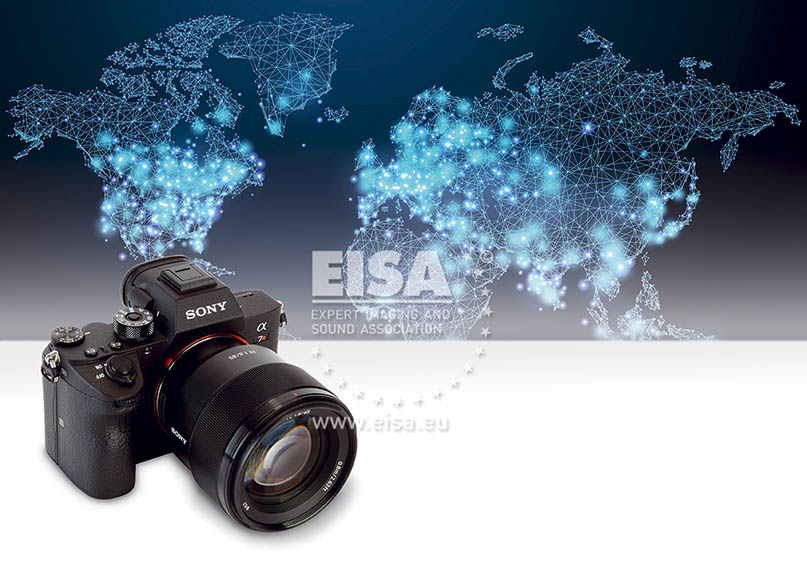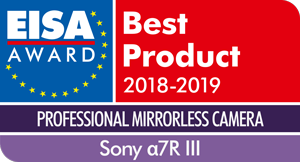 The third generation of Sony's high-resolution mirrorless camera, the α7R III has a 42.4-megapixel back-illuminated Exmor R CMOS sensor that produces images with tremendous detail. At the same time it provides high shooting speeds of up to 10 frames per second with autofocus tracking, allowing it to keep moving subjects in sharp focus. The 5-axis in-body image stabilisation system has been fine-tuned to support the high-resolution shooting capacity, meaning you can use the camera handheld in a wide range of conditions.
EISA SUPERZOOM CAMERA 2018-2019
Sony Cyber-shot RX10 IV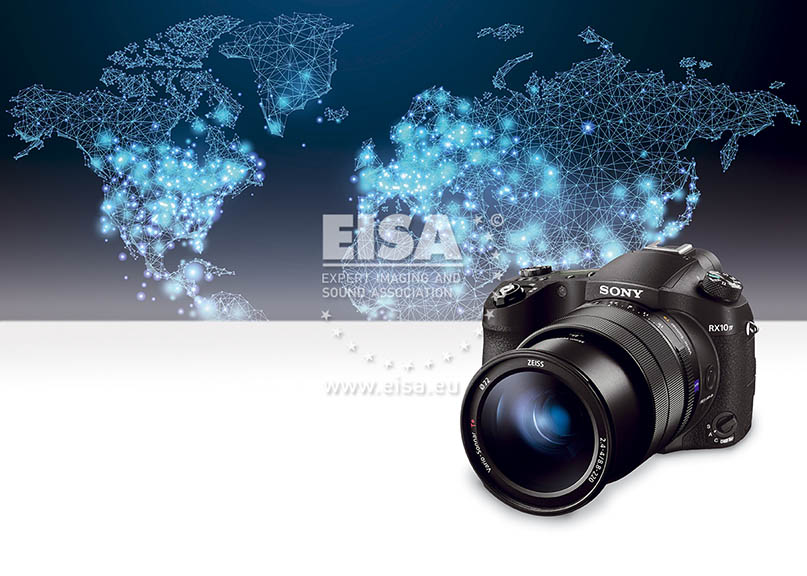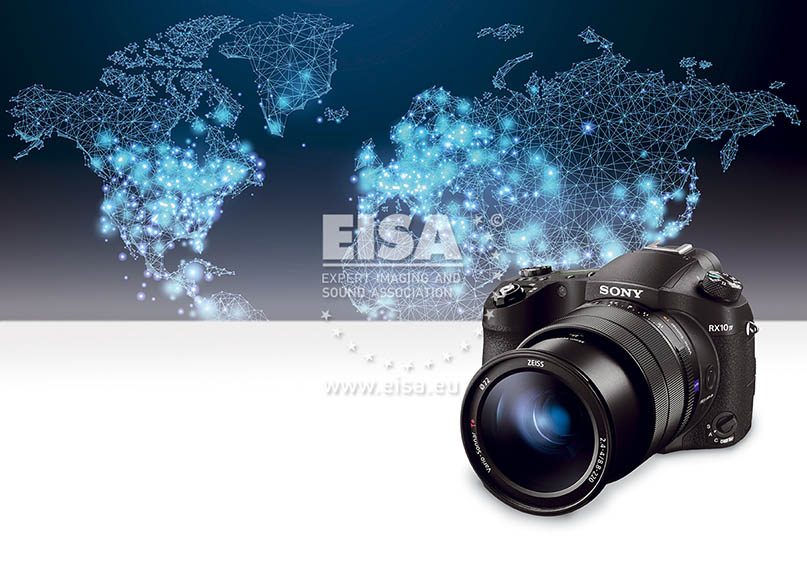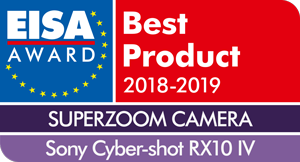 Sony's fourth-generation ultra-zoom camera, the RX10 IV combines a versatile 24-600mm equivalent f/2.4-4 ZEISS Vario-Sonnar T* lens with a large sensor: namely a 1in, 20.1-megapixel Exmor RS CMOS stacked image sensor. This combination allows the user to shoot sharp images across the entire zoom range from wide-angle to super-telephoto, without the need to change lenses. The Fast Hybrid autofocus system employs the same High-density Tracking technology as the Sony α series of cameras, which makes it easier to track fast-moving subjects such as birds in flight.
EISA DSLR ZOOM LENS 2018-2019
SIGMA 14-24mm F2.8 DG HSM | Art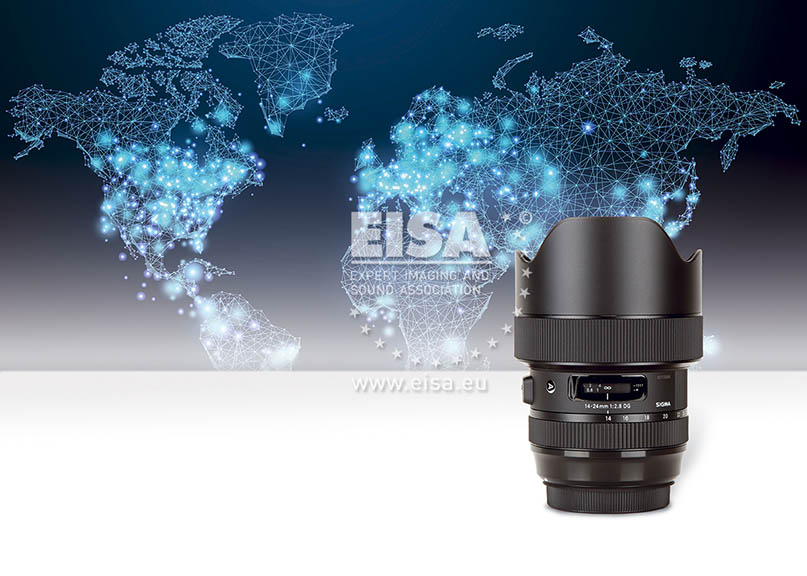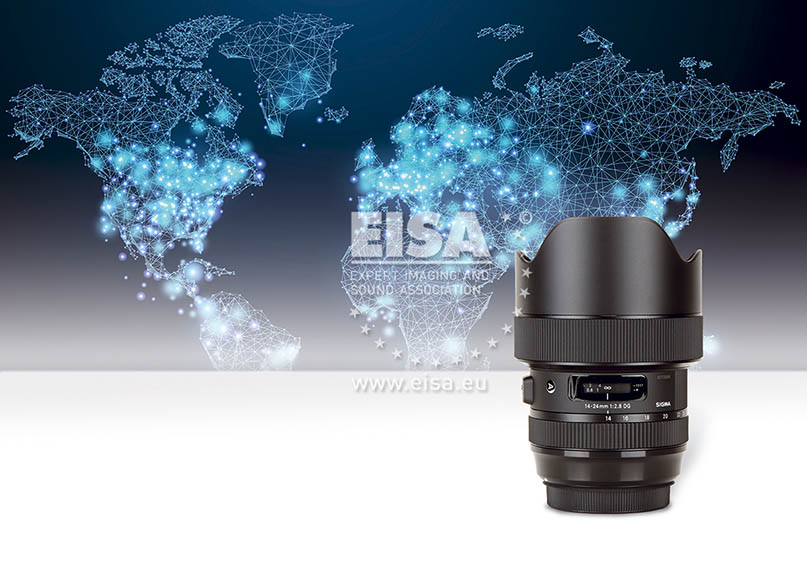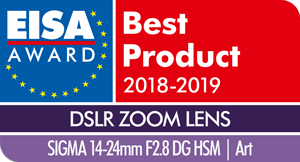 This SIGMA lens is a really impressive performer. It's rare to find a bright extreme wide-angle zoom of this kind with very high sharpness, virtually no linear distortion, and almost no sign of chromatic aberration. With extremely good build quality, well protected against dust and splashes, this is a lens you can use with confidence in poor weather conditions. Available for full-frame D-SLRs at a very reasonable price, this landscape and architecture lens stands out from the competition.
EISA DSLR TELEZOOM LENS 2018-2019
Tamron 70-210mm F/4 Di VC USD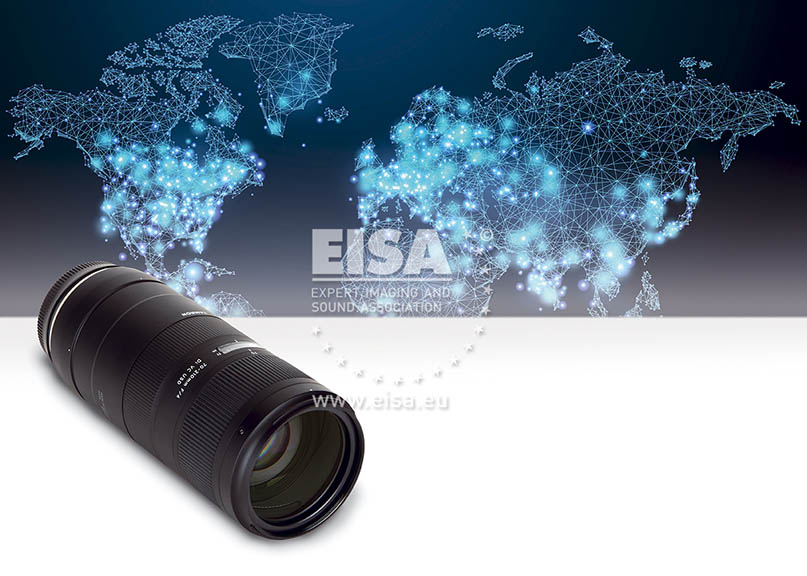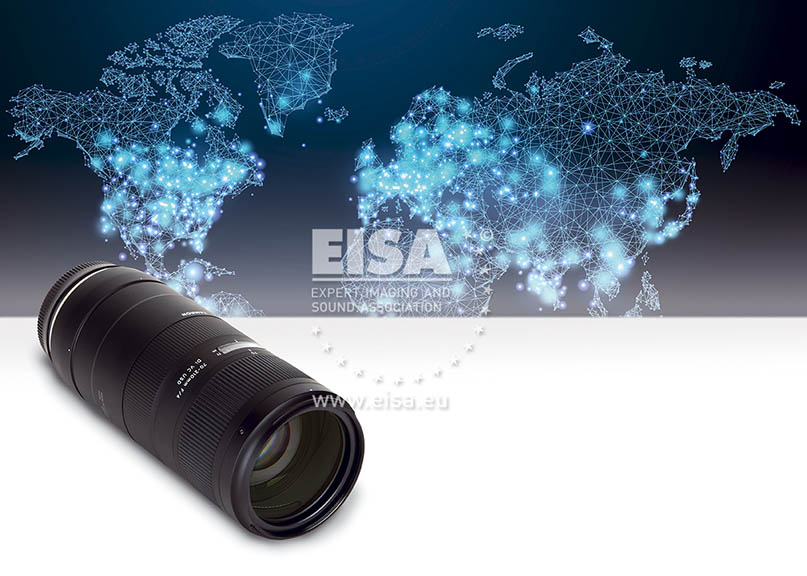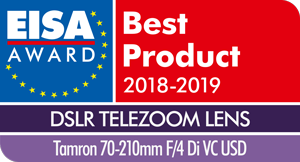 Tamron's latest telephoto zoom combines high-quality optics with a constant f/4 maximum aperture, fast and silent autofocus, and optical stabilisation, all at a fraction of the cost of equivalent lenses. It delivers impressively sharp images with minimal aberrations, along with attractive background blur. Relatively lightweight, its moisture-resistant construction should also appeal to photographers who regularly shoot outdoors. Providing a very attractive balance between image quality, robustness and portability, it's a great choice for enthusiast photographers.
EISA PROFESSIONAL LENS 2018-2019
Nikon AF-S NIKKOR 180-400mm f/4E TC1.4 FL ED VR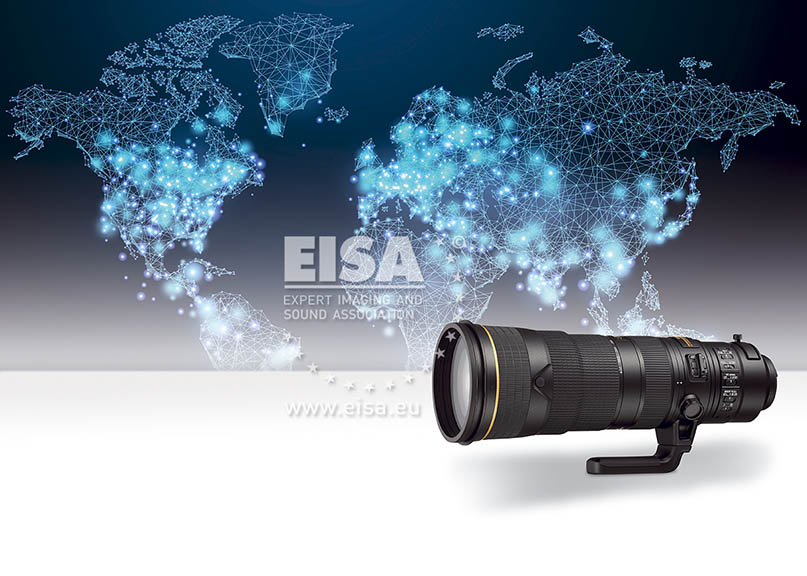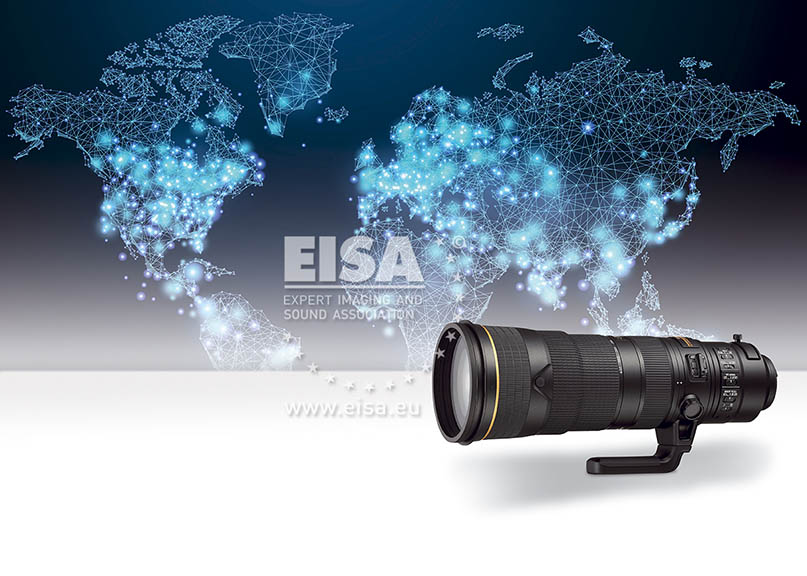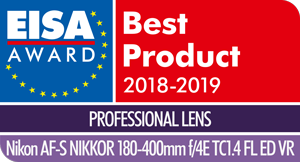 Nikon's first lens with a built-in teleconverter is a dream come true for many professional sports and action photographers. With the easy-to-use teleconverter, it provides focal lengths up to 560mm at a maximum aperture of f/5.6. The lens delivers sharp images throughout the zoom range, even when you are shooting at maximum aperture. Its effective stabilisation allows you to shoot at shutter speeds up to four stops slower than would otherwise be possible. The lens is fully weather resistant with a fluorine coating that protects the front element against water, dust and dirt.
EISA DSLR PRIME LENS 2018-2019
Canon EF 85mm f/1.4L IS USM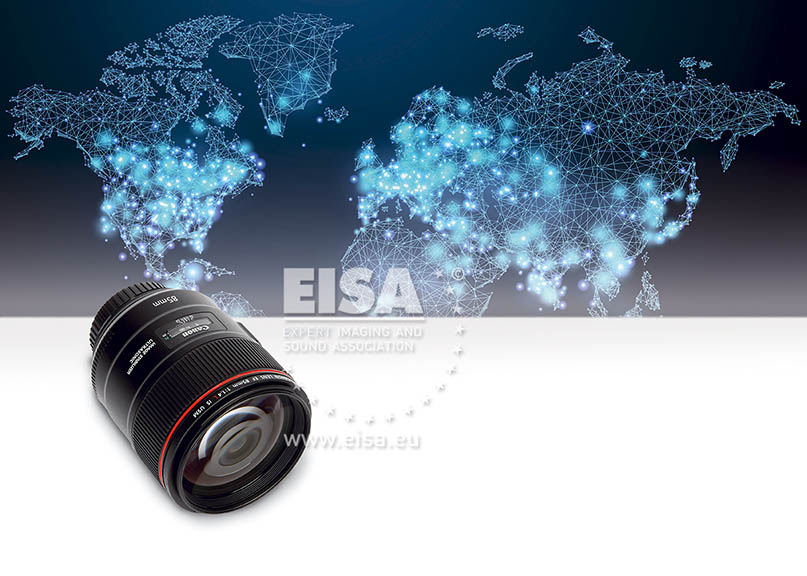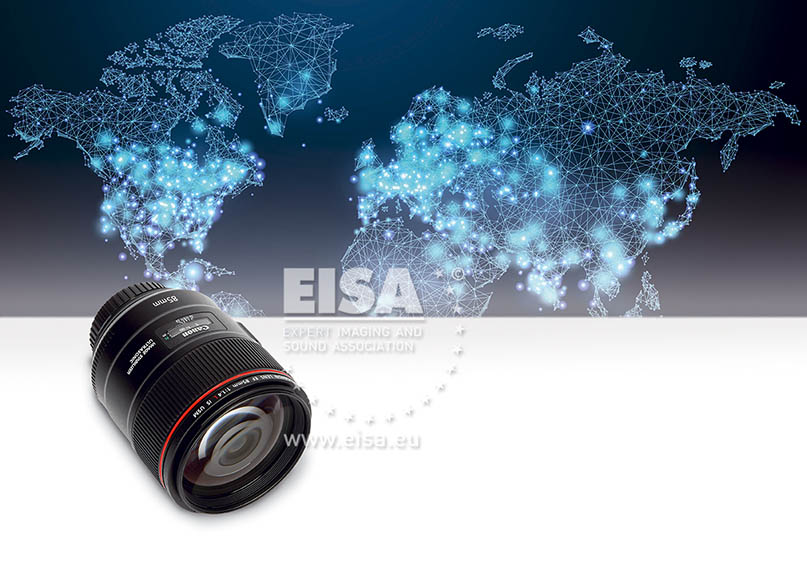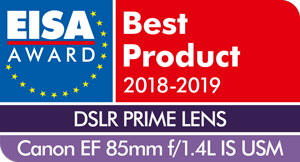 This unique lens combines built-in image stabilisation with a very large aperture. This combination makes it possible to take handheld pictures in very low light. The lens is built for professional work, with weather sealing and fast, accurate autofocus. The sharpness is improved compared to previous 85mm lenses from Canon, while blurred backgrounds are rendered very attractively. It's a perfect choice for portrait and wedding photographers shooting with high-resolution full-frame D-SLRs.
EISA MIRRORLESS WIDE-ANGLE ZOOM LENS 2018-2019
Sony FE 16-35mm F2.8 GM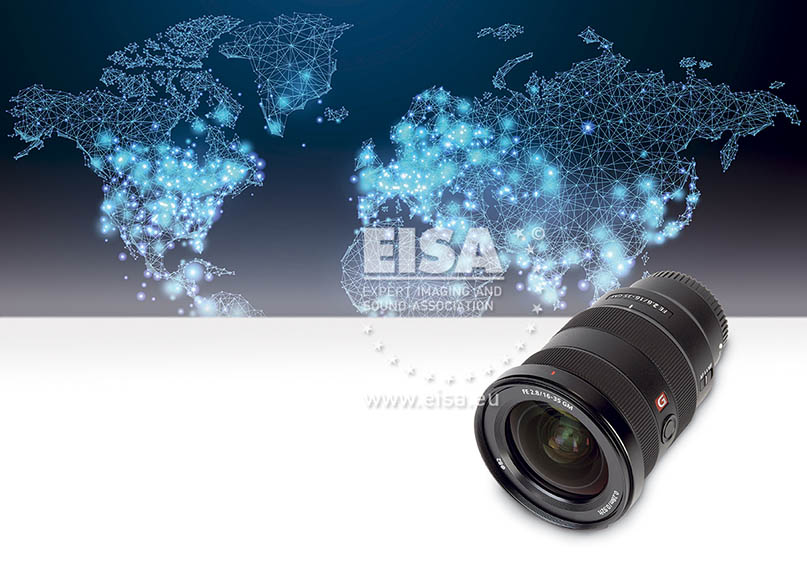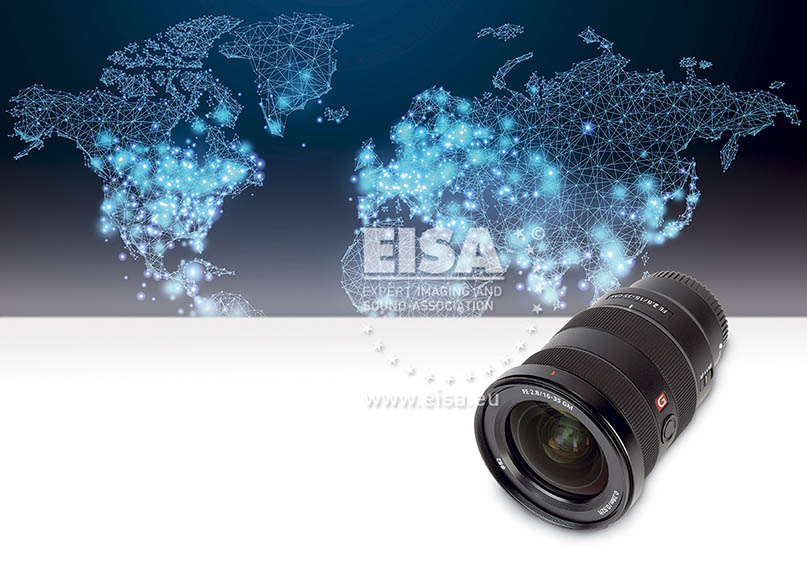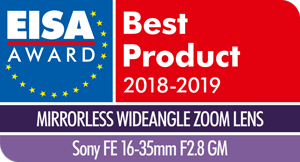 Part of Sony's premium G Master series, this is a great wide-angle zoom that provides impressive sharpness across the entire image. The lens has weather sealing and is well built for professional use, but is lighter in weight compared to its competitors. Yet it outperforms most of them, not only in terms of sharpness, but also giving images with low vignetting and minimal distortion. It's a perfect lens for landscape, architecture and cityscape photography.
EISA MIRRORLESS STANDARD ZOOM LENS 2018-2019
Tamron 28-75mm F/2.8 Di III RXD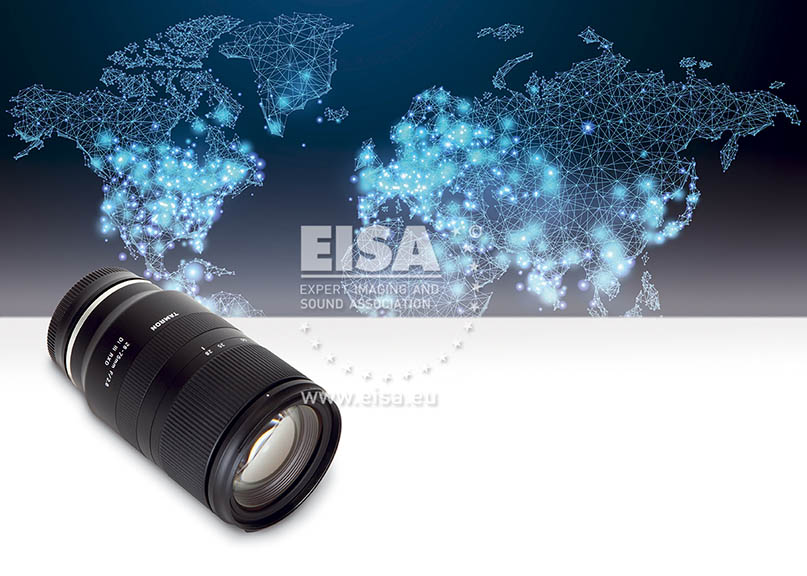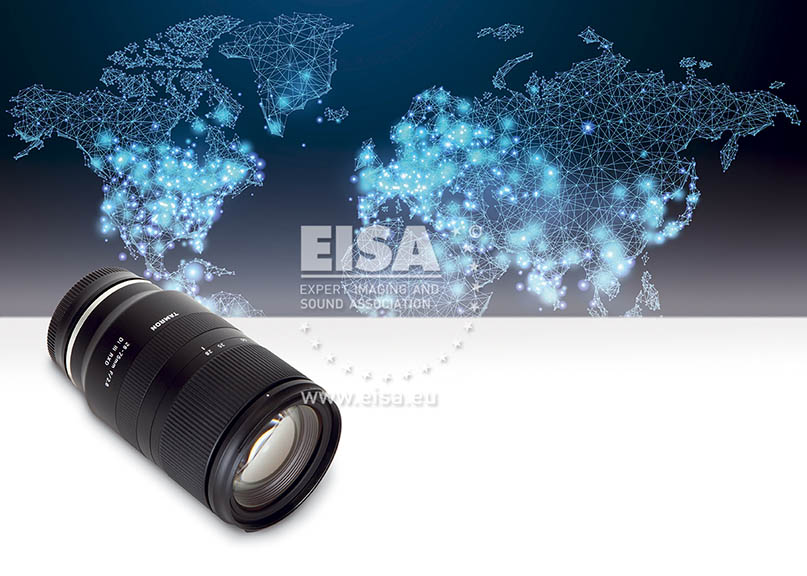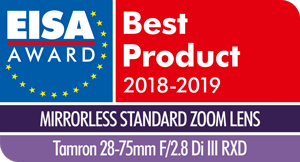 This Tamron is a high-speed standard zoom designed for full-frame mirrorless cameras. Compact and lightweight at just 550g, it is an excellent fit for small cameras such as the Sony α7 family. It is designed to produce enough detail for the newest high-resolution sensors, while the large aperture makes it easy to throw the background out of focus with a beautiful 'bokeh' effect. The fast, quiet autofocus motor is capable of keeping moving subjects in focus. Overall this lens provides very good performance at a highly competitive price.
EISA MIRRORLESS TELEZOOM LENS 2018-2019
Sony FE 100-400mm F4.5-5.6 GM OSS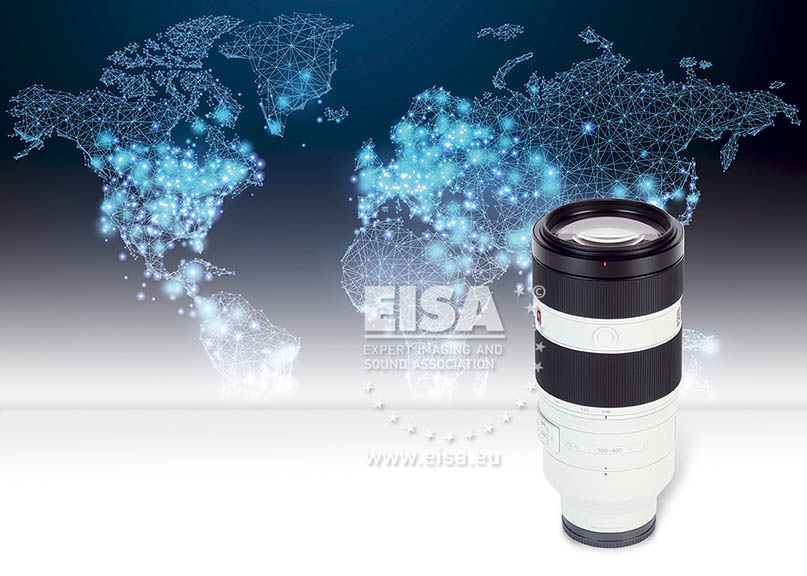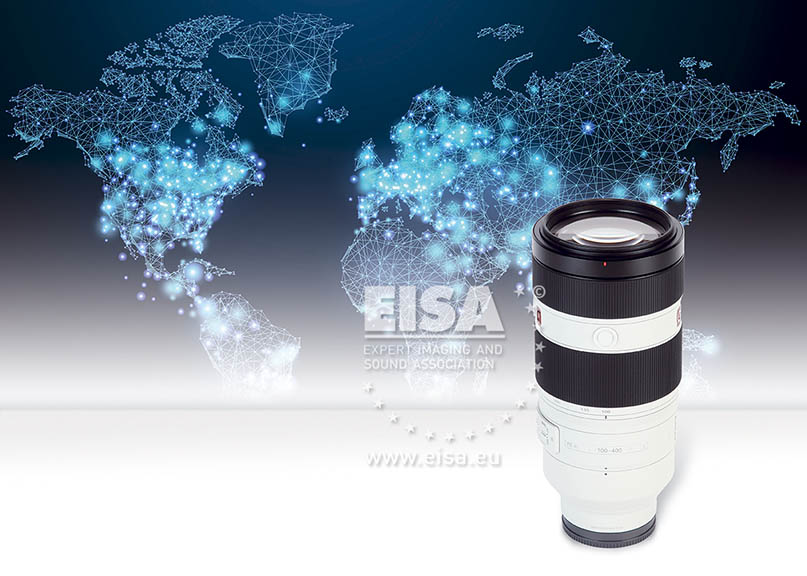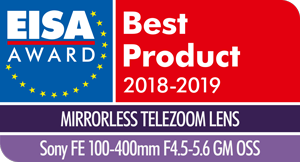 This super-telephoto zoom lens is ideal for sports and nature photography, and offers great sharpness throughout the zoom range. Vignetting is insignificant while distortion is very low and is not an issue for the type of photography typically practised with this lens. The autofocus is very fast, precise and silent, while the optical stabilisation ensures sharp photos at slow shutter speeds. Built to be used under adverse weather conditions, it is a great lens that offers very high image quality.
EISA PHOTO SERVICE 2018-2019
CEWE Photobook Pure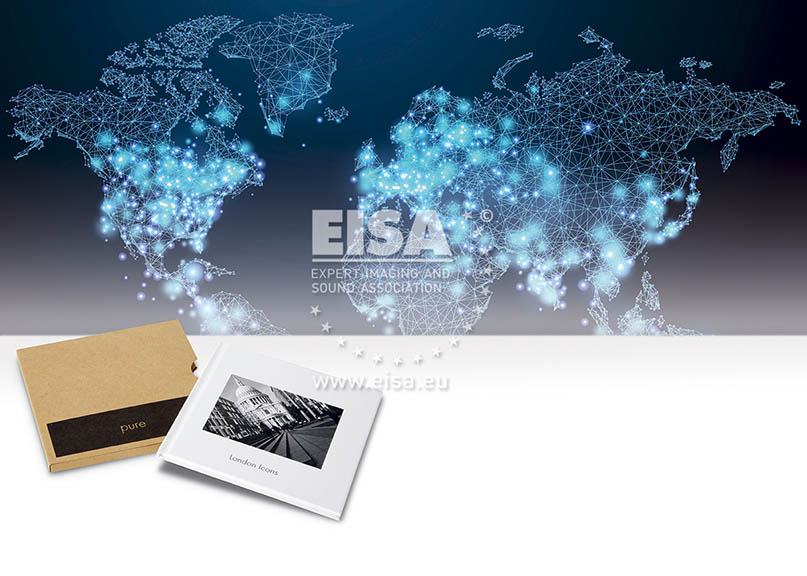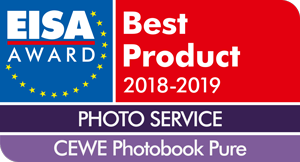 This app provides an easy-to-use and affordable photobook service for smartphone users wishing to showcase their pictures. Using the app, which is free for Android and iOS, simply select 22 pictures from your gallery and let it create a photobook that may be further customised before ordering. A personalised title goes on the cover, as well as a little message at the beginning of the book. The result is printed on premium matte paper, packed into a slipcase and delivered to your doorstep. The service is available in 19 European countries at an attractively low price.
EISA PHOTO INNOVATION 2018-2019
Canon Speedlite 470EX-AI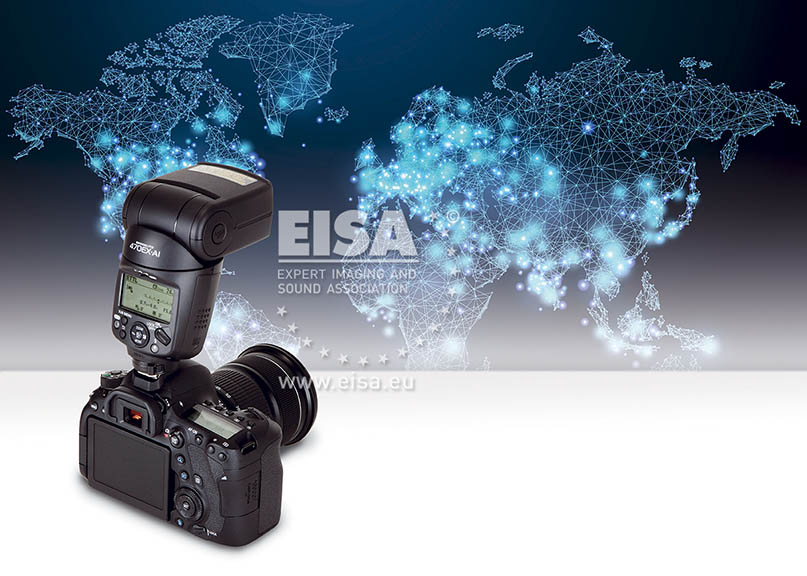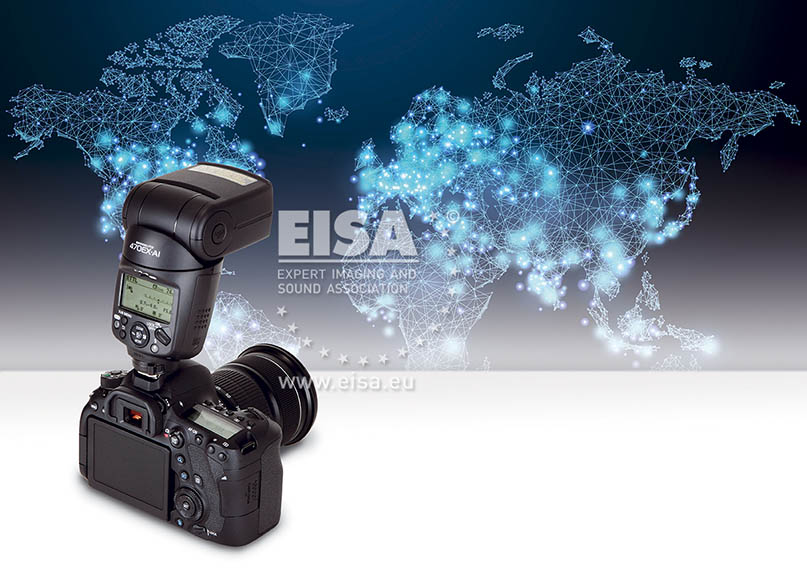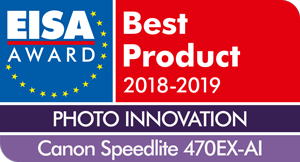 This Speedlite flashgun makes the life of the photographer much easier by taking the guesswork out of bounced flash. The 470EX-AI automatically fires a series of pre-flashes to determine how light can be bounced from a ceiling or wall, and rotates the flash head into the right position to provide soft and flattering light. Alternatively the photographer can manually position the flash head, and the unit will maintain this position even if the camera is rotated. With full E-TTL control the flash will automatically fire at the right intensity to give perfectly exposed images.
COMBINED AWARD WITH HT VIDEO & DISPLAY GROUP
EISA PHOTO VIDEO CAMERA 2018-2019
Panasonic LUMIX DC-GH5S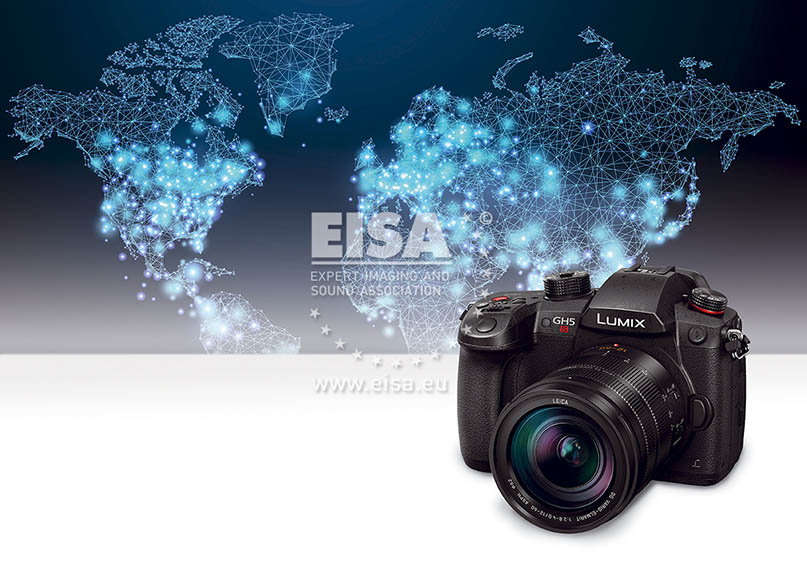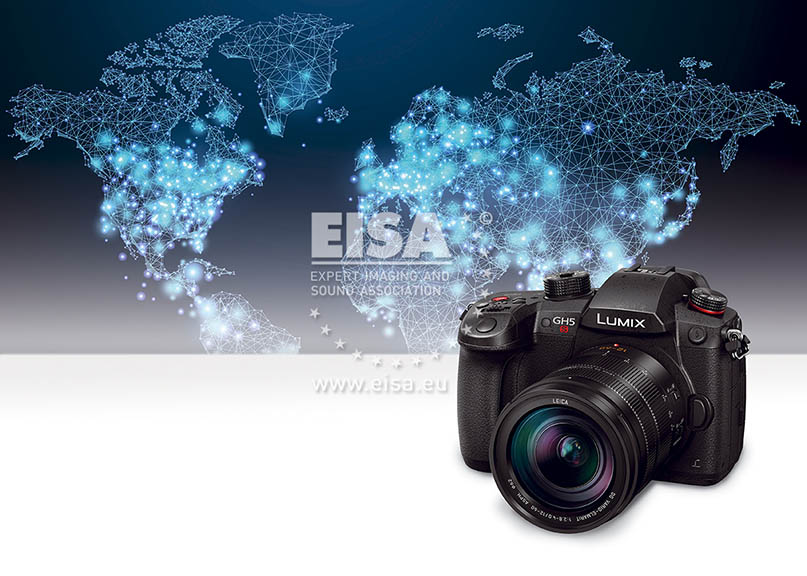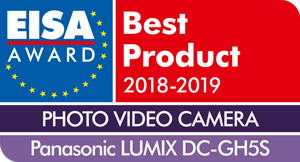 This camera is specially designed for demanding videographers. The 10.2-megapixel Four Thirds sensor offers dual native ISO sensitivities for the best picture quality when working in low light. It also offers many different recording formats, including 4K/30p 4:2:2 10-bit direct to card without any time limit, or high frame rates (240fps in Full HD) for smooth slow motion. It also offers V-Log and HDR mode for wide dynamic range and better tonal rendering. Other useful facilities include a zebra pattern display, time code in/out function as well as a waveform and Vector Scope monitor.
COMBINED AWARD WITH MOBILE DEVICES GROUP
EISA BEST SMARTPHONE 2018-2019
Huawei P20 Pro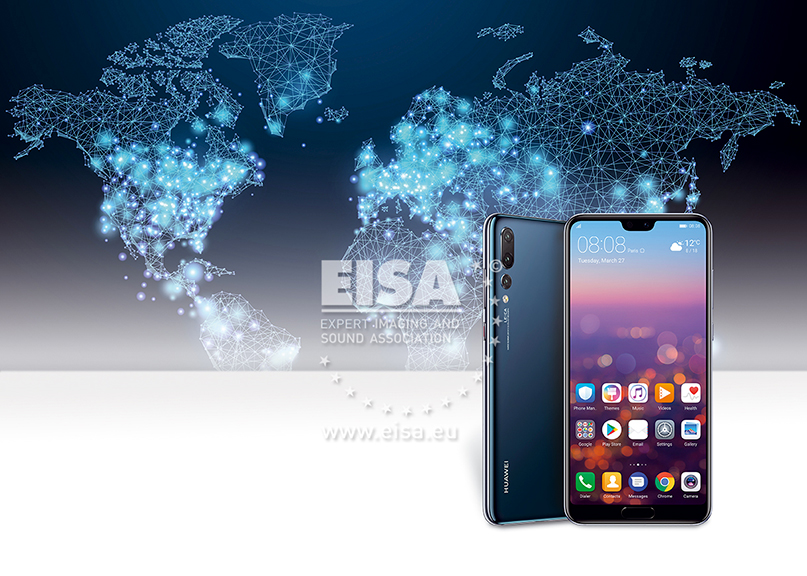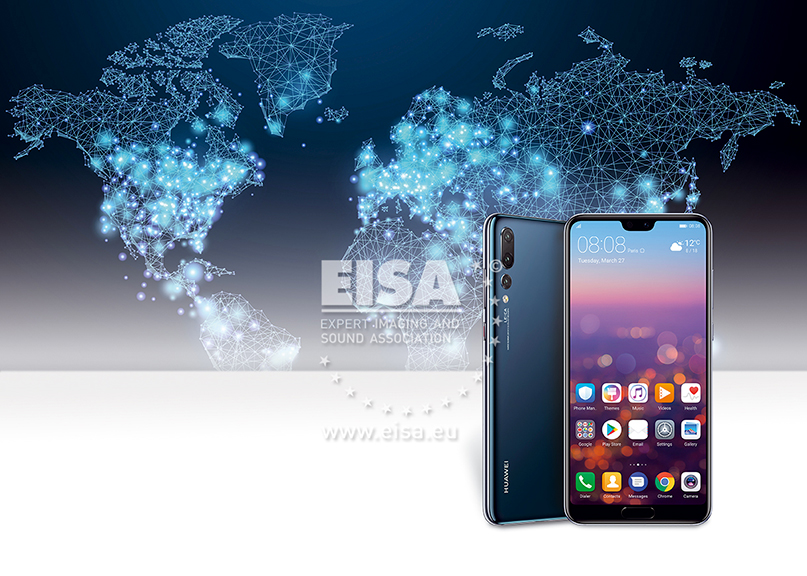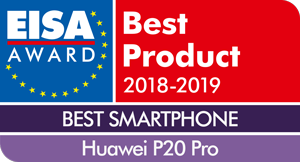 With its dazzling glass finish, impressive 6.1in, 1080x2240px resolution AMOLED screen, 18:9 ratio, dependable 4000mAh battery equipped with Super Charge functionality and – last but not least – amazing triple camera system on its back, co-produced by Leica, the Huawei P20 Pro is the most advanced, innovative and technically superior smartphone ever. The perfect companion for mobile users, it is also a trendsetter in the mobile photography field due to the stunning photos and videos it produces. The core imaging technology includes a primary 40-megapixel F/1.8 colour sensor, combined with two secondary sensors – a black and white 20-megapixel F/1.6 and 8-megapixel 5x hybrid zoom F/2.4 for colour. It's a winning combination of great hardware, optics and craftsmanship.