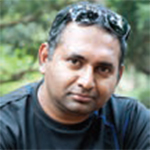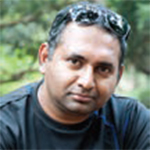 Claude Veigas, an IT professional and a Next100 CIO Award Winner has been freezing moments in time since 2001 when he bought his first digital camera. He upgraded to a D-SLR in 2009 and decided to hone his photography a few years later by enrolling for an advanced diploma from the National Institute of Photography. Over the years, his images have won prizes and also been displayed at art galleries. His favourite genres include Travel, Wildlife, Nature, Interiors and Portraits and he keeps exploring more genres all the time. You view catch his work on www.claudeveigas.com
The Andaman and Nicobar Islands are located at the South-East of mainland India and are an archipelago in the Bay of Bengal. Indira Point village, located in Nicobar district is the southernmost point of Indian territory. This beautiful paradise is widely known for its white sand beaches and coral reefs which  are ideal for snorkelling, diving and ocean walks.
A typical holiday would involve hopping to different islands and enjoying the scenic beauty and different activities on offer. The islands are also among the few places in the world where indigenous tribes still live with minimum or no contact with the external world. The Jarawa, the Onge and the Sentinelese have a lengthy association with the islands and live in near isolation.
The islands are also home to nearly 270 species of birds, many of which are endemic. There are many wildlife sanctuaries and and national parks on the islands. Places like Cellular Jail, Viper Island and Ross Island remind us of the days of freedom struggle and each place has its own story to tell.
A trip to Andaman would not be complete without visiting islands like Neil, Havelock, Diglipur among others. The best time to visit the islands is from October to July. There are regular flights to the capital, Port Blair from Chennai and Kolkata. |SP