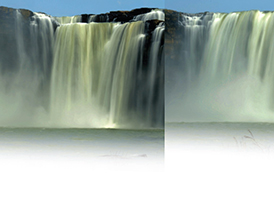 A peek at some of India's most picturesque waterfalls.
R Srinivasan
The allure of waterfalls across the world is because they are all exquisite, represent nature at its best and appeal to all ages as they seem to cascade down to earth from heaven. Let's take a look at waterfalls from the serene soothing ones to the torrential rapid ones in Chhattisgarh, Kerala and Maharashtra.
Chhattisgarh
The approximately 300 feet high horse-shoe shaped Chitrakot waterfall, which is considered to be India's widest waterfall and often called the 'Niagara Falls of India', is formed by Indravati river. The river originates in Orissa's Kalahandi region. The falls are located about 40 km from Jagdalpur city in Bastar district, which has a welldeveloped network of roads, railways, hotels and lodges and many buses ply from the city till the waterfalls. The best phase to see the Chitrakot waterfalls is from July to October. People in locally available boats can see rainbows, which are created by the early morning sun rays that reflect off the mist created from the waterfall. For the religiousminded, there are several small Shiva Lingas below the falls. Chitrakot is one of the two waterfalls in Kanger Valley National Park, the other one being Tirathgarh falls. Tirathgarh is also a lovely picnic spot and the best time to visit is from October to February. Other waterfalls in Chhattisgarh which attract a large number of tourists around the year from across India and abroad are Mandra, Chitradhara, Tamda and Dhoomar.
Kerala
Kanthanpara waterfalls in the Wayanad region is around 20 km from Kalpetta and around 10 km from Meppadi. Even though Kanthanpara is smaller than Meenmutti and Soochippara falls, its charm could be attributed to the beautiful access road. It is lined with bamboo forests that lead right to this rare tourist retreat. The best time to visit is from October to May. It is preferable to carry out camping and trekking plans with some local assistance. Transportation is available in the form of local buses, taxis and auto-rickshaws from Kalpetta. Kozhikode at 100 kms is the nearest railway station and Kozhikode airport is about 120 km from Meppadi. Accommodation options are in the form of home-stays, lodges and hotels at Meppadi and Kalpetta. Other attractions in the vicinity are Soochippara and Meenmutti falls and Wayanad (Vythiri) hill station. It offers a mesmerising brew of a unique rainforest experience, quaint tree houses, rocky terrain, dense forests, numerous waterfalls and wild streams. It is ideal for adventure travellers, getaway seekers and honeymooners.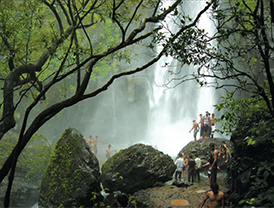 Maharashtra
Considered among the top monsoon getaways in Maharashtra, Amboli in Sindhudurg is a relatively unexplored hill station in Maharashtra and is 549 kms by road from Mumbai. Maharashtra State Road Transport Corporation (MSRTC) buses ply frequently to the destination. The nearest railway station is Sawantwadi, which is around 30 km away. Local transport is in the form of motorised three-wheeler rickshaws, taxis and and horses and there are a few budget hotels. As a result of receiving the highest rainfall in Maharashtra, Amboli remains pleasant throughout the year and is covered in mist during the monsoon. Since a large number of tourists come here (estimated footfalls are around 50,000 tourists each year) from Kolhapur, Belgaum and Goa, traffic jams become common during weekends. Remember to carry cash for your trip since the hotels and shops in Amboli do not accept cards and there are no ATMs here. There are some poorly maintained roads that lead to isolated spots from where one could get a panoramic view of the mountainous landscape, but locals advise against going there alone. It is best to go in a big group.
These amazing waterfalls across India offer an ideal getaway from the hustle and bustle of the city. They rejuvenate the body, mind and soul with their rustic ambience, lush green forests and scenic valleys. |SP