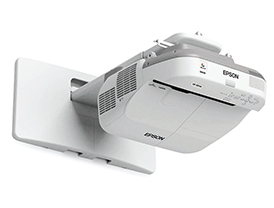 On September 17, 2014, Epson announced the world's first 3LCD interactive projector that features finger-touch capabilities. The EB-595Wi is designed for office use and in schools, for classroom discussions
In addition to operation using interactive pens, the EB-595Wi allows for operation by touching the screen with a finger. This includes opening and closing of files, page scrolling, moving and expanding objects and annotation, giving users an easy control over their presentations and even allowing them to make PC-free annotations literally at the touch of a finger. The EB-595Wi incorporates these new features to existing functions such as Multi-PC projection, iProjection and the PC-less interactive functionality. Epson's ultra-short throw projection addresses problems like shadow interference and obstruction. The printer needs only 47cm to project an 80-inch screen.
Announcing the launch, Mr. Samba Moorthy, Director – Sales and Marketing, Epson India, said, "As leaders in the projector segment, we have always introduced products that have been game changers in the industry. We are pleased to announce the launch of the world's first finger touch interactive, ultra-short-throw projector that will address the requirements of our customers in the education segment. With the EB-595Wi, students can maximize their learning through technology in classrooms."
The EB-595Wi is also capable of Multi-PC Projection, allowing up to 50 terminals to be connected while a host PC plays moderator, selecting media from up to 4 terminals to be projected simultaneously. Wireless projection is also an option, with the Epson iProjection application for both iOS and Android. This feature supports various files and allows for presentation from any Smart device.
Epson has also launched its line of Pen Interactive Projector – the EB 595WI & the Ultra Short Throw Projector the EB 585W. Epson launched all these projectors today at InfoComm India 2014.
The EB-575Wi costs Rs.110,399. The EB- 585W and EB-595Wi cost Rs.1,10,799 and Rs.1,54,199 respectively.