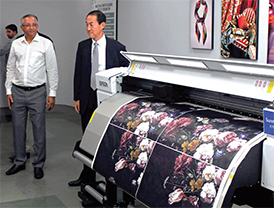 On December 12, 2014, Dhaval Colour Chem, one of India's largest Textile Printing Solutions company inaugurated its first specialized dye sublimation printing Experience Zone in  Mumbai. Spread over 10,000 sq feet, the state-of-the-art Zxperience Zone houses the latest dye sublimation printers from Epson, the world leader in digital imaging. Targeting the textile and garment industry the experience zone also aims to provide creative solutions for architects, interior designers, photographers and gift manufacturers. The facility gives an opportunity to the industry to experience the future of the printing world, expand their business lines and cater to the growing global demand for top quality solutions.
Epson has recently launched dye sublimation printers that make short run printing on fabrics a reality. Garment exporters, fashion designers, sports garment manufacturers, interior decorators and even soft signage manufacturers will be the target users of these printers. Apart from the textile industry these dye sublimation printers can also be used to print on a variety of different substrates like glass, wood, ceramic and metal and fabric. This makes them useful for applications like specialty photo printing, customized kitchen cabinets, personalized home furnishings, unique gift articles and more. Photographers, interior designers, architects and gift manufacturers can explore their creativity and expand their business using these solutions.
The Oriental theme Café, Stylized Retail Space, Royal Wedding Zone and Fantasy Kid's Room are some of the attractions within the DCC's experience zone. The purpose of this concept is the ability to let people see, touch and feels the magical and imaginative usage of printing technology. It is also meant to educate prospective customers about the various possible applications of dye-sublimation printers and provide a handson experience to sample and experiment with their designs and ideas. In this experience center, prospective customers can find the entire work flow of dye-sublimation powered by Epson SureColor F 6070 / 7170 printers, Coldenhov Transfer paper and Monti Antonio transfer machines.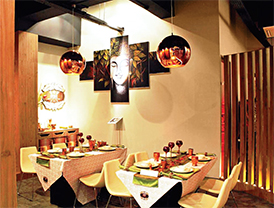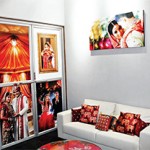 Speaking on the occasion Dhaval Dadia, ED of Dhaval Colour Chem said, "Our vision is to lead the future of printing solutions and delight customers in every aspect with the finest technology, services and exceptional customer support. We want our clients to come and discover the business possibilities in different industries like hospitality, home décor, retail, and sports-wear. That's how the concept of the Experience Zone was born. The printing solutions from Epson provide quality, convenience and scope to expand creativity and business like never before to a wide variety of customers. We are extremely excited to be able to drive this new printing technology in India." Epson India President and CEO, Mr. Toshiyuki Kasai who was present added " This experience zone is amazing and will over time, I hope, become the go-to place for anyone with  specialized creative printing needs both on fabric as well as on other long lasting substrates.