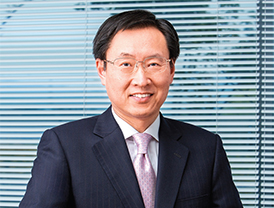 Image: CEO Minoru Usui
Seiko Epson Corporation President and CEO, Minoru Usui, was in India recently to share the market statistics of the printer market in India and the company's vision for the Indian market. Usui, incidentally, is the inventor of Epson's flagship technology, the Micro-Piezo print head.
The CEO expressed optimism at the way the printer market in India is growing. While Epson India's turnover in FY2013 was Rs.8840 Million, it is projected to touch Rs.10,000 Million in FY 2014. The total printer market in India is of 3.1 million units, which translated to Rs.22,880 Million in revenue terms. This is expected to grow to 3.4 million units (Rs.25,883Million) in FY2014.
The most interesting development that the Indian market has witnessed, is the decline of inkjet single function, DMP and laser single function printers. Inkjet multifunction devices grew 19 percent, and Inkjet printers are making strong inroads into laser market by offering greater value to SOHO and SMBs.
Epson, which has traditionally been number one in dot matrix and bill printers, has now emerged number one even in inkjet printers in terms of value.
"Epson has been focussing much on emerging markets like India, and this is clearly reflected in our long-range corporate vision," said Usui. For this, we had to change our basic approach, which, for a long time, was to design a product and then create a market for the same. Now we first assess the customer need and then develop products accordingly. Thishas rewarded Epson quite well. Expectations of the consumers in emerging markets is very different from those of developed countries. Here the key requirement is the perceived value for money in terms of both cost per Page (CPP) as well as total cost of ownership (TCO), and laser printers were perceived as having the lowest CPP and TCO (attained only through refills). Other considerations are high print quality, good speed, energy saving and low environmental impact.
This made Epson realise that a robust technology already existed, but it had to be approached differently. Thus emerged InkTanks, made possible only by Epson's advanced Micropiezo technology, which is difficult to implement in thermal inkjet printers. InkTank systems offer high quality with Micropiezo-based printing technology, it is easily refillable without the inconvenience and expense of ink cartridges, and it facilitated high volume printing of 4,000 pages from a single ink bottle. CPP is just 12 paise for B&W prints and 25 paise for colour prints. And unlike lasers, L & M (InkTank system) printer series consume very low power
The first InkTank printer was launched in January 2011, and was immediately accepted by SOHO and commercial customers. Now it is being accepted by corporates, enterprise and home rapidly. This is clear from the CMR Data 2014, which shows Epson's market share in 2013 as 44% against 39 percent in 2012, making it no.1 in A4 inkjet market share.
Sharing the vision for the Indian printer market, SM Ramprasad, DGM, Consumer Products, Epson India, said that the overall printer market is expected to grow from Rs. 22,880 Million in 2013 to Rs 33,000 Million in 2017. With a very wide range of InkTank printers including single and multi-function, B&W, Photo, and Signage printers, Epson India is ready to build on the initial success and make deeper inroads to the office and corporate printing sectors. "We aim to capture 15 to 20 percent of the office laser printer market by 2017 and ultimately we want everything to be printed by Epson," he said. Also present at the interaction were Toshiyuki Kasai, President and N Sambamoorthy, Director, Sales and Marketing, Epson India. Epson also showcased its wearable technology initiative, the BT-100 See-Through Mobile Viewer.