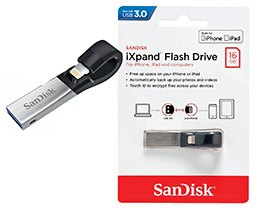 Till recently iPhone and iPad have remained aloof from portable storage because of proprietary lightning connector.
Sandisk found a solution with their iXpand flash drives,and the latest version packs more features. Sandisk iXpand flash drives lets you back up data on your iOS devices quite efficiently and free up precious space by storing your images and videos and letting you access them straight from the drive. The drive can automatically back-up your iPhone's camera roll once it is set up. The drive carries an innovative design that lets you use the phone without any discomfort even while it is plugged in. The flexible lightning connector extends to the data port of the phone while the drive remains hidden at the back, within your palm. The drive also has a normal USB 3.0 connector to plug into a Mac or PC so that you can move your files between devices without any hassle.
The iXpand drive also provides encryption software that lets you protect files using a password so that you can share the drive without compromising sensitive data. The iXpand flash drive supports video formats such as .WMV, .AVI, .MKV, .MP4 and .MOV so that you can store and watch videos straight from the drive. The flexible connector lets you plug it directly into your iPhone or iPad without having to remove your case. The latest addition includes a version built for the OtterBox uniVERSE case system.
You can download the iXpand Drive app from the App Store, which makes it easy to manage your photos and videos and enable you to watch videos directly from the drive. The Sandisk iXpand drive carries a limited warranty of 1 year and is available in 16 to 128GB capacities with MRPs starting from Rs.4,490. |SP