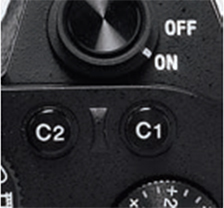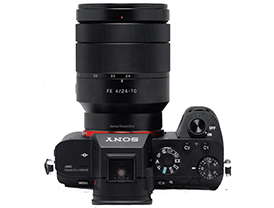 Ergonomics
The Sony Alpha 7R II has a thinner and deeper grip, which makes it more comfortable to hold and operate than the Alpha 7R. The controls are now easier to access, and an additional custom button is always a welcome feature. As always, the Sony menu is split into pages for easy access, unlike some cameras that have menus that scroll deep to the bottom.
This is quite convenient for navigation. Both the EVF and the LCD are of top quality, and do not cause much eye strain.
Performance
The Alpha 7R was a top performer, and hence an improved version should be terrific to say the least. The Alpha 7R II did not disappoint us on this front. To test such a camera, you would require a fast lens, but we used the 24-70mm f/4 lens. AF was fast in good lighting, but struggled a bit in low light. Tracking worked perfectly as long as the subject remained in frame. In continuous shooting mode, the camera kept on hunting for focus. We believe this is a firmware issue and expect an update from Sony. We could verify Sony's claims of 4.5 stop advantage with SteadyShot image stabilisation. At 70mm focal length, I could shoot at up to 1/3 sec shutter speed (roughly 4.5 stops) without the image getting shaky. Though this is not strictly a scientific test, we hope this will provide a fair idea of how good the feature is.
The camera-lens combination produced excellent sharpness. Images appeared the sharpest from f/5.6 to 11 on the 24- 70mm lens. Sweet spot was observed to be f/16. Though sharpness is essentially a property of the lens, the sensor, processor and algorithms can also induce anomalies, and hence we take sharpness into consideration. Images on the LCD appeared crisp. The EVF was very comfortable to use. We observed slight pixel jitter around corners and highlights. All metering modes performed well as expected.
Auto White Balance worked perfectly well with the camera producing true to life colours under most lighting conditions. Any cast observed under artificial light sources could be easily removed in post processing. Native print size is 17.68 x 26.51 inches at 300 ppi. At 25 percent of this screen size, images were absolutely noise-free up to ISO 6400. Very slight noise appeared from ISO 12800 (you may not even observe it under normal circumstances). The images were perfectly usable up to ISO 25600. Observed at 50 percent, we observed mild noise from ISO 3200, but the images were perfectly usable up to ISO 12,800. Enlarged to 100 percent, though mild noise (isolated pixels) started appearing from ISO 800 onwards, it became a real concern only from ISO 3200. We would consider this good noise control for an ultra-high megapixel camera.
We could not test 4K video capture because of the non-availability of an SDXC (UHS-I) card.
Value for Money
The Sony Alpha 7R II body retails at an MRP of Rs.239,990. This is about Rs.1 lakh more than the Alpha 7R. Though a 4K capable 42.4 megapixel camera can command a significantly higher price than the Alpha 7R, this huge difference seems unjustifiable. |SP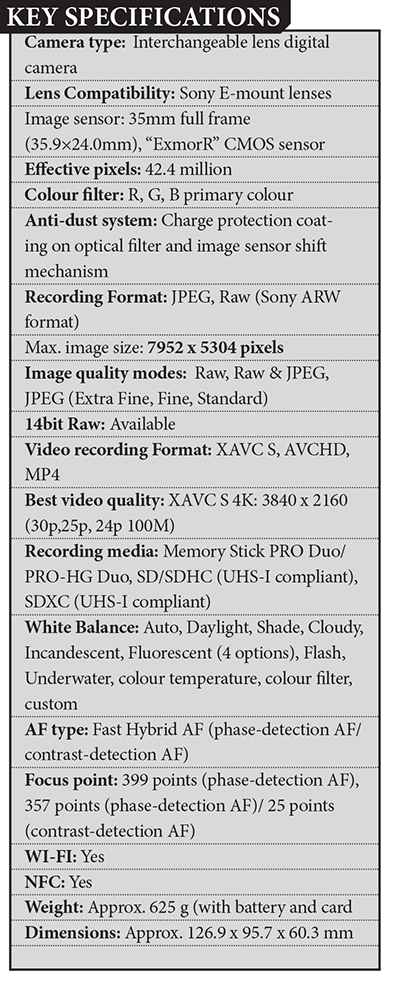 FINAL SCORE                                       86%
Design and Build Quality                      19/20
Key Features                                         18/20
Ergonomics                                             18/20
Performance
Autofocus                                                    4/5
Metering                                                      4/5
Noise Control                                             4.5/5
Sharpness                                                  4.5/5
LCD/EVF                                                     4/5
Auto WB                                                      4/5
Sub-Total                                           25/30
Value for Money                               6/10
PLUS
• 42.4 megapixels
• 4K video capture
• 399 focus points
• Good Low-light performance
• Improved layout of controls
• Sensor-shift 5-axis image stabilisation
MINUS
• Prohibitively expensive
• SDXC (UHS-I) card not provided
• No touchscreen control
VERDICT
The Sony Alpha 7R II is a significant improvement over the Alpha 7R, but the price is certainly going to position it beyond the reach of most still photographers. For the 4K-shooting video professionals, this is a great buy. But if you are planning to record the videos on an internal memory card, don't forget to buy an SDXC (UHS-I) card.
Sujith Gopinath