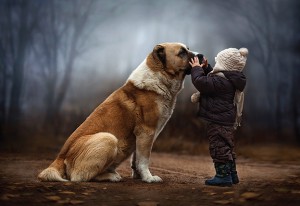 Elena Shumilova is a Russian mother and photographer who uses her lens to show the unique interaction between farm animals and children. She brings out magical images in the process.
As told to Tanika Godbole
I live about 300km from Moscow. I spend half the year living on a farm. I like to tell stories through my images, and that is my biggest inspiration. I sketch down my ideas all the time, capturing form and arranging body shapes of all my subjects. I believe that it is not your face but the body that communicates emotion. While creating sketches and envisioning photographs, I take time to figure out the poses and the gestures. I began capturing the special moments during the walks I took with my children. I photograph my children and sometimes my friends, when we go for a walk. The dogs, rabbits and other creatures that you see in the images are all our animals. So as you can see, I use no special props or set-ups. My pictures are the result of patience, and involve waiting for the right moment. Sometimes I have to wait for quite a long time to get the perfect shot. I have Canon 5D Mark II, a 50mm f/1.2 lens and 135mm f/2.0 lens. That's all the equipment I employ. I also make use of Photoshop to edit my images from time to time.
To the beginners in this field, I would say—believe in yourself. Do not try to ape anyone else's style; always find your own unique approach. This will create wonders.
Best Friends                                                         Out to play 
                     Safe in my arms                                                       Serenity
                      Walking with the ducks                                        Soft touch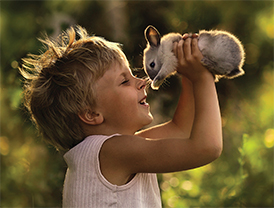 Pure Joy