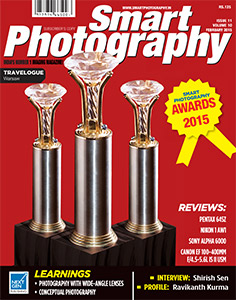 February 2015
The February 2015 issue of Smart Photography highlights SP's 10th Annual Awards. The awards are a testimony to the excellence and proven quality in the field of photographic equipment and is the culmination of our year-long effort in reviewing the latest products in the market.
The February issue also has reviews of the medium-format Pentax 645Z, Nikon 1 AW1– the mirrorless interchangeable lens camera from Nikon, Sony's Alpha 7 – claimed to be the world's fastest autofocus with 4D focus technology, and Canon's new and improved EF 100-400mm f/4.5-5.6L IS II USM lens.
Also included is a tutorial by Ashok Kandimalla on the use of wide-angle lenses and an insight on 'Conceptual Photography' by Dilip Yande. Travel-buffs can enjoy Ajay Sood's photo-feature on 'Warsaw', food-lovers can drool over 'Delicious Treats' by Mastercraftsman Shirish Sen, while Ravikanth Kurma takes you on 'Artistic Journeys' capturing surreal images of people and landscapes.
So, sit back, relax and enjoy this wonderful issue!