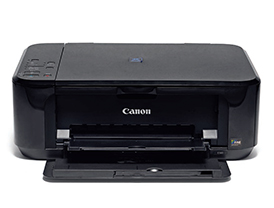 Performance
The Canon E560 was thrusted upon us by Canon, claiming that it is a photo quality inkjet printer that is  very economical to use. We tested the printer with Canon Photo Paper Plus Glossy II 275 gsm media. The E560 printed photographs well, but if you compare them with dedicated photo printers, there is still a long way to go. Colour gamut was decent for everyday printing, but not for photo printing. Text reproduction was satisfactory with the printer producing sharp images and we did not observe any moire patterns in closely spaced lines.
The overall contrast was low, and the prints appeared hazy. The blacks were never true black unless you printed them in greyscale. The scanner also produced grainy images and inconsistent colours. In many images, we could see coloured patterns. In High Quality mode, the printer reproduced an A4 borderless print in 3 minutes and 42 seconds, while in Standard Quality mode, it printed in 1 minute and 35 seconds.
The yield of a printer depends on the colours and colour depth of photographs. In our test printing, we used photographs with varying colour depths. We used new cartridges and the colour cartridge lasted for about 17 prints. The black ink might last a little longer since it has thrice the capacity that of the colour cartridge. This is not very economical for photo reproduction.
Value for Money
The Canon Pixma E560 retails at an MRP of Rs.8495. The colour cartridge (CL-99) costs Rs.990, while the black cartridge (PG-89) retails at Rs.790. Though the printer is affordable, an A4 size colour photo print costs approximately Rs.58 (one colour cartridge lasted for 17 A4 size photo prints in our tests). |SP


FINAL SCORE                                                  76%
Design and Build Quality                               16/20
Key Features                                                  16/20
Ergonomics                                                      17/20
Performance                                                     15/20
Value for Money                                              12/20
PLUS
• Affordable MFD
MINUS
• Not Economical
• Poor scan quality
• Photo quality leaves much to be desired
VERDICT
The Canon Pixma E560 is good for everyday printing, producing above-average results for a fourcolour home printer. However, with Epson's Ink Tank series of printers in the market, this is certainly not recommended because of the prohibitive cost per print.
Sujith Gopinath