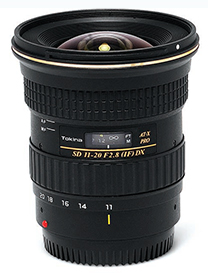 Tokina has been known for its pro-quality optics at an affordable price. It now adds one more super-wide-angle zoom to its existing super-wide-angle 11-16mm which has been much appreciated by travel and landscape photographers throughout the world.
Tokina DX lenses are designed only for APS-C sensor camera bodies, while Tokina D lenses can be used on full-frame (35mm), APS-C sensor bodies as well as on 35mm ilm camera bodies. The 11-20mm lens is designed for APS-C bodies and is available in Canon and Nikon mounts.
Design & Build Quality
The Tokina AT-X 11-20mm f/2.8 Pro DX lens is designed for APS-C bodies, offering an equivalent focal length of 17.6-32mm (Canon) and 16.5-30mm (Nikon). The outer body is made with metal and polycarbonate and appears quite sturdy. The overall finish is good. The lens mount is made of metal and a rubber ring surrounding the mount seals dust and moisture from entering the lens. Filter size is 82mm. The lens weighs 585g (Canon mount) including the lens hood but without both end caps.
Key Features
The Tokina AT-X 11-20mm f/2.8 Pro DX lens is constructed with 14 elements in 12 groups. This includes 3 aspherical elements (2 all-glass moulded and 1 P-MO hybrid) and 3 Super-low Dispersion glass elements. The aspherical elements help to achieve superior sharpness and contrast and at the same time correct for spherical aberrations. The SD elements control chromatic aberrations. Advanced multilayer coatings further help to reduce flare and ghosting. A one-touch focusclutch mechanism allows the user to switch between autofocus and manual focus by pushing the focus ring forward for AF and back for manual focus. A distance scale (in white) is available in meters and feet.
The zoom ring is towards the camera body and is marked legibly at 11, 14, 16, 18 and 20mm positions. The lens uses Internal Focus (IF) design due to which the lens' overall length does not change during focussing and/ or zooming, though the inner barrel changes in length when zooming. The front element does not rotate, making it convenient to use CPL and Graduated Neutral Density filters. A raised red plastic dot helps to align the lens to the camera body in low light.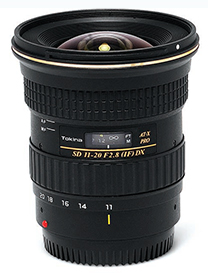 Ergonomics
We used a Canon EOS 760D for the test. The lens was easy to use and balanced well. The front element is bulbous, yet filters can be used on this lens. Photographers using ND filters will greatly appreciate this feature. We observed that on our review sample, sometimes, the focus ring would lock when we pulled it gently towards the camera body to activate manual focus.
Performance
The Tokina AT-X 11-20mm Pro DX is a constant aperture f/2.8 lens. Autofocussing was fast, even in low light. Overall sharpness was good though sides and corners, especially at the wider apertures, were comparatively 'softer'. We felt that the lens was sharpest between f/5.6 and f/8. Being an IF (Internal Focus) design, the front barrel does not rotate during zooming and focussing, though the inner barrel changes in length when zooming. This does not alter the balance since the overall length of the lens does not change.
At close distances, strong barrel distortion could be seen at all marked focal lengths, though negligible at 18 and 20mm settings. When used above 10.5 feet at 11mm and 9.5 feet at 20mm, distortion, if at all, was barely noticeable. Flare could be seen in shots that included the sun but we did not notice any chromatic aberration. Wide open at 11mm setting, corner darkening was noticed, but this is in line with almost all such lenses.
Value for Money
The Tokina AT-X 11-20mm f/2.8 Pro DX lens is available at an MRP of Rs.48,000. At this price and performance, it is good value for money. |SP

FINAL SCORE                                                 79%
Design and Build Quality                              16/20
Key Features                                                  16/20
Ergonomics                                                      17/20
Performance
Autofocus                                                            4/5
Sharpness                                                           4/5
Distortion control                                            3.5/5
Aberrations                                                        4/5
Darkening of corners                                     3.5/5
Extra features                                                    3/5
Sub-Total                                                     22/30
Value for Money                                           8/10
PLUS
• Fast, constant f/2.8 aperture
• Good value for money
• Lightweight
• Filter use possible
MINUS
• Odd size filter thread (82mm)
VERDICT
The Tokina AT-X 11-20mm f/2.8 Pro DX lens offers good image quality at a reasonable price. It can not compete with the Canon 11-24mm f/4 L USM lens that we have also reviewed in this issue, but we are talking of a lens that costs less than one fourth of the more expensive lens. Definitely Recommended!
Rohinton Mehta