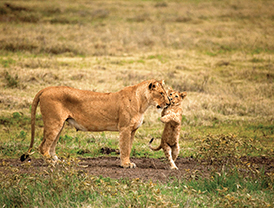 Rohit Verma left his corporate career to venture into wildlife photography. He is passionate about conserving nature and creating awareness through his images. He lives in Bangalore. His work can be found at www. rohitvarma.com
As told to Tanika Godbole
Lioness & cub                                                   Tiger
Tell us about your background. What is your life like?
I belong to a small town called Balaghat in Madhya Pradesh, which is surrounded by natural beauty. Places like Kanha National Park, Pench, Navegaon, Nagzira are quite close to Balaghat. So yes, I did spend lot of time in visiting these places till the time I was living there. I was close to nature. When I moved to Bangalore life changed and I got into the mundane corporate job. I worked for 12 years in the corporate world and then one trip to Bandipur National Park changed my life . It was a 'call of the wild'. I started visiting parks and sanctuaries all over India and one day I reached a point when I decided to quit the corporate world so that I can devote more time to follow my passion.
Pig-tailed macaque                                          Lion Family
Being from the corporate world, what pulled you towards photography?
Nature is something that is close to my heart. It inspires me, it gives me peace, I feel heavenly when I am in the jungles. I took up photography so that I can capture the beauty of nature and share them with the world. Pictures speak louder than words hence images can do a great job in educating the world about conservation.
You specialize in wildlife photography. What inspired you to take up this genre?
I am definitely inspired by nature itself, so this was the obvious path for me. One person who really inspired me is Kalyan Varma. I really liked his style of photography.
                  Tusker                                                                Wild asses copy
Any unforgettable incident that happened to you while you were out shooting in the wild?
There are lots. Once we were in Borneo and were shooting during the night. We had an amazing sighting of a nocturnal primate called Tarsier. We were busy with the shoot, I felt something was biting me. I put the torch light down and I realized that I was standing on fire ant colony. I was bitten very badly but yes I really enjoyed that sighting.
I also had an opportunity to witness four sub-adult Striped Hyenas playing in front of me. They came so close that I could even smell them. I think this was one of the best experiences in the wild.
Do you pre-plan your shoots? What are the most important things that you have to keep in mind?
Yes, there is pre-planning required. It all depends on place, season and the subject. You must make sure that you have right lenses, memory cards, and battery charger. Sometimes you can really get stuck. One should do a bit of research before going to any place.
How important is high-end equipment to a photographer?
One needs to have passion and eye for detail. Equipment definitely matters and can enhance your work. But the rest depends on you.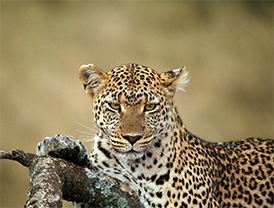 Leopard
What are your feelings about the use of photoediting software?
Cameras cannot always capture what naked eyes see, hence a little editing is required. I see nothing wrong in giving the final touch.
Any suggestions that you'd like to give to wildlife photographers?
Knowing the ecology and understanding the subject is very important. Do your research, talk to people, spend time to know your subject. 