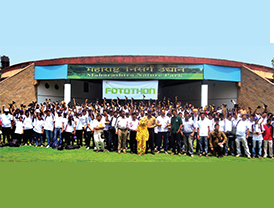 Initiated on March 26, 2011, Fotothon is a unique photography marathon. The second edition was held on the Earth Day, April 22, 2012. A new concept of 'Fotothon Focus' was introduced to address various issues facing the city. The third edition was held on Nov 16, 2013. The focus was to create awareness about flamingos of Mumbai city, which are awaited visitors during winters. Several photo-walks were organized across the city, with experts leading the walks.
The Photothon 2014 will be held at Maharashtra Nature Park. The event begins at 10 am on December 13, and will last for 24 hours, during which participants have to click the photographs based on the theme revealed to them on the same day. Entries will be accepted in the following categories:
Foto Story- This category tests the participant's skills of narrating an environment-based issue through a series of 3 to 5 photographs thus weaving out a story with the help of pictures and detailed description through captions. The topic for Foto Story is disclosed to the participants on the day of the event.
Best Fotograph- The participating photographers can submit a photograph relating to nature and environment under this category.
Best Portrait- Under this category, photographers can click portraits or interesting images of people.
Best Picture ( Mobile Phone)- Photographers will have to submit a single image on a subject that will be announced on the day of the event.
To know more or enter, log on to www.fotothon.in