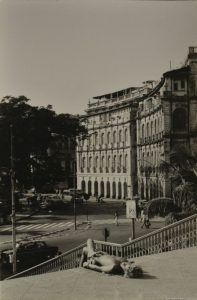 The Late Foy Nissen was a contemporary archivist and historian of Bombay (now called Mumbai), who conveyed his love for the city by documenting its architectural monuments, people and festivals through black and white photographs. His complete range of photographic works, including gelatin prints, negatives and slides was handed over to the non-profit Jehangir Nicholson Art Foundation for safekeeping. The foundation has announced that this treasure trove of archival photographs will be available for public viewing through an exhibition titled "Foy Nissen's Bombay", organised at the Jehangir Nicholson Gallery, CSMVS, Mumbai from 15 March to 16 June 2019.
Foy Nissen's photographs are renowned for not just revealing the beauty of the city's monuments but also for encapsulating moments in the day of the lives of its residents, which were often set against the backdrop of these monuments. His photographs are admired for often capturing the emotions of his subjects, be it pensive or lonely moments or those of joy or boredom.
Nissen's works were also influential in getting the city's heritage precincts protected through legislation by forming the base of the city's first heritage list. His encyclopaedic knowledge of the city also helped many writers, such as Suketu Mehta and Gillian Tindall, in realising and finessing their own tributes / art dedicated to the city. One such celebrated artist, Howard Hodgkin, created a painting inspired after his time spent with Nissen, which he titled Foy Nissen's Bombay. The exhibition has been titled after this painting, in an ode to the influence and contributions made by Nissen to the city.
Curated by Kamini Sawhney, the exhibition showcases 50 years of the lensman's photographic chronicle, beginning from the 1960s. This exhibition is one of the few times when Foy Nissen's works have been showcased for public viewing, and would be a delight for any history and photography enthusiast.