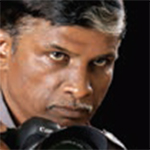 Bipin Christian is an upcoming photographer from Ahemdabad, Gujarat. A member of the Federation of Indian Photography, Bipin started his photographic journey around 20 years ago, when he started photographing animal fairs in Kutch. Soon he started photographing the people of Kutch, whom he found very impressive. Bipin has won many accolades for his work and has been featured in various publications.
As told by Unnati Sagar
Discovery of various fossils have been fascinating mankind for over thousands of years. Fossils are the physical evidences of our evolution. Tracing back to the remote past, these preserved remains tell us about our history. The chemical reactions and atmospheric pressures that lead to fossilization, reveal evidence of life that existed millions of years ago.
India, with its geographic diversity and vibrancy, has various sites with abundant historic significance. One such prominent archaeological site is at Dholavira in the state of Gujarat. Located in Khadir Island, surrounded by the Great Rann of Kutch, this Harappan site is spread over 100 Hectares. Also known locally as Kotada Timba, the site contains ruins of an ancient Indus Valley Civilization which is better known to all as the Harappan city.
Besides the ancient ruins, it also contains wood fossils that are about 1.8 billion years old, plus age old stones and rocks, as well as the magnificent view of the White Desert. Bipin Christian, a passionate photographer, recently exhibited his work – Faces @ Fossil Park at the Piramal Art Gallery, NCPA, Mumbai. These are some of Bipin Christian's photographs from the fossil park.
 The exhibition showcased photographs which he clicked at the fossil park in Dholavira. The pictures reflect beauty in the stillness of these fossilized rocks. The different shapes, layers and colours give them life and expressions. Even in the 'sleep mode' these fossils look marvelous and alive.|SP