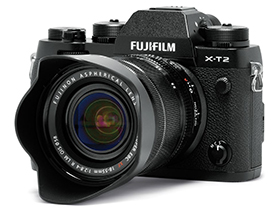 Indian photo enthusiasts have not had much exposure to Fujifilm's evolving efforts in the mirrorless camera market. The first X-series camera was introduced in 2011 and the system has evolved at a blistering pace. Today, Fujifilm has a lens system that has over 20 XF lenses to choose from. The X-T2 was introduced in late 2016 and has drawn technology from the flagship X-Pro 2. Fujifilm claims that autofocus speed, battery life and overall performance are vastly improved over the X-T1. Smart Photography had the X-T2 along with the Fujinon 18-55mm f/2.8-4 OIS lens on the test bench.
Design and Build Quality
Fujifilm is known for its retro-styled cameras, and the X-T2 is no exception. The camera has a sturdy construction with a magnesium alloy body. The camera is weather-sealed at 63 points and even the lenses have weathersealing. However, there is no rubber ring at the lens-body interface. The LCD is tiltable up to 90 degrees up, 45 degrees down and about 60 degrees to the right. The camera has three dials on top— for ISO, Shutter Speed and Exposure compensation. The tripod receptacle is metal.
Key Features
The Fujifilm X-T2 houses a 24.3 megapixel APS-C (23.6 x 15.6mm) X-Trans CMOS III sensor, aided by the X-Processor Pro high-speed image processing engine. The camera boasts twice the sensor readout speed and about four times processing speed than its predecessor.