Fujifi lm has always been the frontrunners of innovations in technology. The X-series cameras are regarded as great performers. While most others ditched the APS-C sensor for smaller version of imagers, Fujifi lm remained faithful to APS-C in their drive to go mirrorless. Let us see what innovations they have incorporated in the newly announced XT-1. Design and Build Quality Fujifi lm cameras are known for their does not disappoint. Designed in retro style, it has a rugged metal outer shell. It has a protruding grip finished with a textured rubber lining. The rubber lining on the camera provided for review already showed signs of wear and tear and so we cannot vouch for the longevity of this lining. Fujifi lm lenses are also constructed with metal outer shells and both the camera and the lens have metal mounts. The tripod receptacle is also metal. The base of the camera features contacts for attaching a battery grip. The tilting LCD is connected to the body by means of a cable, which is exposed at two parts. Th is is not recommended.
Key Features
Th e 16.3-megapixel Fujifi lm XT-1 uses an APS-C (23.6 x 15.6mm) X-Trans CMOS II sensor with primary colour fi lter. The sensor unit uses Ultrasonic Vibrations to shake off dust from the low-pass filter. The camera accepts Fujifi lm X-mount lenses. Th e XT-1 uses phase detection and contrast detection autofocus systems. Focus modes are Single AF, Continuous AF, and Manual focus. Th e Manual focus mode uses a split image screen that helps to focus accurately. AF frame options are Area (49 areas in a 7×7 grid) and Multi. Exposure is controlled by TTL 256-zone metering, and the metering modes available are Multi, Spot, and Average. Exposure can be compensated by +/-3.0 EV in 1/3-EV steps. Sensitivity can be set from ISO 200 to 6400 (can be extended from ISO 100 to 51,200). Th e XT-1 uses a focal plane shutter, providing shutter speeds of 30 to 1/4000 sec, Bulb (max. 60 min.) and Time (1/2 to 30 sec). The shutter synchronises with flash at 1/180 sec or lower shutter speeds. White Balance options are Auto, Fine, Shade, Fluorescent (Daylight), Fluorescent (Warm White), Fluorescent (Cool White), Incandescent Light, and Underwater. Self-timer can be set at 10 or 2 sec. The camera features Interval Timer shooting with options to control the interval, number of shots, and starting time. It also features bracketing options for Exposure, Film Simulation, Dynamic Range, ISO sensitivity, and White Balance. Shooting modes featured are Program, Aperture priority, Shutterpriority, and Manual. As in the case of all Fujifi lm X-mount cameras, the camera does not have a mode dial. Instead, there is a shutter speed dial and ISO dial on the body, and an  aperture ring on the lens. All these have an 'A' marked in red, which indicates Auto. For Aperture priority, you have to set the shutter dial to A and set the aperture through the aperture ring. Similarly, for Shutter priority, set the aperture dial to A and set the shutter speed from the shutter dial. To activate P (Program) mode, set both the aperture and shutter dial to A. If you want the camera to control ISO sensitivity automatically, set the ISO dial to A. Both the shutter and ISO dials have a switch that has to be pressed to unlock the dial so that you don't turn the dials accidentally. Both these dials also have secondary functions controlled by rings mounted at their bases. The one on the ISO dial can be used to change the drive modes, which are Bracketing, Continuous High, Continuous Low, Single, Multiple Exposure, Advanced Filter, and Panorama. The ring on the shutter dial can be used to set the metering modes.
Still images can be recorded in Raw or JPEG format (simultaneous Raw and JPEG possible) with a maximum resolution of 4896 x 3264 pixels, while videos are captured in MOV format (H.264, Linear PCM) at the best quality of 1920 x 1080 60p/30p (for a maximum duration of 14 minutes). The camera can shoot continuous JPEG images at approximately 8.0 frames per second and this can be done for a maximum of 47 frames in a burst (The camera focusses only on the first frame). At 3.0 frames per second, JPEG images can be shot continuously for the entire capacity of the memory card. The XT-1 uses an SD/SDHC/SDXC memory card for storage.
The XT-1 features a standard TTL accessory shoe (Hot-shoe). An external flash (EF-X8) is
bundled along with the camera and has a Guide Number of approximately 8m at ISO 100. The camera uses a 0.5-inch, approximately 2360-dot OLED viewfinder with approximately 100% coverage. The monitor is a 3.0-inch, approximately 1,040,000-dot, tilt-type colour LCD, also providing approximately 100% coverage. The camera features Wi-Fi and Geotagging. The camera weighs approximately 440g including battery and memory card, and has dimensions of 129.0 x 89.8 x 46.7mm (W x H x D).
Ergonomics
The Fujifilm XT-1 is comfortable to hold and operate. The prominent rubber-lined grip and the thumb rest makes handling very easy. Initially, you might find it difficult to adjust to the dials and aperture ring, but once you get used to them, it becomes easy to use. The only drawback is that when you want to use shutter priority or manual mode, changing the shutter speed becomes a little inconvenient since you have to use your gripping hand to release the lock and turn the dial. Images in the LCD as well as the EVF appeared crisp. The LCD/EVF button is very difficult to locate. Though it is labelled as 'View Mode', the tiny button is placed towards the side of the EVF
housing.
Performance
The Fujifilm XT-1 performed well under Smart Photography's tests. We received the XT-1 along with a Fujinon Super EBC 23mm f/1.4 prime lens, but we later learnt that the kit lens is an 18-55mm lens. Autofocus was fast and precise with the supplied lens and it did not have any problems locking on to the subjects even in low light. Though the system found it difficult to lock on to low-contrast subjects, we wouldn't consider this a flaw. The split image focussing screen in Manual mode is a very welcome measure, and it worked flawlessly, though we would have liked a slanting split prism so that it could assist in focussing on both vertical and horizontal lines. Flare was well controlled, though slight flare and chromatic abberation were obsrved at f/1.4 (The maximum shutter speed of 1/4000 sec proved inadequate for f/1.4 with the sun peeping through some branches and hence this frame was overexposed). Out-ofthe- box images appeared sharp and the sweet spot for the lens was found to be f/4. There was slight drop in sharpness at the corners. All the metering modes worked well. The lens produced slight barrel distortion. Moire patterns were seen under certain conditions.
Auto White Balance performed well under most lighting conditions, and slight cast produced were easy to remove in post-processing. Native image size was 10.88 x 16.32 inches at 300 ppi. At 25 percent of the screen size, we did not observe any significant noise even at ISO 25,600. Observed at 50 percent, images were noise-free up to ISO 6400. Though ISO 12,800 and 25,600 produced slight noise, the images were usable up to ISO 12,800. Enlarged to 100 percent, we observed mild noise from ISO 800 onwards. Still the images were usable up to ISO 3200. We would consider this excellent control of noise.
Value for Money
The Fujifilm XT-1 was not officially launched in India at the time of the magazine going to press. The camera is slated to be launched with an 18-55mm kit lens (presumably f/2.8-4) at an MRP of Rs.119,990. Though the body is not available separately, an indicative price would be Rs.91,999. The 23mm f/1.4 lens that we used for testing the camera carries a price tag of Rs.66,999. We would consider this a bit high for
this camera.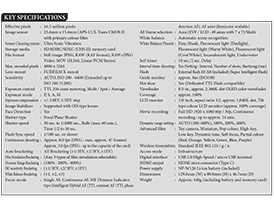 Plus
• Sturdy construction
• Superior performance
• Compact size
• Excellent grip
• Good kit lens
Minus
• Pricey
• Unconventional controls
Final Score                                                                    82%
Design and Build Quality                                                 18/20
Key Features                                                                  17/20
Ergonomics                                                                    17/20
Performance
Autofocus                                                                       4.5/5
Metering                                                                            4/5
Noise Control                                                                   4.5/5
Sharpness                                                                         4/5
LCD/EVF                                                                         3.5/5
Auto W/B                                                                         3.5/5
Sub-Total                                                                          24/30
Value for Money                                                                 6/10
VERDICT
The Fujifilm XT-1 is a mirrorless camera with an APS-C sensor. The USPs of this camera are the superior build quality and excellent performance. Being a mirrorless camera, it saves much space in your kit bag compared to D-SLRs. Fujifilm also has an impressive line-up of prime lenses. Though the price is high, we believe Fujifilm is aiming the camera at serious photographers who are willing to spend some money for that uncompromising quality and convenience.
Sujith Gopinath