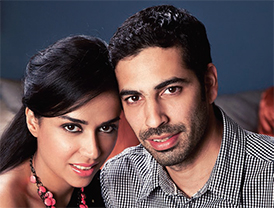 Using a proper colour scheme is very important to the success of a photograph. In this article, Dilip Yande tries to expand on the theme.
Having crossed over 20 active years in commercial photography, Dilip Yande says his forte is Fashion and Portrait photography. He believes variety is the spice of life, and to keep himself motivated he does a lot of tabletop as well. For Dilip, names like Rembrandt, Renoir, Gauguin, Picasso, Turner, Monet are household names because of his childhood that was spent in a lineage of fine arts. This 'fine art' reflects in his work because he feels that there is always a little bit of 'you' in everything one does. Having shot for many advertising agencies, juried a few competitions, mentored many workshops, and guided many photographers in their formative years, for Dilip, photography is just another way to romance his first love – art. He may be contacted at dilipyande@gmail.com.
Many times, beginners, after having taken the shot, realise that the colour scheme is not so appealing and hence they tweak the picture in post-processing and convert it to black and white. Suddenly the picture starts looking much better than what it was and they get satisfied with the same. Later this becomes a habit, converting everything they shoot in colour to B/W. They do not realize that the fault lies with themselves for not understanding colour as a subject. I try to explain to these beginners that a good B/W shot is that which is very high in its graphic value or design elements and perfect in its contrast and gray tonal values, where there is no place or need for colour.
Earlier, through one of my articles we had showcased and analysed the works of ace photographers from Lahore – Guddu and Shani. But as I shifted my telescope from Lahore to Karachi, I came across a very talented fashion photographer couple – Nadir Firoz Khan and his wife Maha Burney (pic1). More recognized as NFK in their land, I must appreciate their total control over the colour palette in whatever they shoot, without any monotony in their work.
When one notices a picture with an excellent play of colours, neat lighting, good composition, all packed in a creative concept- rest assured it has to be a shoot executed by NFK. They are not just good photographers but they are good colourists too. Nadir always gives credit to his wife Maha Burney – a professional stylist – for all the 'colour' that exists in his pictures as she majorly controls the post-production of his work. Let us learn a little more about them and also enjoy and analyse their works.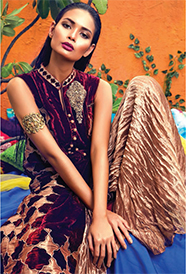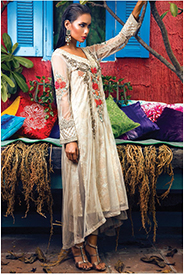 DY: Tell us something about yourself and your better half who I guess plays a major role. When did you start photography as a career? And how do you feel the journey has been since then?
NFK: I began pursuing photography in college. My major was Communication Design with a minor in Photography. The course included portrait, product, black and white film photography and nature photography. I consider myself lucky to have been born in the era of film photography which really strengthened my basic control and understanding of the camera. I started with commercial photography for corporate companies around 2008 and also worked as in-house photographer for the advertising agency, Ogilvy and Mather in Karachi from 2009- 2010. I had no interest in fashion at all, but five years ago, someone told me that I would be good in fashion photography. Since then there was no looking back. My transition from commercial/corporate photography to fashion photography has been a journey of self exploration and creative growth. I have discovered my very own style, experimented with various lighting techniques and learnt colour theory in the process. My wife Maha is a Creative Director, stylist, Social Media and Marketing Manager and a post-production artist in my firm NFK Photography. She has a very strong fashion background, having graduated from Parsons in NY in Fashion Design and experience in the fashion world in New York working with brands like Coach and DKNY. She also has a background in Architecture and Visual Arts from Columbia University, including 2 years in photography. Hence her contribution to NFK photography is valuable.
After our marriage in 2011, she prompted me to do a couple of fashion shoots which she initially conceptualized, art-directed and styled. With her fashion knowledge and my skills in photography, our shoots received phenomenal feedback and what we had started as a side project suddenly became our main focus.
She has an extremely critical eye for colour and detail having been a painter in high school and her job as a designer in NY has really cultivated her eye.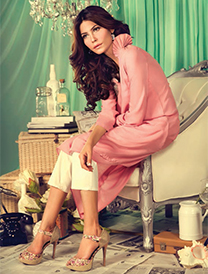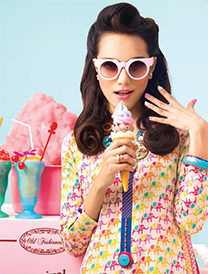 DY: I have observed that you score a lot in the subject of colour, your control over various colour schemes can be seen in your work. What do you and your wife have to have to say about this?
NFK: We try very hard to balance our shoots so that everything works in perfect harmony and unison. We therefore put a lot of emphasis on our art direction and creative execution of our shoots to make sure that no element overpowers the other whether it is art direction, makeup, set or the clothes themselves. Everything, including the colour palette (of the set/ location etc) is planned and decided in advance to bring out the best in that specific collection. We also have an idea of how we want to tone and light before we shoot. Every detail matters! Lighting and colour is an integral part of any shoot we undertake. Certain colours look better in certain settings and in certain kinds of light. At the end, we want to make the clothes look the best than they possibly can!

DY: Were you influenced by the work of any specific photographer or a fineartist?
NFK: I am a hugfan of Bruno Aveillan, who is a French director and photographer. Carravagio as a painter initially inspired my lighting technique. I have moved beyond that, but still have great respect and love for his paintings and dramatic one source lighting style.
DY: What do you give more importance to? The 'art' of the subject or the 'craft' of the subject (I mean the technicalities) ?
NFK: In fashion photography, it is imperative to give important to both these aspects because the lack of any one will keep you from capturing the perfect image. The 'art' of the subject is what brings a unique style to the image. We spend a lot of time planning the artistic elements be it the set, props or the entire styling of the shoot. That is what gives the image a distinct style and mood. I also spend a lot of time on my lighting to get the exact result I want and do not rely on postproduction to improve the light. It is always there to enhance colours, but it cannot be a substitute for good lighting. It is important to know the settings of the camera to get the desired result in terms of sharpness, depth of field etc. I always plan my camera settings in advance and I feel my experience of shooting on film has really helped me achieve the desired results in digital photography.