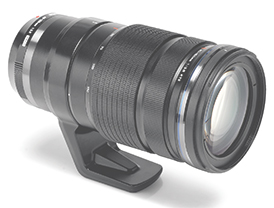 Olympus PRO-series lenses have been extremely versatile with their rugged metal construction, superior optical performance and compact footprint that Micro Four Thirds standard demands. The M.Zuiko Digital ED 40-150mm f/2.8 PRO joins the 12-40mm f/2.8 in this series to provide a complete range of professional grade lenses along with the Premium series that feature the prime lenses. Here we put to test the 40-150
f/2.8 PRO.
Design and Build Quality
The Olympus M.Zuiko Digital 40- 150mm lens is professionally built with a rugged metal exterior. Like all Micro Four Th irds lenses, this one is compact and lightweight compared to the Full Frame and APS-C lenses of comparable specs. The dedicated lens hood (supplied) has a lock mechanism that allows you to slide and retract the hood while attached to the lens. For this, you need to twist a ring on the hood and pull it towards the base of the lens. This is very useful since the normal hoods need to be mounted in reverse when not in use. The lens has special sealing that makes it dust, splash and freezeproof. Olympus provides a metal tripod collar along with the lens.
Key Features
Th e M.Zuiko 40-150mm lens provides a 35mm equivalent focal length of 80 to 300mm and has widest aperture of f/2.8 throughout the zoom range. This is a very useful focal length for wildlife and sports photography, especially with Olympus' optional 1.4x tele converter, which makes the tele end 420mm with a maximum aperture of f/4. The minimum aperture is f/22. The lens is constructed with 16 elements in 10 groups including one aspherical ED (Extra-low Dispersion), two aspherical, one SED, three ED, and one HD (High Defi nition). These special elements help the lens to provide superior image quality by eliminating optical aberrations. The lens elements are coated with ZERO (Zuiko Extra-low Refl ection Optical) coating to eliminate ghosts and flares caused due to internal refl ections. The lens does not feature Optical Image Stabilisation since Olympus uses in-body Sensor-shift type Image Stabilisation, which makes any lens an image-stabilised lens.
The 40-150mm lens features an inner focusing system that allows it to maintain the same length while focussing and zooming. Focussing is done internally, and the front element of the lens does not rotate. This also effects minimal change in centre of gravity (or the weight balance) of the lens while focussing and zooming, making it easier to handle the lens. As if this is not enough, the lens uses a floating focus system with a dual Voice Coil Motor (VCM) which, Olympus claims, is the world's first dual VCM focussing system. This method involves two lens groups moving simultaneously with the help of two linear motors. This results in faster focus, especially while shooting close-ups. This is useful even in movie mode.
The M.Zuiko 40-150mm can focus as close as 70cm from the imaging sensor at all zoom ranges. The lens provides an angle of view of 30 to 8.2 degrees and a maximum magnifi cation of 0.21x (0.42x equivalent). It features a circular apert re diaphragm with 9 blades. The lens has a filter size of 72mm (dia). It weighs 760g and has dimensions of 79.4 (dia) x 160mm.
Ergonomics
The Olympus 40-150mm lens is very comfortable to hold and use, especially with professional models such as OM-D E-M1 and E-M5. The compact and lightweight lens is easy to carry around the whole day, and I would certainly prefer to carry this on long trips in place of heavy equivalent full-frame lenses. The lens has a manual focus clutch that allows you to instantly switch between auto and manual focusing. This is quite useful when you need quick fine-tuning without taking your eyes off the subject. The lens has an L-Fn button, which can be assigned various functions through the camera menu and thus serves as a quick access function button. Overall, Olympus has made the lens keeping user-comfort in mind.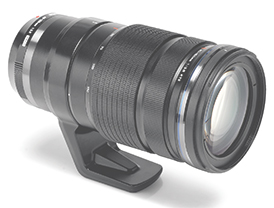 Performance
The Olympus 40-150mm PRO lens performed like a true professional on our test bench. Autofocus was fast and precise on the E-M1 body that Olympus had provided. We observed very minimal darkening of corners at f/2.8 at the wide-angle end in our test images of a uniformly illuminated wall, though this was not detectable in other images. We noticed flare in very strong against-the-light shots along with a tinge of purple fringing (again, only a blinkand- miss appearance). Images were very sharp with the sweetspot at f/4 throughout the zoom range. Even at f/2.8, the images retained a high level of sharpness. This is highly desirable, particularly because this lens is very useful for wildlife and sports photography, where faster shutter speeds and shallow depth-of-field are the norm. The lens did not produce any perceptible distortion.
Value for Money
The Olympus M.ZUIKO DIGITAL ED  40-150mm f/2.8 PRO retails at an MRP of Rs.105,000. It is also available along with 1.4x teleconverter, in a kit form at an MRP of Rs.119,000. This is a very competitive price for this lens.


PLUS
• Excellent build quality
• Compact and Lightweight
• MF Clutch system
• Innovative Lens Hood
• Function button on lens
• Great performance
MINUS
• None that we care about
FINAL SCORE                                    86%
Design and Build Quality                   19/20
Key Features                                    18/20
Ergonomics                                      18/20
Performance
Autofocus                                            4/5
Sharpness                                            4/5
Distortion Control                                  5/5
Aberrations                                         3.5/5
Darkening                                             3.5/5
of Corners
Extra Features                                      4/5
Sub-Total                                             24/30
Value for Money                                     7/10
VERDICT
Olympus PRO series Micro Four Thirds lenses have been top-notch in their construction and performance. Olympus has done a great job once again, crafting the 40-150 PRO to perfection. It is near-perfect in build quality, features and performance. Need we say more? Best Buy indeed!
Sujith Gopinath