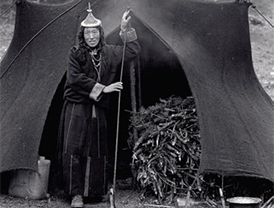 Travel Photo Jaipur—a contemporary culture initiative— will be held in Jaipur from 5th to 14th February, 2016. This festival will feature travel photography. Around 14 exhibitions will be conducted at some of the city's landmark locations like the Hawa Mahal, Albert Hall Museum and Jawahar Kala Kendra. Reputed international and Indian photographers will showcase their works at heritage sites with contemporary art at the same time
The festival will also feature a travelling photo studio by Aradhana Seth—a set designer and photographer. At this festival, people will also get to see the conversion of the former Jaipur Art School (Kishanpole Bazar) into a temporary exhibition space by the photographer, Akshay Mahajan. During the first weekend of the festival (5th to 7th January), a series of talks and screenings will be conducted. Some of the confirmed panellists are Yumi Goto (co‐founder and curator of the Reminders Photography Stronghold), Giles Tillotson (Academic and former Director of the Royal Asiatic Society, London), Thomas Seelig (Curator, Fotomuseum Winterthur, Switzerland), Rafal Milach (Photographer and founder of Sputnik Photos). The festival will be inaugurated by the Hon'ble Chief Minister of Rajasthan, Vasundhara Raje and is being partnered by the Department of Tourism, Government of Rajasthan.
"With time, the photography festival could have the same appeal for lovers of photography across the globe as the Jaipur Literature Festival has for lovers of literature. The potential is enormous not only because photography is a far more accessible medium than literature, but also because the city of Jaipur has so many sites that could be transformed into remarkable venues for photographic display" commented Nikhil Padgaonkar, Producer, Travel Photo Jaipur.