GoPro has announced its new Hero7 lineup, which includes the Hero7 Black, Hero7 Silver and Hero7 White. The flagship Hero7 Black features gimbal-like video stabilisation with its standout feature, HyperSmooth. HyperSmooth works underwater and in high-shock and wind situations where gimbals fail.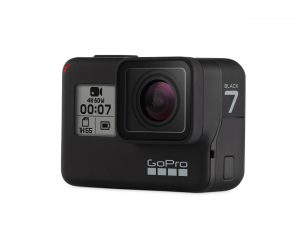 The Hero7 Black also features a new form of video called TimeWarp. TimeWarp Video applies a high-speed, 'magic-carpet-ride' effect to your videos. This essentially compresses the time frame into seconds to provide a sped-up version of your experiences. The Hero7 Black is the first GoPro to live stream, enabling users to automatically share in real time to Facebook, Twitch, YouTube, Vimeo and other platforms internationally. It also features SuperPhoto, which is an intelligent scene analysis for professional-looking photos via automatically applied HDR, Local Tone Mapping and Multi-Frame Noise Reduction. It also features Portrait mode, enhanced audio, 2-inch touch display, and Face, Smile and Scene detection. The Hero7 now features Photo Timer, a self-timer that has been missing in the earlier versions. The Hero7 uses a 12-megapixel sensor and offers 4K 60 video, Ultra Slo-Mo (8x slow motion in 1080p240), rugged and waterproof body, voice control and auto transfer to phone.
GoPro has also announced the Hero7 Black Million Dollar Challenge with a prize of $1,000,000. Beginning September 27, 2018 worldwide, users can submit their best Hero7 Black raw video clips to the Million Dollar Challenge. For details, please visit GoPro.com/Awards.
Joining the GoPro Hero7 Black are the new Hero7 Silver and Hero7 White, targetted at entry and mid-level users. Both the devices are tough, small and waterproof to 33 feet. Both the cameras feature voice command and video stabilisation and can capture still images at 10 megapixels. While the Silver offers 4K 30 videos, the White offers 1080p60 videos.
The Hero7 Black retails at Rs.37,000, while the Hero7 Silver and Hero7 White carry price tags of Rs.28,000 and Rs.19,000 respectively.