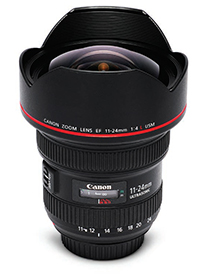 The 11-24 mm is Canon's widest full-frame lens besides the fisheye. At its widest end, it covers a diagonal angle of 126° 05'.
The Canon EF 11-24mm f/4L lens was announced in the first week of February 2015. Though primarily for full-frame (36x24mm) sensor camera bodies, it can be used on Canon's APS-C sensor bodies too.
Design & Build Quality
The Canon EF 11-24mm f/4L is an ultra-super-wide-angle lens. It is well built and the finish is immaculate. The front end is quite large and the front element is bulbous. A petal-shaped lens hood is integrated. The lens weighs approx. 1170g without its end caps.
Key Features
The Canon EF 11-24mm f/4L uses a new optical design. It is constructed with 16 elements in 11 groups that include one Super UD element and one UD element to signiicantly help in reducing chromatic aberration; and four aspherical lens elements to minimise distortion. Additionally, special lens coatings – Subwavelength Coating (SWC) and Air Sphere Coating (ASC) – help to reduce flare and ghosting. The lens uses an Inner Focusing design (physical length of the lens does not change during focussing and/ or zooming), a ring-type Ultra Sonic Motor (USM) coupled with a highspeed Central Processing Unit (CPU) and optimised AF algorithms for fast and accurate autofocusing. Autofocus can be overridden manually. Further, a coating of Fluorine on the front and rear lens surfaces helps to reduce smudges and fingerprints. The lens is dust and water resistant.
The 11-24mm is marked at 11, 12, 14, 16, 18, 20 and 24mm settings and includes a distance scale in meters (in white) and feet (in red). At 11mm, the lens has a minimum focusing distance of 12.6 inches and at 24mm, 11 inches. The lens is ideal for shooting in interiors or tight spaces and also for expressive landscapes wherein one needs to create an 'anchor point' (but read the Performance). A 9-bladed diaphragm helps in controlling the smoothness of the background.
The front element being bulbous, does not permit the use of conventional filters but Canon has provided a gelatine filter holder on the lens mount. It could be argued that a knowledgeable photographer would never try to use a polarising filter on such a wide-angle lens (due to uneven darkening of a blue sky), but what about the use of Neutral Density and graduated ND filters? I'm afraid one would have to hold those filters in hand, which is ideally not a good practice.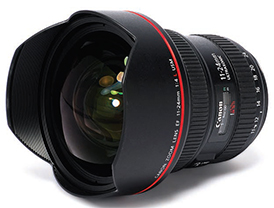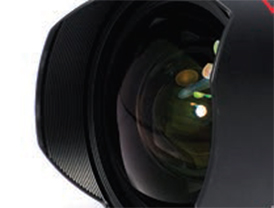 Ergonomics
We tested the lens on a Canon 6D body. The combination felt heavy but the lens balanced well. The zoom ring is towards the camera body while the manual focus ring is towards the front. I wish it was the other way around – that way it would have been ergonomically easier and more comfortable to zoom. The other grouse I have with this lens (and many other lenses from other manufacturers) is that the distance scale in feet (in red) is very difficult to see, especially in less-than-good light.
Performance
Pictures shot with the Canon EF 11-24mm f/4L were sharp and with good contrast. Autofocus was fast and accurate. At close quarters, prominent barrel distortion was noticed at 11, 12 and 14mm settings, much reduced at 16mm. We did not notice any distortion worth mentioning at 18, 20 and 24 mm settings. Flare and chromatic aberrations were well controlled.
Super-wide-angle lenses are not easy to use. By virtue of their design, if you use one close to your subject, you're likely to complain about distortion; if your subject is reasonably far away, you'd see no (or very little) distortion. Such is the case with the 11-24mm lens (and similar focal length lenses of other manufacturers).
To check the sharpness of any lens, the suggested lens to subject distance, is 50 times the focal length in millimeters (though there is no world standard on this). So if you are using say, a 50mm lens, the suggested distance to check for sharpness would be 50 x 50 or 2500mm or 2.5 meters or under 9 feet. In the case of the 11-24mm lens, at 11mm, this distance would be 11 x 50 or 550mm or about 22 inches. At this distance, you are going to see a lot of barrel distortion. Similarly, at the 24mm end, the checking distance would be 24 x 50 or 1200mm or close to 4 feet. Again, you're going to complain about the barrel distortion.
Now let's check this in a real-life situation. The Canon EF 11-24mm Canon f/4L shows no perceptible distortion when the closest element in the scene is about 7 feet or more at 11mm and about 10.5 feet at 24mm. Verticals remain vertical! And of course, if you do notice a bit of distortion, it can very easily be corrected in any image editing program like Photoshop.
Note: All super-wide-angle lenses show distortion if used very close to a subject. Try taking a portrait from  say 1 foot using a 20mm lens and your subject will never forgive you! Use the same lens from further away, and you'll likely see no distortion.
Value for Money
The Canon EF 11-24mm f/4L lens is available at an MRP of Rs.209,995. In spite of its capabilities in knowledgeable hands, the lens is by no means inexpensive! |SP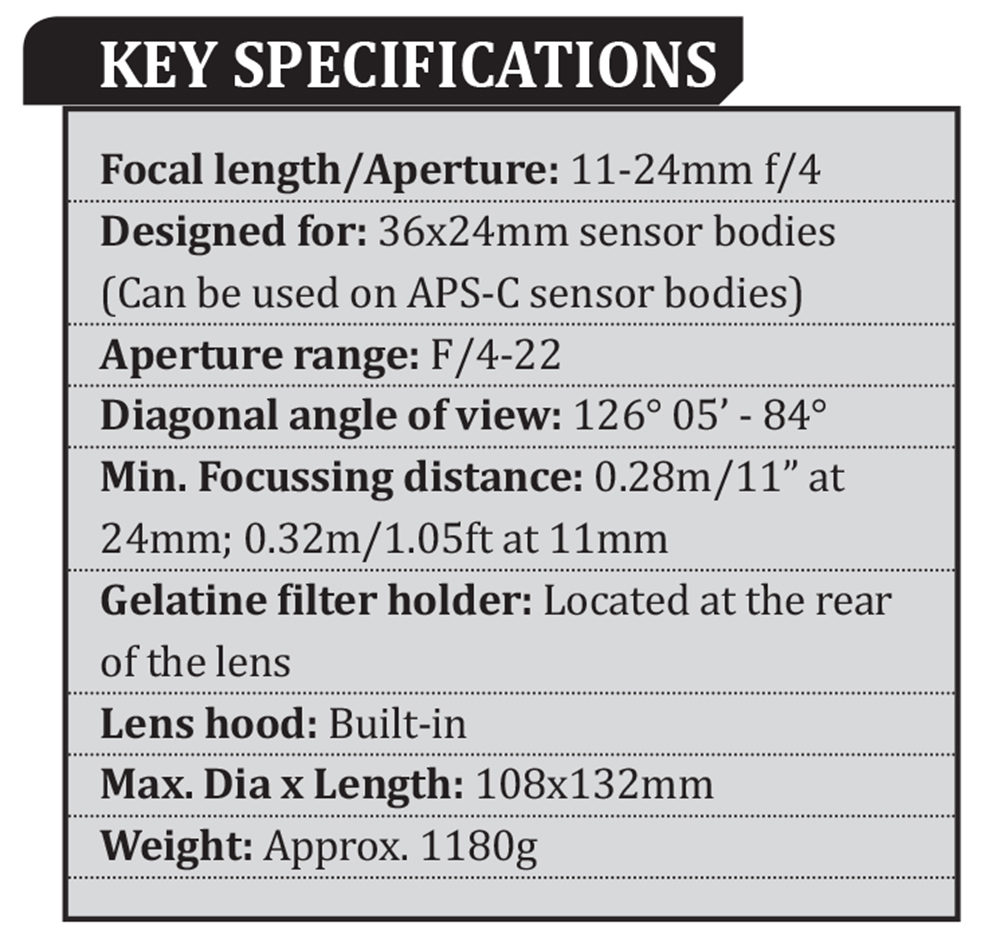 FINAL SCORE                                                    80%
Design and Build Quality                              18/20
Key Features                                                    17/20
Ergonomics                                                       17/20
Performance
Autofocus                                                              4/5
Sharpness                                                              4/5
Distortion control                                             4/5
Aberrations                                                         4/5
Darkening of corners                                       3/5
Extra features                                                     3/5
Sub-Total                                                    22/30
Value for Money                                       6/10
PLUS
• Good build quality
• Fast AF (also depends on the body)
• Sharp
MINUS
• Distortion when used on close-by subjects
• Heavy
• Front-end filters not usable
• Expensive
VERDICT
If your pockets are deep, the 126° diagonal angle of view at the 11mm end will excite you to get one for yourself. But be aware that using such a superwide- angle lens calls for great skill and technique on the part of the user. Also remember that while the view through the lens looks great, unless you make your images fairly large, you might not be happy with the results. Imagine, for example, an expanse of say, one kilometre, packed in a picture size of 5×7 inches! What details can you expect to see? Make the same image 16×24 or 20×30 inches, then you will see the fine details, which would otherwise be lost in a small print.
Other than its bulk and weight, and the fact that you cannot attach front-end filters, the 11-16mm is a great lens for landscapes. It can be successfully used for interiors as long as you maintain about 7 feet distance from the subject to avoid distortion, or, are willing to correct for the barrel distortions in post-processing. When it comes to architecture, there should be no problem since your subject will always be at a distance. Unfortunately, we feel that the lens is over-priced, which has lowered its overall rating in the final score. Due to this, what could have been a 'Best Buy' is now 'Recommended'!
Rohinton Mehta