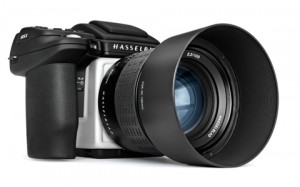 Hasselblad has developed a new and exclusive medium format camera body, the H5X. It is currently being showcased at Photokina 2014 in Cologne, Germany (Sptember 16-21, 2014). The versatile H5X has been developed for H1, H2, H2F and H4X photographers who seek H5 capability; and also as a back-up body for H5D users.
The H5X offers the latest capture functionality and works seamlessly with Hasselblad's H System lenses comes after the spring launch of the world's first 50MP CMOS sensor camera, the H5D-50c; and the summer launch of the H5D-50c MS, H5D-200c MS and the CFV-50c CMOS digital black.
The H5X provides the same functions as the H1 or H2 cameras, with a number of new additions. It offers TrueFocus, which enables photographers to concentrate on creativity without having to worry about focus mechanics. It also features full HC and HCD lens compatibility, including HCD 24, HCD 28 andthe HCD 35-90 zoom lens. It also offers the HVD90x Viewfinder optimized for the 36x48mm format, and high power AF illumination. The H5X features eight memory banks for easy access to previously saved camera settings and all new programmable button options available with an H5D sensor unit.