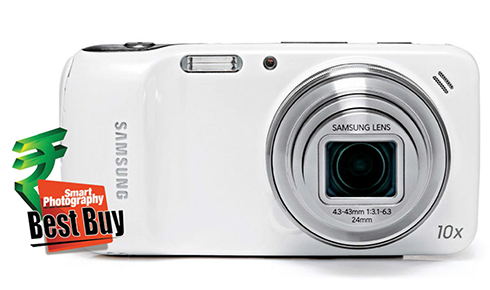 In the July issue of Smart Photography, we mentioned that Smartphones do not pose any significant challenge to compact cameras 'as of now'. But that was a 'long' four months ago, and since then, Smartphone cameras
have become smarter and now the favourite taglines of high-end models are incomplete without the mention of terms like 'megapixels', 'BSI CMOS', 'optical zoom', and 'low-light photography'. True to this, Samsung launched a hybrid device, which is both a Smartphone and a camera— the Galaxy S4 Zoom. Though the name might suggest that it is a Galaxy S4 with a zoom lens, there is more to it than meets the eye. Since the S4 zoom integrates a full-featured camera, we treat this device like any compact camera in this review.
Design and Build Quality
The Galaxy S4 Zoom looks like the Samsung S4 Smartphone from the front, but turn it over, and it resembles a compact camera, complete with a large lens with a zoom ring around the barrel, a Xenon flash, a protruding hand grip, and a large, round shutter release button. The lens has a plastic covering on the outside, which provides additional protection to the lens so that it does not get damaged even if you put the device (we are not sure whether to call it a Smartphone, camera, or possibly 'Phomera', as in 'Phablets') in your bag or pocket. The device is certainly bulky with the protruding lens and hand grip, but if you consider it a camera and phone built into one, Samsung's design philosophy cannot be questioned. The device is built with polycarbonate on the exteriors and features a standard, metal tripod receptacle.
Key Features
Since ours is a photography magazine, it would be prudent to mention the camera features first. The S4 Zoom's
camera features a 16-megapixel, 1/2.33-inch Type (6.16 x 4.62mm) BSI (Back-side Illuminated) CMOS sensor
(this is the standard size of sensor you find in most compact cameras). The camera houses a Samsung 24-240mm equivalent lens featuring Optical Image Stabilisation. The lens has a threesegment construction and it extends while zooming. The device also features a Xenon flash, just like compact cameras, and a focus assist light. Aperture options are limited to f/3.1 and f/8 at the wide-angle end and f/6.3 and f/17.8 at the telephoto end. Shutter speed ranges from 16 to 1/2000 sec. Exposure can be compensated up to +/-2 EV in 1/3 EV steps. Sensitivity ranges from ISO 100 to 3200. The device provides White Balance options of Auto, Daylight, Cloudy, Fluorescent H, Fluorescent L, Incandescent, Preset, and Kelvin. It features the usual three metering modes—Matrix, Centreweighted, and Spot. The camera can capture continuous frames at 4 frames per second.
The S4 Zoom features four shooting modes—Auto, Smart, Expert, and Mymode. The Smart mode lets you select from 25 different subjects or situations and the camera will apply the best settings for the situation. The various options under this mode are Landscape, Dawn, Snow, Macro, Foor, Party/Indoor, Action Freeze, Rich tone (HDR), Panorama, Waterfall, Animated Photo, Drama, Eraser, Sound and Shot, Silhoutte, Sunset, Night, Fireworks, Light trace, Smart Mode Suggest, Beauty Face, Best Photo, Continuous shot, Best face, and Kids shot. The Waterfall option lets you execute a long exposure capture to render flowing water as a continuous
stream. The Animated Photo option allows you to keep a part of the image in motion. For example, if you photograph a room with a rotating fan in it, you can leave the fan rotating in the still image, while the rest of the contents remain stationary. Eraser lets you remove unwanted elements from the image without leaving a mark. For this, the camera captures continuous frames and fills the void with a perfect part from one of the captured frames. In the Expert mode, you have the options of P (Program), C (Custom), and M (Manual). In Manual mode, you can change the shutter speed and aperture, but we did not use it since the apertures are limited to just two fixed values. However, the 'P' mode lets you do most adjustments. Still images are captured in JPEG format with dimensions of 4608 x 3456 pixels.
Now here are the general and phone features. The S4 Zoom uses a 4.3-inch, qHD Super AMOLED display. At its core is a 1.5GHz Pega-Dual +XMM6262 processor, which makes it less powerful than the Galaxy S4, but still very much capable. The device runs on Android JellyBean v4.2 and features Touchwiz UI. It has 1.5GB RAM and 8GB internal memory, expandable up to 64GB using an external Micro SD card. Connectivity features include Bluetooth 4.0, WiFi 2.4/5Ghz, and NFC (Near Field Communication). It provides A-GPS and GLONASS (the Russian equivalent of GPS) support. The Galaxy S4 Zoom is powered by a 2330mAh Li-ion rechargeable battery pack. The S4 Zoom weighs exactly 200g and has dimensions of 63.3 x 125.3 x 15.25mm.