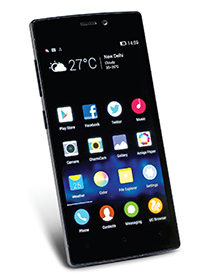 No other debutant in the Indian Smartphone market has, in my opinion, has turned so many heads with  their bold and classy television commercial. The Gionee Elife S5.5 debuted by taking a dig at other players in the market, emphasising its position as the slimmest smartphone in the world, and revealing its high-end features including a metal body. Needless to say that we have been impatiently waiting to review the device in Smart Photography. Finally, we got our hands on the S5.5, and here's` what we feel about it.
Design and Build Quality
The Gionee Elife S5.5 is the slimmest Smartphone in the world at 5.55mm thickness, and feels very rugged. The device has a single piece contruction with an integrated battery and has a thin and rugged metal bezel. Both the front and back surfaces are of Corning Gorilla Glass 3. The device projects a stylish design.
Key Features
The Gionee S5.5 uses MediaTek MT6592 chipset and octa-core processor in ARM Cortex-A7 architecture, each core clocked at 1.6 GHz supported. It is supported by an ARM Mali 450 MP GPU. The device runs on Android operating system and is shipped with Android 4.2 Jellybean, which can be updated to KitKat. The Smartphone sports 16 GB internal storage and does not support expansion of memory using a memory card. The phone uses a single micro SIM and has 2GB RAM. The Elife S5.5 uses a 5-inch, Amoled Capacitive multi-touch screen with a maximum resolution of 1920 x 1080 dots. The display has a native resolution of 480 dpi. The multi-touch feature can detect up to five touch points simultaneously. The device features Wi-Fi, Wi-Fi tethering, FM Radio, GPS/A-GPS, Bluetooth, proximity sensor, accelerometer, and motion sensor, but does not support NFC and Infrared communication.
The Gionee S5.5 specifications do not reveal much about the camera features, but it is quite exhaustive for a Smartphone. The main camera is 13.0 megapixels,  while the front camera is 5.0 megapixels. On the first look at the interface, the camera might look quite subdued, but a tiny button on the lower right corner brings up the professional menu, which provides access to a host of advanced features. There is an on-screen dial similar to a camera's mode dial. This provides five options— Auto, Sport, Night, HDR, and Panorama. There are two more dials for Capture mode and Selftimer. Capture modes available are Normal, Touch, V-sign, and Smile. In the V-sign mode, the camera captures the image when somepne puts up a 'V' sign. The Self-timer dial lets you set it to Close (off), 2 sec, 5 sec, and 10 sec. Then there are four sliders similar to the volume controls on a media player. These are for Size (Resolution), White Balance, EV (Exposure compensation), and ISO. You can select the resolution from 4 to 13 megapixels. White Balance can be st to Auto, Cloudy, Fluorescent, Daylight, and Incandescent. Exposure can  be compensated up to +/-3 EV in 1 EV steps. ISO settings are Auto and ISO 100 to 1600. The camera also offers Face detection, Geotagging,
Level meter, and Auto scene mode. In case, you get the settings wrong and want to start over, there is a reset button that comes handy. Th camera has an LED flash (or light, rather) that can be used for low-light closeups. Apart from the regular camera application, the phone also has a built-in app called CharmCam. This can be called your fun studio, where you can apply various built-in effects to the photographs you click. This is a good idea to minimise the chances of inadvertently applying a funny face to a serious photograph. The features include Live Filters, Stamps, PPT (to capture a presentation), Tracks (for movng objects), Face beauty, Makeup, Best face, and Eraser (you can erase any element from the photograph).
The Gionee S5.5 is powered by a 2300 mAh Li-Polymer battery pack (integrated). The device weighs 133g and has dimensions of 145.1 x 70.2 x 5.55mm.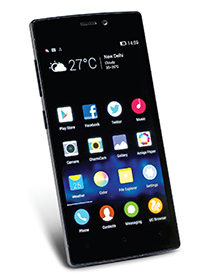 Ergonomics
The Elife S5.5 uses a highly customised interface, but regular Android users will not have any difficulty in using the phone. The interface is quite user-friendly and there are many ways to customise the interface. Images on the screen appeared crisp, comparable to any high-end Smartphone.
Performance
The Gionee S5.5 performed very well in our tests. The device was fast and handled high-graphic applications very well. Though the device had average battery life, it might improve with a few chargedischarge cycles.
The S5.5 secured a score of 29,044 on AnTuTu benchmarking software, placing it sixth behind the LG G2, and the hardware proved very stable, going by the  stability test. With the CPU at full load, temperatures varied between 33 and 35 degree Celsius. The device never overheated, unlike some other high-performance Smartphones.
Coming to the camera, the S5.5 performed remarkably well. Autofocus was fast and precise. The camera captured minute details very well. Images were quite sharp out-of-the-box. The camera captured stunning macro and natural light images. Metering worked as expected. Auto White Balance performed well, providing desirable results under natural light. Images shot under Fluorescent light had a distinct blue cast, but this could be easily removed while postprocessing.
Native images had
a print size of 14 x 10.4 inches at 300 ppi. At 25 percent of this screen size, images were free of
noise up to ISO 400. Thereafter, we observed slight noise at ISO 800, and ISO 1600 was certainly noisy. Viewed at 50 percent, images remained noise-free up to ISO 200, while ISO 400 showed slight (almost imperceptable) noise. At 100 percent view, we observed noise at all levels, but ISO 100 could be used in a crunch. We would consider this good performance.
Value for Money
The Gionee Elife S5.5 retails at an MRP of Rs.22,999. Looking at the hardware configuration, stylish design and matching performance, this is good value for money
PLUS
• Rugged build quality
• Slimmest in the world
• Premium hardware features
• Superlative performance
MINUS
• Debutant in
FINAL SCORE                   88%  
Design and Build Quality   19/20
Key Features                    17/20
Ergonomics                      17/20
Performance                     17/20
Value for Money                18/10
VERDICT
The Gionee Elife S5.5 is truly a high-end Smartphone that performs like a champ. The sleek and trendy phone is ruggedly built and provides excellent performance. At the listed this is great value for money. price
Sujith Gopinath