HP has been the industry leader in photo finishing and the man driving this is A. Appadurai, Country Manager for the HP Indigo and Inkjet presses, India and Sri Lanka. Smart Photography had a chance to interact with him and here are the excerpts.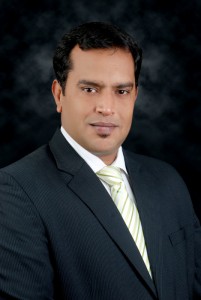 With the experience of participating in almost all Photofairs, what are your thoughts about CEIF 2018?
The mad crowd, the two kilometre queue that we used to see in Photofair previously, was not there yesterday. I hope it returns today or tomorrow. But nevertheless, there is lot of energy, momentum, show; it is happening after two years and that brings in a huge amount of expectation from the people. We are quite happy with the objectives that we were coming up with so far. I have always said this—Photofair as a show actually changed the course of our business. In 2008 -09, we just did not have anything in photo printing. HP used to have these inkjets before. Indigo was not known to people at all. I still remember the 2009 show, which actually changed the complete outlook. It changed our complete business altogether. From there on, getting to 200 installations in photo, is incredible. This show basically links you with the photographers. You would meet up with them and start explaining things. They never invested something like Rs.3 to 4 crore before. The maximum that they invested in life was an RC machine or probably a new machine that costed them Rs.30 to 40 lakh. So to increase the ticket size of investment from that to about 10x, you only have to talk to the photographers. So for us, this is the opportunity. Close to 50,000 people come in, we have conversation with about 1/4th to 1/5th of them, and that helps our business. We take a lot of input from people as to what they want. Innovation is something you need to do very specifically to the needs of the people. We clearly understood that. But you know 70-80 percent of the trade's money is in one segment called wedding photography. Rest is all passion, hobby etc. A little bit of commercial printing exists, but from a print perspective, what makes the biggest difference is the wedding market. That is what we are clearly focussed on.
How has 2017 been for HP?
2017 was a little bit of a tough year. Tough from two perspectives. One, the double strike that happened on the economy, obviously, the demonetisation, which took the cash away. And if you look at the wedding business, it is a 100 percent cash business. And then there is GST implementation. GST is 18 percent for these machines. So on an equipment that costs Rs.2 crore, some dealers pay Rs.36 lakh in taxes, which they never used to before. So 2017 was definitely a challenging year. That is from an equipment selling perspective. But the biggest part of the story that other manufacturers do not share, and HP would is that even in 2017, our business grew in double digits. Our customers' business grew in double digits. And in this business, the supplies that matter a lot, not machines alone. It is mostly about the number of prints that happen in the market. Though there was a dip in November and December, it bounced back heavily and we had a double digit growth of our customers' business, which is the most important thing. HP, in this case, is not like a camera vendor, where there is probably a distributor and then a buyer. We would all have a challenge because of cash. But for us, since we offer service to photo printers or couples, that did not have any impact on us. Rather, it grew by double digits, which is the most important thing for us in this case. As long as that is growing, the customers are growing, we will keep growing. That is a very optimistic outlook that we have.
What are your expectations for 2018?
We have two expectations for 2018. One, obviously, to grow the market to a higher and higher level. Whatever we are doing today, be it the product launches, technology changes that we are making, is all leading towards getting into the higher and higher values of the business. If I am a wedding photographer, can I double my business next year? When we ask this question, the answer does not lie with the wedding photographer. The answer actually lies with a purohit or a pundit who says these are the only muhurat days that are available. Out of 365 days, that I have, the muhurat days are only 100. Now how can I increase my business? If the muhurat days are only hundred, I cannot shoot three weddings on the same day. So my business is not going to ramp up like other business. I am talking about the aam aadmi (common man) photographers not big photographers who have assistants and a big set-up. These are one man, two man, or three man companies. They cannot increase business by doing more more shoots. If this is the pattern, then how do I make more money? It can only be done by giving a higher value product or service. That is exactly what our focus is on all the years. Even this year, we are going to focus on this. How do I charge more money from the same number of clients? We also came out with this concept that if you print a large album, you could print a small miniature album that could be distributed to close relatives. That is an additional increase in business. You could also go for other products like posters etc. We are also enhancing on quality parameters. We are launching two new inks at a worldwide level. For HP, India is the largest professional photo market. Rest of the markets are in the amateur side. they are big like US, Europe, etc. We have based all our launches, and all our R&D centred around India. So there are scientists who come from our office, they do conversations with photographers and labs and try to understand their needs.
We are doing a worldwide launch today of the pink ink and the green ink. What the pink and the green do is to increase the gamut. India is the most colourful country by far in the world. So when we speak to photographers and camera manufacturers, we find that some times even we miss the gamut. See the colours that are used in India during ceremonies, especially weddings. To have exactly the same colours replicated in print is a challenge as long as you are using a four-colour process, which is what every manufacturer does. So we are trying to increase the gamut by adding the pink and the green inks. So that becomes part of the process colours now. We have also launched another colour, the light light black. In the photo industry, it is called grey balance. So by using these seven colours, we can cover a much wider gamut. Now we can produce prints that match exactly the same colours that you see on the LCD monitors.
Weddings are also changing big time. Now its not the father and mother who decide the wedding. There are wedding planners who come in. There are fashion designers who are coming and designing the costumes of people. And the trend is that they prefer brighter and brighter colours. I think the generation that passed by, who accepted everything, is making way for a generation that wants something unique, whom we call the millennials. Their principle is, I want something unique. They come out with something that is unbelievable. Their choices are all changing. And meeting their demands is challenging. If a lady has got her dress designed by a fashion designer who charges a few lakhs and the colours she chose do not replicate well on your print or your LCD monitor, it is a nightmare for us. So that is why we are coming back and doing these technology launches to suit the market. To suit the millennials who are getting married, who have the demand of uniqueness, that's always been a big challenge for us. Another focus for this year is to get started with the amateur business. If one percent of India's population starts printing their holiday albums, I would sell another 130 machines. That is our estimate. So we are putting much effort in the amateur market as well. Lifestyle is changing. Photo, in my mind over the years has changed. Photography was a technique when it came in, so photographers were technicians. From technique, we moved to more of an art form. Today we see photography getting as part of the lifestyle as well. That happens with all these new mobile phones. I think the best selling smartphone today in India is the one which has the USP of selfies. So when photos become part of your lifestyles, it becomes very important to document these memories through lifestyles. I think there is lot of money for the photography industry whether it is the camera manufacturers or print vendors like us, or even photographers for that matter. We believe that the only way to preserve your memories is to print them. Nothing else is preserving your memories, be it hard disk, cloud or any other medium. So we put a lot of effort in consumer satisfaction as well.
What are the latest trends in photo finishing business?
Live photos are getting big now. But today what people are looking at is the trend linked to the unique part that I mentioned. Nobody wants their album looking the same as that of another person. So different sizes are coming into the market. Today the amount of formats that come into the market is unbelievable. A new trend is 20 x 30 albums. So the format size is what we see changing in the last two years. People want extremely unique sizes.
Tell us about your customer engagement programme and customer service network?
For me, there are two customers — one, my actual customer who buys my machine, and the other, the end customer, who is the photographer who does not buy my machine, but he buys the photograph that is produced on my machine. We always look at them as two unique set of people who have different demands, whom we have to cater to. So for the first set of people who buy machines from me — we have built a solid network in India. We are already present in 70 towns and cities in India. We have offices in about 55 places to cater to their needs and demands, that is, with 55 engineers, we give probably the best industry support . There is something unique about our technology also. Eighty percent of machine servicing can be done by our customers themselves. It is such a easy system. Then we have very hi-tech systems where sitting in my office, I can understand what is the problem with a printer that is in Amritsar. All presses are connected to the internet. Then there are extremely hi-tech features such as cameras fitted on the machine, with which I can see everything remotely. So we do 40 percent of our service by remote assistance. We have a beautiful team with a massive office in Chennai. But for end customers, beyond photofair, we meet roughly 10,000 to 50,000 people every year — going to small towns like Silliguri, some remote town in Tamil Nadu or Kerala, seeing the products that are produced by out customers, talking to photographers and finding out what they want from us to develop their business. We keep constantly meeting with them and we have at least four such roadshows every month, every year. So when we talk to an aam aadmi (common man), the fact that an HP person is talking to him is what gets them charged. So the DNA of our company is to listen to customers always. We may not be able to do all that the customer wants, but if we are able to do even 10 percent of what the customer wants, their business keeps growing. That is what we believe and do.
Where is photo printing going globally and in India?
Photo is one of the growing markets not only in India, but also abroad. When I say growing, I can only say from my company's perspective. We are witnessing a steep decline in silver halide. The fall is far too high, whereas electro photography of Indigo has been growing all the time. This is because people are still printing photographs. It depends on how many of those people you reach to and how do you make it convenient for the people. As long as you innovate and make life convenient to people, you will always grow. We have had the biggest growth in the last many years and in India, the story is very positive. Today, it is our belief that, with all the data that we have with us, one out of three wedding albums printed in India is done on an Indigo machine. So getting 33 percent market share in albums would tell you what kind of growth we had — double digit, very strong. Otherwise printing on silver halide is challenging. It is expensive, mining silver is a problem, etc. That is where HP's strength lies. We are not dependent on this one paper. We have an open architecture. We have to make it cost-effective.