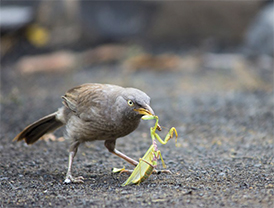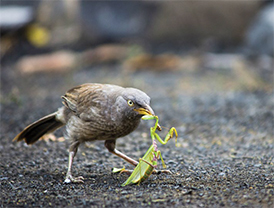 Our Imaging Expert No one can take a picture that everyone likes. But, almost every picture can have scope of improvement. Often, we are not our best critics, while others can immediately point out the faults. In If I were you, our expert comments on how your pictures could be taken to another level.
E-mail your images at sp@nextgenpublishing.net
Rohinton Mehta,
Technical Editor, Smart Photography
Praying Mantis becomes Prey
This picture of a bird (looks like a Babbler to me) with a Praying Mantis comes to us from Saransh Fattepuria via email. I like the fact that Saransh has photographed his subject from (more or less) the subject's eye level and not from his own eye level. I also like the fact that he has used a wide aperture to throw the background out of focus.