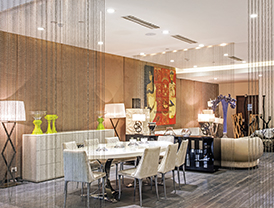 Modern Home
Ravi was born in 1967 in Udhampur, Jammu & Kashmir. He is involved with lifestyle photography. He has been associated with leading publications, advertisement agencies and corporate clients and his work has been widely published. Currently based in New Delhi, Ravi is also a visiting faculty for photography at various institutes. He also co-founded a photography-based organization called 'Cameraunlimited Foundation'.
As told to Tanika Godbole
Wooden Look                                          Stairway
What is your life like? Tell us a little about your background.
Photography for me is a hobby turned into profession. I am a qualified Cost Accountant and was involved in Corporate Finance for almost 13 years before I took a plunge into full time photography. Since the year 2000, I have been earning my bread and some butter from lifestyle photography which includes food, interiors, people, product and travel photography. I have also been teaching photography at various institutes as visiting faculty and conducting workshops on regular basis for some brands associated with photography. During the last four years, besides displaying my fine art photography, I have also curated some fine art photography exhibitions which brought established as well as upcoming photographers together on one platform.
How did you initially get interested in the field of photography?
Being a photographer is a gift. Some people can sing, some people can dance and some people can take pictures. More than having a technical command of the camera, they see things in a certain way. They have a world they wish to evoke using a camera.
As a kid, I lived in an era where information was not easily available. There was no 24×7 media or internet to widen the knowledge base. The main sources of news were newspapers and magazines. Two magazines were instrumental in developing my interest in photography. The Illustrated Weekly under editorship of Mr. Khushwant Singh, and India Today when Mr. Raghu Rai was the photo editor, used to carry a full page photo feature in every issue. These were black and white photographs, not necessarily related to current affairs. For food photographs (especially raw food), Reader's Digest became my inspiration. The detailing, the focus and out of focus areas fascinated me. I started framing mentally and conceptualizing without owning a camera.
You have covered a wide range of genres. What inspires you the most?
In the last 14 years I have been involved in almost all the genres of photography except wild life and hard-hcore photojournalism. When I started photography, I tried my hand at all for the sake of learning, exposure and obviously to earn. For me, photography can be broadly divided into two categories: the 'guided' one and the 'unguided' one. Most commercial photography comes under the guided category, where the creator of the subject is guiding the look of the photograph. For example, an architecture or interiors photograph is actually created partly by the architect/interior designer and partly by the photographer. What to highlight and what to omit is predetermined. It is the 'unguided' photography which interests and inspires me the most. The reason I left my successful finance profession and got into photography wash to express my thoughts and feelings through my photographs. Some people do it with words, some with paint brush. I was not good at either, so the camera became a tool for me. I love to travel and capturing people in their habitat is something really close to my heart. It could be tribals in small dwellings in far flung villages or people in the cities in their traditional or contemporary houses.
White and Red                                                            Twilight
How important is good equipment to photographers?
"Phew! I have all the gear I will ever need"—said no photographer ever. The technology is evolving and better equipment is introduced on a regular basis. Though it is said that the single most important component of a camera is the twelve inches behind it (the human eye), yet the choice of equipment is equally important. Especially when it comes to lenses, there is no single lens which can cater to all needs and genres of photography. A good range of quality lenses is an excellent investment for any serious photographer. If maintained well, the lenses will last forever, though camera body can be upgraded every few years. Besides camera body and lenses, a sturdy tripod, reliable lights are some other equipment where quality cannot be compromised.
In this digital age, how often do you use post-processing tech-niques and how important are they?
With the introduction of digital cameras, photography has become relatively simpler. Results are instant and corrections can be made immediately unlike the film-based photography age, when it took at least a day to see and analyze the efforts which were put while photographing. Basic post processing like cropping, dodging, burning etc was possible in the film-age too. But now advance software is available which goes way beyond these simple techniques. In the photography production team a "touch-up artist" has become an integral part. For me, the endeavour is to create a good photograph at the stage of clicking. A good photograph can be made better by post processing but a bad photograph cannot be made good. Post-processing for me generally means doing basic adjustments like contrast, colour, brightness, cropping etc and conversion of Raw images to either TIFF or JPEG depending on the use.
How do you prepare for your shoots? What are the most important things you keep in mind?
Before the photo shoot I try to gather maximum information available on the subject. Sharing a list of requirements for the shoot with the client beforehand is very important, because waiting for things to happen is most frustrating at the time of shoot. Also, double-checking the equipment is a practice which happens automatically every time before I shoot. Another very important thing for me is starting the shoot at the committed time. It means reaching the location early and keeping the set up ready well in time.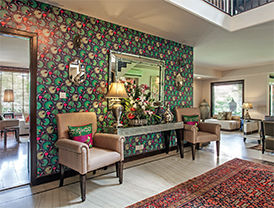 Fresh Wall
What do you enjoy the most about photography?
The interaction with people is the most fascinating part of photography for me. From clicking celebrities to common people on streets, capturing the right expression which conveys emotion is the most satisfying experience for me.
Any advice for newcomers to this field?
With photography becoming more democratic, it is a challenge for newcomers to create an image which is unique, different and stands out in the crowd. Everyday more pictures are clicked than the number of images which were clicked in the first 100 years of photography. Observation is the key to a good photograph and photography helps to see without a camera. Be sensitive to things around you, identify the unusual among usual, look for good light. Practice is another aspect which needs to be emphasized upon by every photographer.