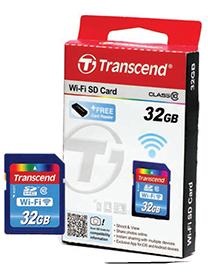 Gone are the days when 'transfer' meant wires sticking out of your camera. Most manufacturers offer built-in Wi-Fi hotspots in cameras. But what if your camera does not have built-in Wi-Fi hotspot? It is here that a Wi-Fi memory card comes in handy.
Transcend Wi-Fi SD card lets you instantly create a Wi-Fi hotspot within your camera and share photographs or stream videos from the device directly on to your smartphone, tablet or laptop. With smart devices becoming more powerful by the day, this provides a better alternative to USB pairing.
You can access and control the card through the free app available on iOS, Android and Amazon. Content of the card is organised into a simple file system so that you can search and access it any time. The app provides Direct Share and Internet modes. In Direct Share mode, the card connects directly with your Wi-Fi devices (you can encrypt the connection with a password). You can share the data with up to three devices wherever you go. You can also edit the images on the shared devices. In Internet mode, the card connects to the Internet using a nearby Internet hotspot or the hotspot of your smartphone or tablet. You can then email the images and videos or upload them to websites.
The card is rated as Class 10 in read/ write speed, but Transcend does not provide the exact speeds. The Wi-Fi SD card carries a two-year limited warranty.
Currently, the card is available in 16 and 32GB capacities. Please note that the Wi-Fi card is not compatible with all camera models. Please check compatibility with your camera model on
http://www.transcend-info.com. |SP