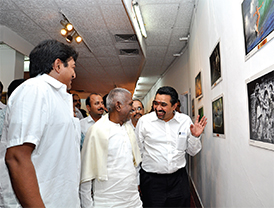 The Photographic Society of Madras (PSM), India's oldest photography club, conducted its first International Digital Photography Salon in Chennai from April 28th to May 4th, 2014. The competition attracted over 1,600 ent ies, and was dominated by international competitors. The Salon, recognized by The Photographic Society of America, had the following categories: Open, Photo Travel, Nature and Macro. There was also an exclusive Member category for PSM Members.
According to Sanjay Sridhar, President, PSM, "This International Salon with recognition from The Photographic Society of America, has truly imprinted PSM footprints on the global stage. This salon also gave an international platform for our members, who are world class photographers themselves, to compete from home turf. While this year we received entries from 21 countries, we are confident of attracting entries from even more countries the next year".
Four hundred sixty six award-winning entries were on display at The Lalit  Kala Akademi in Chennai. Concurrently conducted were seminars and workshops by some of India's top photography experts , including Ritwik, Parthiban and B.Ramana Kumar from PSM. The salon entries were judged by an eminent panel of judges: T.N.A. Perumal -FRPS, MFIAP, Hon. FIIP,  Hon. FPSG; H. Satish – ARPS, MFIAP, FICS, Hon. YPS, Hon. ECPA and K. Jayaram – ARPS, EFIAP. Describing the entries at the PSM Salon "among the best", Satish commented: 'Both the Indian and foreign entries were very good, unlike in most contests where I see more or less repeated entries".
Inauguration
Launching Chennai's Photo Week was famous photographer and world renowned musician, whose name itself is music to the ears of millions: Isaignani Ilaiyaraaja. His message was simple to absorb, apt for the evening and entirely convincing: "Sound and shape are the essence of the universe. Musicians and photographers are therefore comrades in their aesthetic pursui
Sanjay Sridhar, President of PSM and Chairperson of the salon committee, explained the rationale for the International Salon as the urge of PSM, with its rich legacy, to stamp its imprint in the international photography domain.
T. Parthiban, committee member, presented a Ponnadai to the Chief Guest.
S. Prabakaran, committee member, garlanded the chief guest.
Isaignani honoured PSM by accepting an honorary life membership of PSM, jointly presented by Sanjay Sridhar, President and Sunder Guruswami, Vice President. S. Vivekanand, Director, Salon & Exhibitions and Mr
B Ramana Kumar, Salon Treasurer spoke. The chief guest released the salon catalogue, the much awaited collectors' item with 156 pages of stunning photography from the far corners of the world.
Valedictory
The First International Digital Photography Salon organized by The Photographic Society of Madras (PSM) concluded on a successful note at a valedictory function held at the Lalit Kala Akademi. H.E Stuart B Campbell, Acting Consul-General, Consulate of Australia in Chennai, was the chief guest. In his address Stuart Campbell complimented the Photographic Society of Madras for putting up such a magnificent show. He said that the quality of photographs displayed was among the best he has seen and was happy to be here.
Sanjay Sridhar, President, PSM said that, encouraged by the success of the Salon, PSM is determined to make it an annual event. During the function , K O Isaac, Past President, PSM who played a key role in sustaining the organization during the last decade was conferred with a Lifetime Achievement Award.
PSM has signed an MoU with iVolunteer and launched 'Click-for-a-cause' that will enable PSM's member photographers to offer pro bono photographic services to iVolunteer's member NGOs.