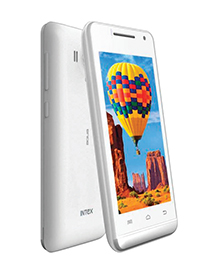 Intex Technologies has launched its first KitKat Smartphone range with Aqua i14 and Aqua N15 priced at Rs. 7,090 and Rs 6,090 respectively. Both the Smartphones will run on latest 4.4 KitKat OS. They are available at an affordable price range and  are targeted at students and young professionals in Tier 2 and Tier 3 cities of India.
Aqua i14 and Aqua N15 are both Dual -SIM Smartphones loaded with advanced features including 1.3 GHz Quad core processor, 1GB RAM, 4GB ROM an 8 MP rear camera and 2 MP front camera. Both the devices come with an IPS screen. Aqua i14 comes in two colours of white and black whereas Aqua N15 will be available in white, black and blue as well.
Mr.Sanjay Kumar Kalirona, Business Head—Mobiles, said, "we at Intex are proud to incorporate Android KitKat OS in our Aqua portfolio. This will enable our users to experience a seamless user interface and smooth functioning of apps. The devices are laden with all the latest features which a user expects from a Smartphone including a IPS display screen to provide users an enjoyable experience while watching their favorite content, all this at a very affordable rate". Aqua i14 and Aqua N15 will be available at all Intex retail stores, hypermarkets and leading e-commerce portals across India to match the purchasing pattern of today's customer.
Last year, Intex sold 11.5 million handsets out of which Smartphones contributed over 1.5 million units of its share. Intex has already launched 32 mid-segment Smartphones under its Aqua range and has plans to launch around 8 more models during the next quarter.