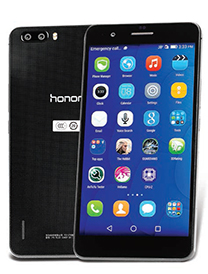 While high-end smartphones from wellknown brands come at exorbitant prices, a few relatively less known brands pack the same features at a lower cost. The Honor 6 Plus is one of those.
Let me begin with a confession. When I first heard of Honor, I had a cheap 'plasticky' gimmick in mind. But then when I heard its Huawei 'surname', I had to take the brand seriously. When the device arrived at my desk, that interest turned into desire. Once the tests were over—well, I would rather reserve it for my closing verdict.
Design and Build Quality
The Honor 6 Plus is designed to resemble an iPhone. It has a carbon fibre monocoque body with a metal bezel running along three sides. The bottom is devoid of any metal. The back panel is fi nished with a glass panel. The LCD is protected by a scratch and smudgeproof, toughened Corning Gorilla Glass 3 screen. Th e smartphone incorporates a non-removable battery. SIM and memory card slots are external.
Key Features
The Honor 6 Plus is an Android based smartphone featuring high-end hardware. The device features a Huawei Kirin 925 chipset with an Octa-core CPU (Four Cortex A15 and four Cortex A-7) and Mali-T628 GPU. It has 3GB RAM and 32GB internal storage (ROM) which can be expanded using a MicroSD card of up to 128GB.
What makes the 6 Plus stand apart is its patented dual camera system, which boasts picture quality comparable to D-SLRs. This uses two 8-megapixel cameras mounted side-by-side (what Honor calls bionic parallel dual lens). Huawei claims that this is the first rear camera with such a setup. With this, they have attempted to replicate the human eyes in some way. The outputs from the two sensors are combined into a 13 megapixel image (at 4160 x 3120 pixels), which theoretically produces better detail. This also allows the user to control the focussing even aft er the image has been captured. Since the dual lens system captures twice the light than that captured by a single lens, this helps in achieving super-fast autofocus. In fact, Huawei claims that the Honor 6 Plus achieves focus in 0.1 second. The lens has a maximum aperture of f/0.95, which provides better background defocussing and shooting speed. The camera is coupled with a dual LED flash. The front camera is an 8-megapixel device with with a Sony BSI sensor. This camera also provides panaromic selfie mode.
The phone features a 5.5-inch Full HD display with 1920×1080 pixel resolution. The device accepts dual SIM with LTE support on both.
It also packs a 3,600mAh non-removable battery, which the company claims lasts over 2.81 days over ordinary usage, and 1.25 days on heavy usage. It runs on Android KitKat with a customised Emotion 3.0 skin. The device has dimensions of 150.46 x 75.68 x 7.5 mm (Lx W x T) and weighs 165 g.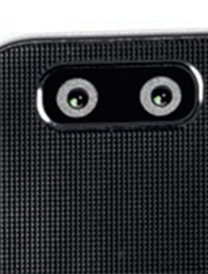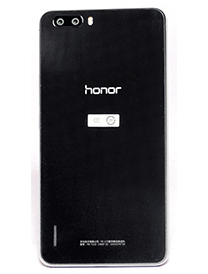 Ergonomics
The Honor 6 Plus is an Android based
smartphone and hence the interface is basically as user-friendly as any Android interface. The Emotion skin is quite nicely craft ed with highly rounded edged rectangular icons. The display is crisp and clear. The touch experience is as smooth as with any high-end phone, and the sound quality is also satisfactory.
Performance
The Honor 6 Plus thoroughly impressed us with its performance. The device was easy to operate without any lag felt even though we tried to push it with resource-hungry games. The battery did not over-heat beyond the usual levels. The battery life was the best we have ever seen in a smart device. Benchmarking the performance of the device with Antutu Benchmark, the device was rated at par with HTC One M8, slightly higher than Samsung Galaxy S5. Th e battery test reported the top place for the 6 Plus, above Lenovo S920 and Samsung Galaxy Note 3.
The camera performed well in normal Aperture: f/2 Shutter Speed: 1/100sec ISO: 400 photo and video modes. The double LED lighting is quite useful during video recording. Th e camera has a wideaperture mode, which lets you control the aperture using a slider. Going by the effect of background and foreground blur changes, we are not very sure that the lens has a physical diaphragm to control the aperture. The results look very much like a novice post-processing work with a steep drop in sharpness instead of having a smooth gradation in the blur due to the out-of-focus peripheral elements.
Out-of-the-box images appeared sharp and well-exposed. Auto White Balance performed very well, particularly under natural light. Even the cast produced under artificial light sources were not very disturbing. Native print size of images is 13.87 x 10.4 inches at 300ppi. At 25 percent screen size, we did not see noise at any ISO, but we observed some light fall-off at ISO1600, probably left by aggressive noise-reduction. Viewed at 50 percent, we could see slight noise from ISO 400 onwards. At 100 percent view, all images showed noise, but were usable up to ISO800.
The Honor 6 Plus features a high-capacity battery, which provides excellent charge retention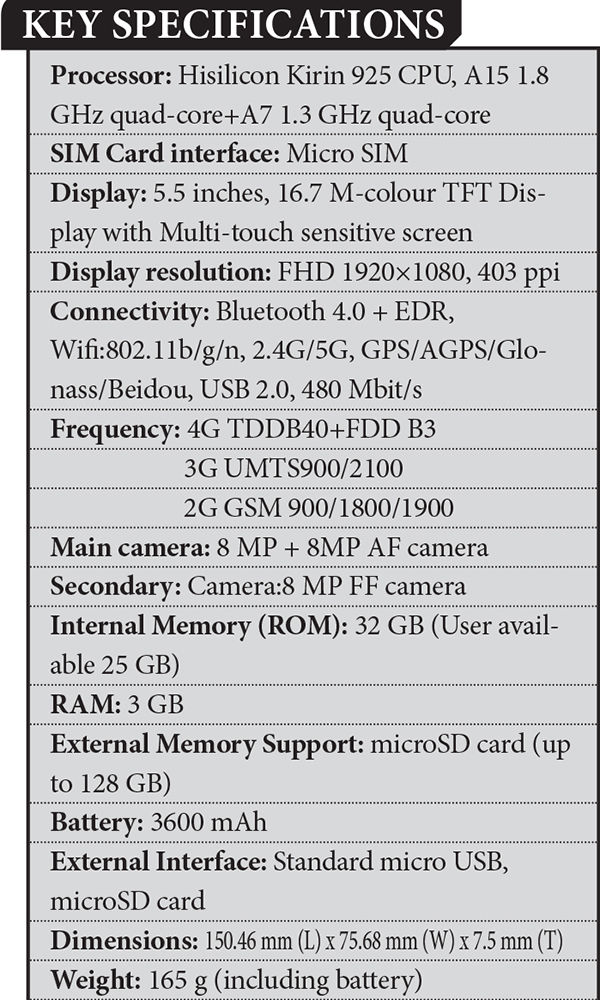 Value for Money
The Honor 6 Plus retails at an MRP of Rs.26,499. At this price, the phone is excellent value for money, considering the punch it packs. |SP
FINAL SCORE  86%
Design and Build Quality 18/20
Key Features 18/20
Ergonomics 17/20
Performance 17/20
Value for Money 8/10
PLUS
• Stylish design
• Sturdy construction
• High-end features
• Great performance
• Good noise control
• Worth the price

MINUS
• Advanced imaging mode disappoints
VERDICT
The Honor 6 Plus is feature-packed to the brim and a pleasure to use. At the MRP of under Rs.30000, it attempts to take on the big brands in terms of features and performance. We were thoroughly impressed with the device. Certainly a Best Buy.
Sujith Gopinath