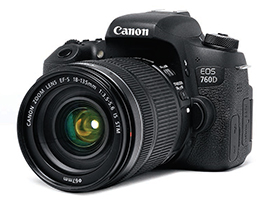 Canon has recently launched the twins, EOS 750D and 760D, the latter featuring some cosmetic improvements over the former. Finally, the camera is with us on our test bench.
Canon EOS 760D is the latest offering from Canon, featuring a 24.2-megapixel APS-C sensor. The camera features WiFi and NFC, along with a fully articulated LCD and premium build quality.
Design and Build Quality
The Canon 760D features a tough mattefi nished polycarbonate exterior. This camera provides a solid feel similar to Canon's professional models (the low-end D-SLRs provide a distinct 'hollow' feel). A few subtle design changes are visible, mainly a video toggle added to the power switch. This now operates in the order: Off , On, and Video. The status LCD is small. The camera has metal tripod receptacle and lens mount.
The lens is also predominantly made of polycarbonate with two concentric barrels. Th e front element does not rotate on focussing or zooming, which makes it easy to use polariser and graduated filters. It has a zoom lock to prevent the shifting of zoom position, and this is particularly useful when transporting the equipment. The mount is metal.
Key Features Canon 760D Body: The 24.2-megapixel 760D uses an APS-C Type (Approx. 22.3 x 14.9mm) CMOS sensor with primary colour filters. It has a Canon EF lens mount that accepts Canon EF and EF-S lenses (EF-M lenses are not compatible). The camera features Auto and Manual dust cleaning feature (supersonic filter) and appending dust delete data.
Th e 760D uses TTL secondary imageregistration and phase-difference detection methods for focussing. The camera has 19 focus points, all of which are cross-type. Th e central point is dual cross-type, but behaves so only at f/2.8 or wider apertures (except with the EF28- 80mm f/2.8-4L USM and EF50mm f/2.5 Compact Macro). The camera can focus at EV -0.5 to 18 (with f/2.8-sensitive centre AF point, One-Shot AF, room temperature, ISO 100). Focus modes available are One-Shot AF, AI Servo AF, AI Focus AF, and Manual focusing (MF). AF area options are Single-point (Manual selection), Zone (Manual selection of zone), and 19-point automatic selection. The camera uses 63-zone TTL full-aperture metering with a 7560-pixel RGB plus IR metering sensor. The D760 features the usual four metering modes — Evaluative (linked to all AF points), Partial (approx. 6.0% of viewfi nder at centre), Spot (approx. 3.5% of viewfi nder at centre), and Centre-weighted average. Exposure can be compensated up to +/-5 stops in 1/3 or 1/2-stop increments. Auto exposure bracketing can be set for up to +/-2 stops in 1/3 or 1/2-stop increments.
Shooting modes available are Program (P), Shutter-priority (Tv), Aperturepriority (Av), Manual (M), Scene Intelligent Auto, Flash Off , Creative Auto, Portrait, Landscape, Close-up, Sports, and Special scene modes. Special Scene modes include Kids, Food, Candlelight, Night Portrait, Handheld Night Scene and HDR Backlight Control. Equivalent sensitivity ranges from ISO 100 to 12,800, which is expandable up to H (equivalent to ISO 25,600). Th e focal plane shutter is electronicallycontrolled, and provides shutter speeds from 30 to 1/4000 sec., along with Bulb setting. The shutter synchronises with the flash at 1/200 sec or lower speeds. Drive modes include Single, Continuous, Silent single, Silent continuous and Selftimer. Self-timer can be set to 10-sec., 2-sec., remote control, and 10-sec. with continuous shooting.
The camera can shoot continuous frames at up to 5.0 frames per second. It can shoot a maximum burst of approximately 180 JPEG Large and Fine, 7 Raw, or 6 Raw+JPEG Large and Fine images. The 760D accepts an SD, SDHC, or SDXC (UHS-I compatible) memory card. Still images are recorded in JPEG or Raw (14-bit) format with an option to record both simultaneously. Maximum dimension of the image is 6000 x 4000 pixels. White Balance can be set to Auto, Daylight, Shade, Cloudy, Tungsten, White fluorescent, Flash, or Custom. White Balance bracketing is also available.
The 760D uses a 3.0-inch Touch-sensitive capacitive TFT colour LCD with approximately 1.04 million dots. The screen is fully articulated. During LiveView, the camera focusses with the Hybrid CMOS AF III System that provides Face+Tracking, FlexiZone-Multi, and FlexiZone-Single options. AF can be set to One-Shot or Servo. Continuous AF is also possible. Videos are recorded in MP4 format (MPEG-4 AVC/H.264), while sound is recorded in AAC format. The best quality of videos that can be shot is 1920 x 1080 at 29.97p, 25.00p, or 23.98p. The camera also allows Movie Servo AF and HDR movie mode. Sound is recorded through the built-in stereo microphones. An external stereo microphone terminal is also provided.
The 760D features an eye-level pentamirror viewfi nder with 95% coverage. Grid and electronic level are available in the display. The built-in flash has a Guide Number of approximately 12m at ISO 100. This flash can cover approximately 17mm angle of view, and recycles in approximately 3 seconds. The camera can accept an external EX-series Speedlite. Flash control is through E-TTL II method. Flash exposure can be compensated up to ±2 stops in 1/3 or 1/2-stop increments. The camera features Wi-Fi and NFC. The 760D is powered by a rechargeable LP-E17 Li-ion battery pack. Th e camera measures approximately 131.9 x 100.9 x 77.8mm (W x H x D) and weighs 520g (Body only).
CANON PRODUCT ADVISORY
Canon USA has issued a product advisory on EOS 750D and 760D (Rebel T6s and T6i), which reads as below:

In some units of the models listed below, the following phenomenon may occur due to irregularities on an optical layer located in front of the image sensor:

White spots may exist on the optical layer which may result in the appearance of dark circular patterns on the captured image under certain shooting conditions.

The phenomenon described above may occur in cameras whose rst and second digits of the serial number are as set forth below.

Identification Procedure:
Serial Number: [XXnnnnnnnnnn]
EOS Rebel T6s: If "XX" is "01" or "02", the phenomenon described above may occur.
EOS Rebel T6i: If "XX" is "01" or "02", the phenomenon described above may occur.
"n" represents any digit.

The 760D sample review sample that we received (Sr.No. 028031000296) was one of the 'possibly affected' pieces. However, we did not observe such a phenomenon in our tests performed in a limited time frame. If you observe such a phenomenon in your camera, Canon will repair it free of charge. Please note that this advisory has so far, not been issued for Asian region, and hence may not be relevant for all.
Canon EF-S18-135mm f/3.5-5.6 IS STM lens: This lens provides a 35mmequivalent focal length of 29 to 216mm. At the wide-angle end, the lens has an aperture range of f/3.5 to 22, and at the telephoto end, it ranges from f/5.6 to 38 (f/38 is possible only if you set 1/2 stop increments for aperture. The lens is constructed with 16 elements in 12 groups including one UD and one PMO (Precision Molded Optics) element to minimise aberrations. The lens has a diagonal angle of view of 74 degree 20 minutes to 11degree 30minutes. It can focus as close as 39cm and provides a maximum magnifi cation of 0.28x at 135mm focal length. The lens can accept  filters of 67mm diameter. It weighs 480g and has dimensions of approximately 76.6 (max. dia.) x 96.0mm (length).
The camera has a nice deep and textured rubber grip and ergonomically craft ed thumb rest.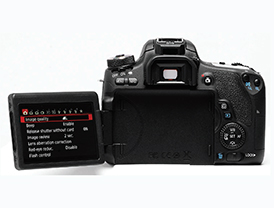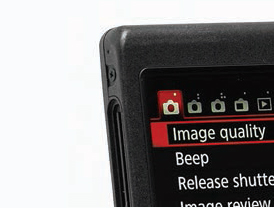 Ergonomics
The 760D is quite comfortable to hold and operate. The viewfinder appeared bright enough and the display legible. The active AF points illuminate while focussing a dark subject, but not if the subject is bright. The new video toggle on the power button eliminates a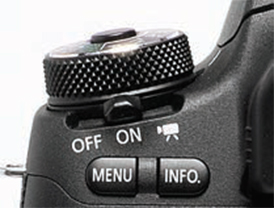 n additional button from the controls, but this could be a problem when you want to take a quick snapshot. If you exert a little excess pressure on the switch, it can accidentally turn on the video mode and spoil your chance of a quick shot. The camera has a nice deep and textured rubber grip and ergonomically crafted thumb rest. The mode dial has a lock that keeps it from accidental rotation. The fully articulated LCD is helpful in low and high-angle framing. Images appeared bright and crisp on the screen. The buttons are all properly spaced and easily accessible.
The 18-135mm lens complements the 760D in weight, balance, and construction. The lens barrel is neither too narrow nor too broad to hold. It is easy to balance even at 135mm.
Performance
The combination of the 760D and the 18-135 STM lens performed well in our tests. The lens focussed fast enough for a kit lens, but you can't compare this to a fast focussing prime lens. Darkening of corners was controlled very well, though we observed slight darkening at the wide-angle end at f/3.5 and 4. The lens produced slight flare and ghosting along with blue fringing at the 18mm end with wide-open aperture in strong againstthe- light shots. We did not observe any distortion in the lens throughout the zoom range. The lens produced tack sharp images throughout the zoom length. Sweet spot was found to be f/5.6. It would be wise to keep the aperture below f/16 because at this point, diffraction affects the sharpness beyond tolerable limits.
Metering modes worked as expected, and colours were punchy. Movie recording was excellent with the STM lens. Tracking AF worked well in movie mode and the microphone did not pick up any operating sound (focussing, zooming etc.).
Auto White Balance reproduced colours true to the original. Slight cast produced under artificial light sources could be easily removed in post-processing. Native image size was 20 x 13.33 inches at 300 ppi. At 25 percent view, the images were free of noise up to ISO 3200. We observed a tinge of noise at ISO 6400, though it was very difficult to spot. Images were perfectly usable all the way up to ISO 12,800. Observed at 50 percent, noticeable noise appeared at ISO 3200 and the images were usable up to ISO 6400. At 100 percent enlargement, we observed slight noise from ISO 800 onwards, but the images were perfectly usable up to ISO 1600. We would consider this excellent noise control for this camera.
Value for Money
The Canon 760D body retails at an MRP of Rs.54,995 and the lens is priced at Rs.35,995 . If you buy this combination as a kit, you will have to spend Rs.77,995, which is a saving of approximately Rs.13,000. This is very good value for money. |SP

FINAL SCORE                                                                      83%
Design and Build Quality                                               13/15
Key Features                                                                      12/15
Ergonomics                                                                          13/15
Performance
Autofocus                                                                             3.5/5
Metering                                                                                   4/5
Noise Control                                                                      4.5/5
Sharpness                                                                              4.5/5
Darkening
of corners                                                                                  4/5
Flare and CA                                                                          3.5/5
Distortion                                                                                   5/5
LCD/EVF                                                                                    4/5
Auto WB                                                                                      4/5
Sub-Total                                                                                37/45
Value for Money                                                                   8/10
PLUS
• Excellent noise control
• Great build quality
• Comfortable handling
• Silent focussing
• Superior sharpness
MINUS
• Burst shooting speed and no. of Raw images
• Position of movie mode switch
VERDICT
The Canon 760D and 18-135 STM lens kit is a very capable combination to go with. The sharp images produced by the lens nicely complements the brilliant noisecontrol of the 760D. Silent AF operation is another aspect that goes in favour of this combination. Truly a Best Buy.
Sujith Gopinath